About the Precision Medicine Biorepository
The mission of the TGH-USF Health Precision Medicine Biorepository is to create a cost-effective, shared infrastructure to enhance translational research. Our lab procures high-quality biologic specimens along with coded clinical and demographic data across a broad ethnic, racial, and social demographic of patients. All specimens are systematically collected and processed so that their multi-functional potential for recovering high-quality bioanalytes (including RNA, genomic DNA, protein, enzymes and metabolites) is conserved. All specimens are stored and protected in a database hub to connect researchers conducting a variety of scientific projects across multiple medical specialties. These specimens are made available to investigators upon request.
Advantages of the TGH-USF Health Precision Medicine Biorepository
We ensure that all subjects are able to sign a consent for broad investigational use of donated specimens and/or bodily fluids.

Use of standardized methods to achieve best possible specimen quality.

Cost-sharing the informatic infrastructure necessary to annotate, store and distribute specimens in a timely fashion.

Equitable and transparent access to rare specimens often available only in limited quantities.
About Our Database
To facilitate Precision Medicine Biorepository activities, we maintain a searchable database of comprehensive, de-identified clinical and outcome demographics suitable for assessing clinical significance of specific biological events. In addition, we respond to requests to prospectively collect specimens and prepare bioanalytes according to the specific needs of investigators and programs within our scientific communities.
Contact Us
We encourage investigators to reach out to us to learn more about how we are able to support your grants and projects.
Principal Investigator

Matthew L. Anderson, MD, PhD
Email: mlander5@usf.edu
Phone: 813-844-7585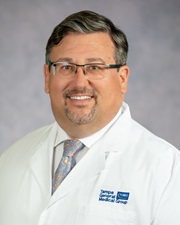 Lead Research Coordinator
Brittney Borresen, MS
Email: bborresen@tgh.org