Tampa General Hospital's Radiation Oncology program is committed to providing the highest quality patient care and improving cancer outcomes. Our nationally recognized and specialized team offers state-of-the-art therapies, innovative techniques, and individualized treatment care plans. As an academic medical center, we utilize a multidisciplinary team approach to treat all types of cancer and are committed to offering the most advanced radiation therapies, like brachytherapy and proton therapy. With technology and treatment based on evidence-based practice, research, and education, we continue to remove barriers for patients and improve the quality of their lives.
Tampa General Hospital has earned "high performing" designation for cancer care by U.S. News & World Report for 2022-23, meaning we are ranked among the top 10% of U.S. hospitals.
Our Radiation Oncologists
Our radiation oncologists are highly skilled, combining their expertise with the use of state-of-the-art radiation technology to ensure the best outcomes for our patients. We are active members of groundbreaking clinical trials and research in radiation therapy, allowing us to provide the most up-to-date and helpful treatments for our clients.

Additionally, because our approach to care is a multidisciplinary one, we work closely with TGH's entire cancer treatment team, which includes other specialized oncologists, surgeons, radiologists, nurses and many others who are all dedicated to providing world-class care to our patients.
Our Radiation Treatment Options
HDR Brachytherapy
High dose-rate, or HDR, brachytherapy is a type of focused radiation therapy used to treat many cancers, including gynecological and skin cancers. Unlike external beam radiation delivered by a machine that aims the radiation to the part of the body where the tumor is located, brachytherapy is delivered through applicators. The applicators are placed internally near the tumor for cervical or endometrial cancer or directly on the skin to treat skin cancer.

Treatment is faster than external beam radiation alone because it is a higher dose of radiation. As a result, a patient may only need brachytherapy treatments two or three times a week instead of five days a week with external radiation therapy. Treatments are typically performed on an outpatient basis.
TomoTherapy®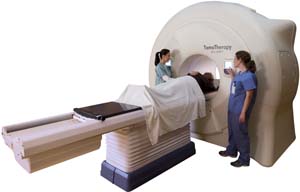 Our TomoTherapy® Hi-Art® treatment system provides advanced, image-guided intensity-modulated radiation therapy (IMRT) with highly precise targeting and attacking of cancer cells. The radiation is delivered from 360 degrees around a patient and helps to effectively treat hard-to-reach and complex tumors of varying sizes in a single session or course of treatment. Additionally, TomoTherapy minimizes damage to surrounding healthy tissue and organs and lowers the risk of pain and complications. The treatment can be adapted to ensure patients get the right dosage, in the right places at the right time.
Types of Cancer Treated with TomoTherapy
The TomoTherapy system is used to treat routine to complex types of cancer, including:
Prostate cancer
Pediatric cancer
What to Expect
The video below explains what you can expect during your radiation treatment planning session.


Your First Day of Radiation Treatment
The video below explains what you can expect on your first day of radiation therapy.


Our World-Class Cancer Institute