Given the complexity of valvular disease, the Minimally Invasive Valve Program (MIVP) was created to provide comprehensive, evidence-based, and individualized patient care using a multidisciplinary heart-team approach. Part of the Interventional Cardiology Center of Excellence, our team of medical professionals have national expertise in the treatment of valvular disease using a minimally invasive percutaneous, transcatheter approach. Our program offers a patient-centered experience, centralized referral pipeline, shared decision-making system with top provider experts, designated consistent nurse navigator, and so much more.
What Sets Us Apart
Our cohesive, multidisciplinary system of care between both Interventional Cardiology and Cardiothoracic Surgery utilizes a heart-team approach to ensure comprehensive patient evaluations and optimal care determinations. Our combined expertise allows us to diagnose and treat the most complex cases of valve disease and provide a streamlined and enhanced patient journey.
Volume & Quality
Tampa General Hospital is a high-volume center for transcatheter valvular procedures, performing over 300 percutaneous valve procedures each year, over 200 of which are Transcatheter Aortic Valve Replacements (TAVR). Our goal is to deliver the highest quality of care for patients with valvular disease, using a holistic and patient-centered approach. The volume at our referral center helps us achieve this goal as national data has shown that both high-volume centers and high-volume surgeons lead to better patient outcomes after aortic surgery.
Tampa General Hospital is known for providing world-class care and our collaboration with the USF Health Morsani College of Medicine has placed us at the forefront of innovation in heart and vascular treatment.
Advanced Technology & Research
Tampa General Hospital is committed to being a world-class academic medical center rooted in innovative technologies, clinical research, and education. The Minimally Invasive Valve Program is at the forefront of innovation as our program collaboration with top institutions around the globe provides early access to new technologies and techniques, as well as early access to new trials.
Clinical research is critical to our mission, which affords patients access to custom-made transcatheter valve devices through industry-sponsored clinical trials. As such, the Minimally Invasive Valve Program team provides comprehensive diagnostic and protocols from simple to even the most complex conditions.
These advancements in technology and research have proven Tampa General Hospital to be a pioneer in the minimally invasive valve treatment arena in many ways, including:
TGH is the first in the country to begin using an interventional technology called HF-OCT that consists of next generation, high-speed laser technique which allows image acquisition of the entire vessel in one second.
We were first in Florida and second in the nation to use a newly developed heart implant designed to replace the tricuspid valve and offer an option to patients who do not meet criteria for open heart surgery.

Since its inception two years ago, the Interventional Center of Excellence has increased the number of patients treated with transcatheter based therapies for valve issues and other clinical needs by 65%.

Equally important as growth and patient access, we are improving quality with an overall 45% reduction in mortality from transcatheter therapies.

Innovation and early access are also fundamental for this very dynamic field. We implemented conscious sedation in more than 90% of our procedures. Thus, eliminating the need for general anesthesia, and allowing for discharge from the hospital within 24 hours after a patient's procedure.



Diseases We Treat

Aortic Stenosis
Mitral Regurgitation
Mitral Stenosis
Tricuspid Regurgitation
Paravalvular Leak
Bioprosthetic valve dysfunction (stenosis/regurgitation)

Treatment Options

Transcatheter Aortic Valve Replacement (TAVR)
Transcatheter Mitral Valve Replacement (TMVR)
Transcatheter Mitral Valve Repair (MitraClip)
Compassionate Tricupsid Valve Replacement
Paravalvular Leak Plugs

Clinical Trials

Physicians in the Minimally Invasive Valve Program are national leaders in the field of structural heart disease, enabling them access to industry and physician-sponsored clinical device trials. These devices are often the most advanced technologies offered in our country and help establish the future delivery of valvular disease management. Our center was the first in Florida and second in the nation to implant the TricValve in the high-risk population of tricuspid valve regurgitation. We are currently part of various tricuspid valve trials offering patients a treatment option that they would otherwise not have.
Our Leadership Team
Our nationally recognized multidisciplinary system of care ensures comprehensive patient evaluations and the best possible care.
This is achieved under the collaborative leadership and teamwork of:
Dr. Hiram Bezerra, MD, PhD
Medical Director, TGH Interventional Cardiology Center of Excellence
Professor, USF Health Morsani College of Medicine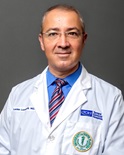 Dr. Lucian Lozonschi, MD
Associate Director, TGH Heart & Vascular Institute, Transplant Institute
Medical Director, TGH Cardiothoracic Surgery Center of Excellence
Chief, Division of Cardiothoracic Surgery, USF Health Morsani College of Medicine
Jennifer Bishop DNP, APRN, AGNP-C
MIVP Nurse Practitioner
Sarah Kossiver MSN, APRN, AGACNP-BC
MIVP Nurse Practitioner
Jennie George BSN, RN
MIVP Nurse Navigator
Lori Gicker BSN, RN
MIVP Nurse Navigator
Additional MIVP physician operators:
Dr. Fadi Matar
Dr. Bibhu Mohanty
Dr. John Sullebarger
Dr. Konstantinos Marmagkiolis