What Sets Us Apart
Our Complex Coronary Revascularization Program team includes board-certified interventional cardiologists, cardiothoracic surgeons, physician assistants, nurse practitioners, and other medical professionals trained to accurately diagnose and treat complex coronary artery disease (CAD) using advanced techniques and technologies. Part of the Interventional Cardiology Center of Excellence, our team is committed to providing personalized care by working with each patient to develop a treatment plan that meets their specific needs and goals.
Our interventional cardiologists are highly skilled in the management of patients with the most advanced CAD, including but not limited to the use of
atherectomy (laser, rotational, and orbital)

intravascular lithotripsy

intravascular imaging with Optical Coherence Tomography (OCT) and Intravascular Ultrasound (IVUS)

coronary physiology assessment

mechanical support including the use of Impella and ECMO

STEMI Shock care

Chronic Total Occlusion PCI.
Additionally, we have a mature hybrid revascularization program with cardiothoracic surgeons skilled in performing minimally invasive coronary artery bypass graft (CABG) operations without opening the chest. The Robotic CABG program at TGH is an advanced state-of-the-art program and integral component of the Hybrid Coronary Revascularization Program.
Volume & Quality
Tampa General Hospital is a high-volume center for percutaneous cardiac procedures, performing more than 1,000 percutaneous coronary intervention procedures each year. Our goal is to deliver the highest quality of care for patients with complex CAD. We have one of the highest volumes in the nation for complex coronary revascularization, keeping us on track to continually refine the care of extremely complex patients. We participate in national registries to benchmark our outcomes with similar high volume academic institutions.
Advanced Technology & Research
Tampa General Hospital is committed to being a world-class academic medical center rooted in innovative technologies, clinical research, and education. Through our clinical research initiatives that are presented at regional and national cardiovascular meetings, we help define the future management of CAD. Finally, through our postgraduate training programs, we are committed to training the next generation of cardiac interventionalists, a critical mission for the future delivery of healthcare in our country.
Patients We Treat
Complex/multi-vessel CAD

Chronic Total Occlusions

Patients turned down for bypass surgery

Patients turned down for stenting

Patients told there are no options to fix coronary blockages
Treatments Options for Complex CAD
The Complex Coronary Revascularization Program is made up of a highly experienced clinical team that plans and applies a treatment process that is tailored to each patient's condition, age, symptoms, and risk factors. In addition to medical therapy, we offer:
Complex/high-risk coronary angioplasty and stenting

Chronic total occlusion revascularization

Rotational and Orbital Atherectomy

Intravascular Ultrasound and Optical Coherence Tomography

Mechanical Support-Assisted PCIs

Brachytherapy (coming soon)

Hybrid/Robotic/Minimally Invasive bypass surgery
These revascularization decisions are made in close collaboration with the Cardiothoracic Surgery team with the understanding that some patients are better suited for a hybrid revascularization approach, including Robotic LIMA, a surgical strategy not commonly offered at other institutions.
Clinical Trials
Physicians in the CCRP are national leaders in the field of coronary artery disease, enabling them access to industry- and physician-sponsored clinical device trials. These devices are often the most advanced technologies offered in our country and help establish the future delivery of CAD management.
Our Leadership Team
Our nationally recognized multidisciplinary system of care ensures comprehensive patient evaluations and the best possible care.
This is achieved under the collaborative leadership and teamwork of:
Dr. Samip Vasaiwala, MD, MSc, FACC
Associate Professor, USF Health Morsani College of Medicine
Coronary Programs Director, TGH Heart & Vascular Institute
Dr. Hiram Bezerra, MD, PhD
Medical Director, TGH Interventional Cardiology Center of Excellence
Professor, USF Health Morsani College of Medicine
Dr. Fadi Matar, MD, FACC, FSCAI
TGH Cath Lab Director
Associate Professor, USF Health Morsani College of Medicine
Meghan Schmaltz APRN, NP-C
CCRP & CMD APP Lead
Allison Joseph BSN, RN
Coronary Programs Nurse Navigator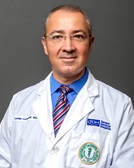 Dr. Lucian Lozonschi, MD
Associate Director, TGH Heart & Vascular Institute, Transplant Institute
Medical Director, TGH Cardiothoracic Surgery Center of Excellence
Chief, Division of Cardiothoracic Surgery, USF Health Morsani College of Medicine
Rodrigo de Souza, MD
Associate Professor, USF Health Morsani College of Medicine
Cardiothoracic & Transplant Surgeon, TGH Heart & Vascular Institute