The Foundation Forward is published roughly every six weeks. Check back in October for our newest stories!
AUGUST / SEPTEMBER 2021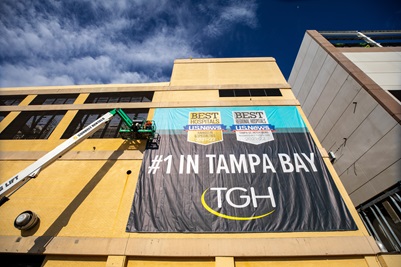 Tampa General Hospital is once again ranked as the #1 hospital in Tampa Bay by U.S. News & World Report for 2021-2022! This is the sixth consecutive year that Tampa General has been named by U.S. News & World Report as Tampa Bay's top hospital. Tampa General is also listed among the top four hospitals in Florida and ranked as one of the nation's top 50 hospitals in five medical specialties.
CHRISTMAS IN JULY & OPERATION SANTA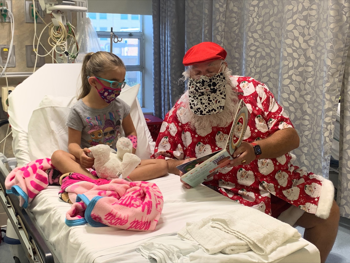 The TGH Foundation's annual Christmas in July campaign helps provide a festive atmosphere and create a summer season that is as magical and comfortable as possible. This year, Santa was able to visit TGH and bring sunshine to our young patients, too! Thanks to our Christmas in July sponsor, Bristol Myers Squibb, and all of our generous donors, the campaign raised over $26,000! These funds will benefit our Child Life Specialists, Integrative Medicine and Arts team and the Pediatric Center at Healthpark.

Save the date for Operation Santa to kick off on #GivingTuesday, Nov. 30, 2021.
CLICK HERE FOR OPERATION SANTA INFORMATION

BOARD GIVING AT ITS BEST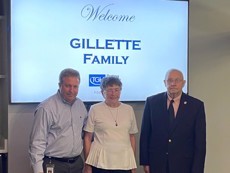 Gordon Gillette's contributions to TGH have been impactful in more ways than one. In addition to his many years serving on the foundation's board, currently as vice-chair, Gordon and his parents, Donald and Mary Ellen, recently made the decision to honor the memory of his late brother in a truly meaningful way.
The Gillette Family - Gregory Dart Gillette Memorial Fund at TGH was created by Donald, Mary Ellen and Gordon to assist the hospital's efforts to treat heart disease. This generous gift will support general cardiology needs within the hospital. Gregory passed away at the early age of 48 and is sorely missed by all who knew him. He was a graduate of the University of Florida and spent four years serving in the U.S. Marine Corps. He is survived by his wife Melanie and sons, Benjamin and Thomas. His legacy will live on by helping others through this fund. Thank you to the Gillette family!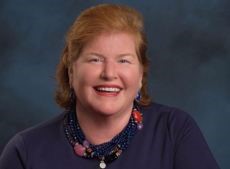 Another gift we are celebrating is from Tampa General Hospital Trustee, Kathleen Shanahan. Kathleen's generosity will support the hospital where the need is greatest. These funds are crucial in times of emergency or uncertainty, much like with COVID-19, when new and unexpected needs arise.
Kathleen serves as a trustee because she believes health care policy is fundamental to the success of every community, family and individual. "TGH is a health care leader serving every patient, every day with the highest quality of care," she said. Kathleen is a strong believer that philanthropy is an important part of leadership. She says, "I believe board leadership and active engagement in philanthropy should be an expectation of service on the board in support of excellence for the TGH community of patients, employees and medical team members."
Thank you, Kathleen, for dedicating time and treasure to TGH!
SAVE THE DATE!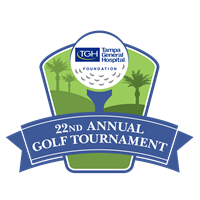 Monday, November 15, 2021
Avila Golf & Country Club
Player spots are almost sold out, but sponsorship opportunities are still available!
ORGANIZATIONAL UPDATE
Current State
"As we continue to see COVID hospitalizations rapidly increasing around Tampa Bay, Tampa General Hospital is prepared to do everything necessary to meet the needs safely of our patients, team members and community. Tampa General is a beacon of light and hope in our community, and our community counts on us to be there for them. You have risen to the call. I know you're tired, you're stretched, you're beat up – but you show up, day after day, shift after shift, and our community will not forget. I will not forget. You have my complete gratitude and admiration."
- John Couris, President and CEO, in a recent communication to all team members

Visitation Policy
As a safety precaution, we are amending our current visitation policy. We thank you in advance for your support in helping us maintain the safety of patients, their loved ones and our team members.
For visitation specifics, read the TGH Visitation Policy HERE. (Scroll to bottom of linked page)

CORPORATE PARTNERS STANDOUT
This section features companies who are valued partners of the TGH Foundation. For more information about our Corporate Partners Program, contact Haley Miller at hmiller@tgh.org.

SHERLOQ Solutions has a history of teeing off for TGH! While you may recognize them as an annual golf sponsor, their support started in 1987 with a gift to the foundation's Fund for the Future. Since then, they continue to support various fundraising campaigns, including their most recent gift to our COVID-19 emergency fund. When the Corporate Philanthropy Partners program was announced, SHERLOQ Solutions did not hesitate to make a commitment to become one of our first in the program. Thank you, SHERLOQ Solutions, for being such a generous partner!
"SHERLOQ Solutions is pleased to support the Tampa community and Tampa General Hospital as a Corporate Partner. We will continue to be a proud contributor knowing the great work being done at Tampa General Hospital."
– Chris Wydo, President & COO, SHERLOQ Solutions