Tampa General Hospital Foundation's Corporate Philanthropy Partners (CPP) program consists of corporations and foundations whose values align with the mission of the TGH Foundation – to support the programs and services of Tampa General Hospital and its goal to become the safest and most innovative health system in America. Our goal is to create a meaningful partnership with your organization and share the impact of your generosity, showcasing you as a leader in the community. We work with you to identify philanthropic interests to create an annual or multi-year partnership, eliminating multiple requests.
Partnerships can be personalized to your organization, allowing for maximum return on investment. Partnership levels offer various amenities, displayed below: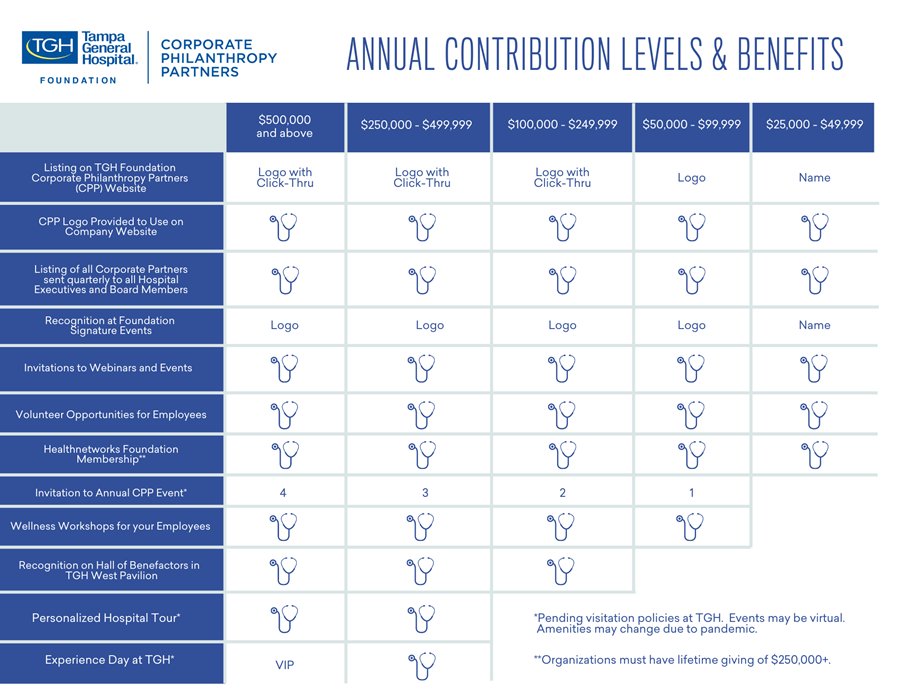 BECOME A PARTNER
Click Here to Schedule an Introductory Meeting
Click Here to Complete our Interest Form
FOR MORE INFORMATION, PLEASE CONTACT:
CPP@TGH.ORG
Haley Miller, Assistant Director of Events, hmiller@tgh.org or 813-844-7572
Jamie Powell, Sr. Director, Events & Strategic Partnerships, jamiepowell@tgh.org
or 813-844-7273
CURRENT CORPORATE PHILANTHROPY PARTNERS
*as of September 1, 2021
$500,000+




Florida Blue

Tampa Bay Lightning

TECO

$250,000 - $499,999





McNichols

$100,000- $249,999



Jabil

Kaligia Biosciences

Kimmins Contracting Corp.

Reliaquest

Rooms To Go

Suncoast Credit Union

$50,000 - $99,999

Bristol Myers Squibb

Carlton Fields

North Hyde Park Properties

Petsmart Charities

Raymond James

Tampa Bay Steel

TD Bank

Valley Bank

Virtual Procurement Services

$25,000 - $49,999

CapTrust Financial Advisors

Epic Systems Corporation

Kuhn Volkswagen

Nuance

PNC Bank

Radiology Associates of Florida

Sherlog Group, Inc.

TEAMHealth, Inc.

The Yerrid Foundation, Inc.