Tampa General Hospital Awarded Chest Pain Center With PCI Accreditation
Published: Jul 8, 2015
By Tampa General Hospital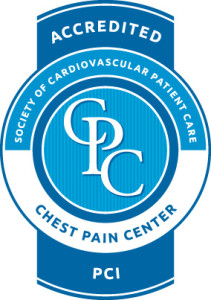 Tampa, FL (July 8, 2015) -- Tampa General Hospital (TGH) has received accreditation as a Chest Pain Center with PCI (percutaneous coronary intervention, or better known as coronary angioplasty) from the Society of Cardiovascular Patient Care (SCPC).
To earn the accreditation, TGH had to meet or exceed SCPC's criteria and demonstrate its expertise in evaluating, diagnosing and providing rapid treatment for patients who may be having a heart attack. The hospital also underwent a comprehensive onsite review. Heart attacks are the leading cause of death in the United States, with 600,000 people dying annually of heart disease. More than five million Americans visit hospitals each year with chest pain. Accredited Chest Pain Centers like Tampa General provide better monitoring of patients when it's not clear if a patient is having a coronary event. This ensures they are not sent home too early or needlessly admitted to the hospital.
An accredited Chest Pain Center must have coronary angioplasty available around the clock and must demonstrate that it has achieved a higher level of expertise in treating patients with heart attack symptoms. Coronary angioplasty is a non-surgical procedure used to open narrowed or blocked heart arteries to restore blood flow to the heart. Under the guidelines, if a patient is having a heart attack, an interventional cardiologist must perform a coronary angioplasty within 90 minutes of arrival at the hospital.
"Our Chest Pain Center with PCI accreditation demonstrates the dedication of our clinical staff and physicians to provide the most advanced and immediate medical care to patients having heart attacks," said Maureen Ogden, vice president of Cardiovascular Services.
"Our comprehensive chest pain program ensures that we can quickly diagnose and treat heart attack patients to decrease heart damage and provide them the best possible outcomes."
About the Society of Cardiovascular Patient Care
The Society of Cardiovascular Patient Care (SCPC) is an international not-for-profit organization that focuses on transforming cardiovascular care by assisting facilities in their effort to create communities of excellence that bring together quality, cost and patient satisfaction. As the only cross-specialty organization, SCPC provides the support needed for individual hospitals and hospital systems to effectively bridge existing gaps in treatment by providing the tools, education and support necessary to successfully navigate the changing face of healthcare. For more information on SCPC, accreditation and certification opportunities, visit http://www.scpcp.org/, or call toll free 1-877-271-4176.