First Lady Casey DeSantis visits Tampa General Hospital
Published: Jun 27, 2019
By Tampa General Hospital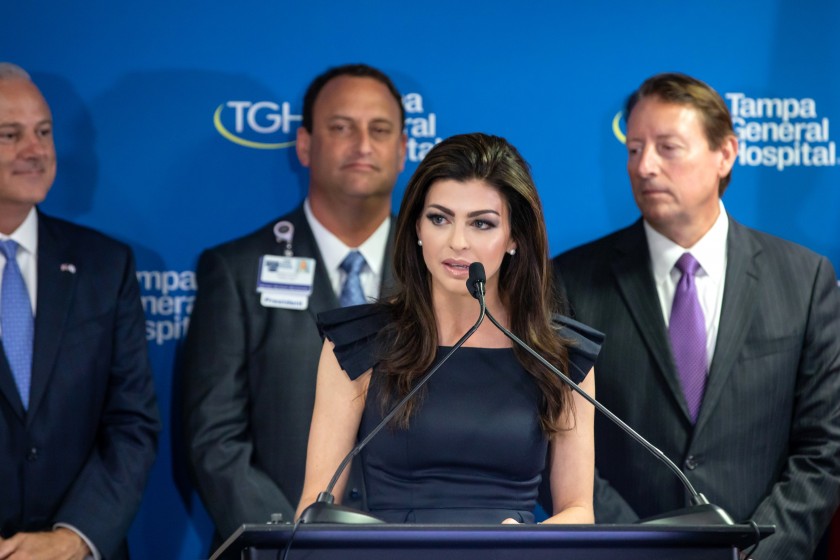 TAMPA, Fla. – Florida First Lady Casey DeSantis visited Tampa General Hospital today for a listening session on mental health and substance abuse issues, and to discuss funding to help families affected by the opioid crisis.
"Today was my second listening session this week to highlight the state's efforts regarding mental health and substance abuse and our commitment to harnessing the power of the public and private sectors as we work toward a 21st century approach to healthcare," DeSantis said.
"As part of our continued efforts, the Governor and I are excited to highlight that the Department of Children and Families will be deploying $8 million to expand critical child welfare and family support services, specifically to address children who have been affected by the opioid epidemic. We will continue to do what is necessary and collaborate with our partners to ensure accountability for the taxpayers of this state and get meaningful help to those who are suffering," she added.
Tampa General President and CEO John Couris said, "With First Lady Casey DeSantis on the front lines of Florida's efforts to combat the opioid crisis, I'm confident we as a state can reverse the increasing dependence on and abuse of opioids, as well as the pain and suffering these drugs have brought on so many Florida families. We are proud to welcome Mrs. DeSantis to Tampa General Hospital. "
Couris added that the first lady's visit was "an incredible opportunity for us to share with her our multidisciplinary approach to combatting opioids, which involves identifying alternatives to opioids for pain management, developing guidelines on pain management, creating a handbook for practitioners treating babies who were exposed to drugs in-utero and working with community organizations to provide mental health services to patients with symptoms of abuse. Through these efforts, we have effectively reduced use of IV opioid drugs at Tampa General Hospital by 40 percent and decreased length of stay for many patients, which reduces the cost for care and the risk of complications."
During her visit to TGH, DeSantis spoke not only with Tampa General leadership, but also with representatives of USF Health, BayCare Health System, Hillsborough Schools, DACCO Behavioral Health, the Central Florida Behavioral Health Network, the East Henry Academy, the Florida Department of Education and others.   
She was joined by Senate President Bill Galvano; Reps. Colleen Burton, Mel Ponder and Jackie Toledo; and Hillsborough Commissioner Sandra Murman.
Agency for Health Care Administration Secretary Mary C. Mayhew and Department of Children and Families Secretary Chad Poppell also spoke and stressed the work they are doing to make sure the state's resources are well-coordinated and effectively managed.
DeSantis recently launched the "Hope for Healing" campaign, a multi-agency substance abuse and mental health initiative.
Tampa General leaders discussed a variety of steps the hospital is taking to address the opioid crisis including:
A series of improved procedures that have decreased the number of infants who required pharmacological management because of in-utero drug exposure, as well as a reduced length of stay for many infants who did need pharmacological management. This effort was in coordination with the USF Health medical school.
Aligning with the drug treatment organizations ACTS and DACCO who have provided two peer specialists in Tampa General's emergency room to identify patients who would be appropriate for drug treatment services. DACCO also has provided inhaled Narcan, the anti-opioid drug, for use at TGH's satellite pharmacies.
Under TGH's Orthopedic and Trauma program, Dr. Hassan Mir has co-led the publishing of national guidelines on the acute management of musculoskeletal pain, and has filmed videos for opioid education that are being used across the nation.
 Using anesthesiology techniques which in many cases allow patients to receive opioid-free or opioid-sparing operations.
ABOUT TAMPA GENERAL HOSPITAL
Tampa General Hospital, a 1007-bed non-profit academic medical center, delivers world-class care as the region's only center for Level l trauma and comprehensive burn care. It is one of the nation's busiest adult solid organ transplant centers and is the primary teaching hospital for the USF Health Morsani College of Medicine. Advancing medicine through innovation, Tampa General houses a nationally accredited comprehensive stroke center, an 82-bed Level IV neonatal intensive care unit, and a state-certified spinal cord and brain injury rehabilitation center. For more information, go to www.tgh.org.