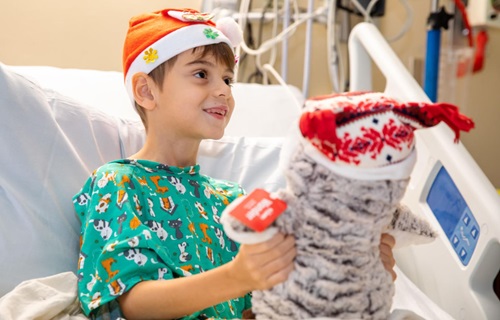 There truly is no place like home for the holidays, but for the young patients of Tampa General Hospital's Children's Hospital, being home for the holidays simply isn't an option.
Instead of making wish lists, baking cookies, and celebrating the season, our patients and their families are making lists of questions for their doctors, eating in the hospital cafeteria, and wondering how Santa will find them amongst TGH's winding halls.
For our patients, it can be hard to find moments of joy when an unexpected hospital stay changes their plans. At TGH, we do our best to provide an atmosphere that is as festive and comfortable as possible in order to help our patients feel more at home for the holidays, but we can't do it without YOU!
Your gift to TGH's annual Operation Santa campaign will help make sure these tough days are a bit brighter for our youngest patients for years to come!
Your generous support will make a difference by helping us ensure our young patients wake up on Christmas morning to discover that Santa has managed to make his deliveries… even at Tampa General Hospital!
CLICK HERE TO MAKE YOUR 2022 GIFT
If you would like to support this program through Team Member Giving, please click here and include "Operation Santa" as your chosen designation.
Toy Donation Drop Off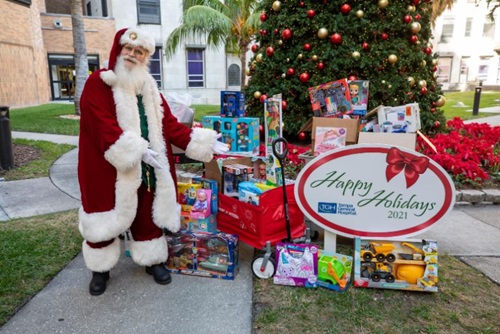 The TGH Children's Hospital is currently accepting new and unused toys and gifts for our young patients.
We ask that these toys and gifts are new, unused, and unwrapped (no gift wrap please). These parameters are in place to help our Child Life team continue to create a safe and healthy environment for our patients.
This year, we invite you to meet representatives of the TGH Foundation and Child Life team in the TGH main campus east pavilion valet loop for a donation drop off. We will meet at your scheduled time to accept your generous donation with carts and smiles! You won't even need to park your car.
Thank you for thinking of our pediatric patients this holiday season. If you would like a guide on what is currently needed, click below.
Click here for a current TGH Children's Hospital wish list!
Please contact Lia Ferretti at Lferretti@TGH.org with any questions.

Please Enjoy a Video from Operation Santa 2020