Tampa General Hospital's Aeromed Program Adds New Critical Care Helicopter
Published: May 11, 2021
By Tampa General Hospital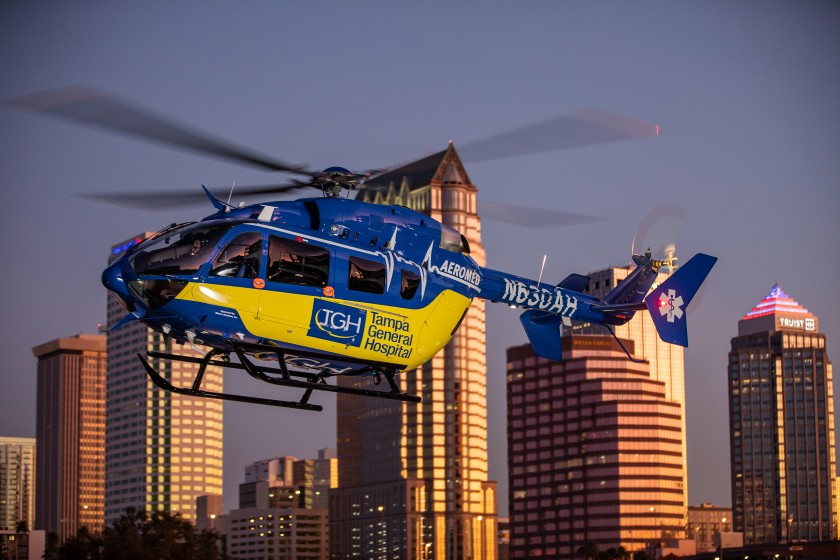 The new helicopter will enhance Tampa General's medical helicopter fleet.
For video of Tampa General's new helicopter, click this link.
Tampa, FL (May 11, 2021) – Tampa General Hospital's Aeromed program has added a new critical care helicopter to its fleet. The Airbus EC145e will provide enhanced medical transport services through faster air speeds and a larger cabin to better connect the greater Tampa Bay communities with potentially life-saving care.
The new helicopter is equipped with innovative and advanced technology to provide expert care for patients with critical injuries or illness  
"Tampa General's Aeromed program transports the most complex patients and this new helicopter plays a key role in helping us provide potentially life-saving care to critically ill or injured patients," said Michele Moran, senior director of emergency services, Tampa General Hospital.
In addition to providing extra room for crew members to move while caring for patients, the medical helicopter's added cabin space is especially useful for transporting COVID-19 patients. "It's been a great advantage for transporting COVID-19 patients needing ECMO to support their breathing and heart function," said Moran. ECMO stands for extracorporeal membrane oxygenation. It is a machine that pumps and oxygenates a patient's blood outside the body, allowing the heart and lungs to rest. "This treatment has been successful in treating critically ill COVID-19 patients," said Moran.
Other features of the new helicopter include on-board radar, guidance systems and integrated display screens to give crew members direct access to key data, including maps, traffic patterns and more. The new technology on the airbus improves communication between crew members and the operations control center.
Operating a fleet of five medical transport helicopters, Tampa General's Aeromed crew is highly trained and consists of either a flight RN/paramedic and a flight paramedic or two flight RN/paramedics. Aeromed services include:
Critical care during transport
Pre-hospital (scene) transport
Specialty care transport:


Neonatal patient
Extracorporeal membrane oxygenation (ECMO), can be used for certain COVID-19 patients
Organ Transplant
Trauma
Cardiac
Burn
Stroke/neurological emergency
Spinal cord injury
The new helicopter will help Tampa General Hospital, the only Level I Trauma Center in the region, provide emergency care to both adult and pediatric patients. Tampa General was the first hospital in Florida to achieve national Level I Trauma Center verification from the American College of Surgeons (ACS).
TGH Aeromed transport services are provided by Metro Aviation, Inc., including the new Airbus EC145e.
ABOUT TAMPA GENERAL HOSPITAL
Tampa General Hospital, a 1007-bed non-profit academic medical center, is one of the largest hospitals in America and delivers world-class care as the region's only center for Level l trauma and comprehensive burn care. Tampa General Hospital is the highest-ranked hospital in the market in U.S. News & World Report's 2020-21 Best Hospitals, and one of the top four hospitals in Florida, with five specialties ranking among the best programs in the United States. It is one of the nation's busiest adult solid organ transplant centers and is the primary teaching hospital for the USF Health Morsani College of Medicine. With five medical helicopters, Tampa General Hospital transports critically injured or ill patients from 23 surrounding counties to receive the advanced care they need. Tampa General houses a nationally accredited comprehensive stroke center and its 32-bed Neuroscience Intensive Care Unit is the largest on the West Coast of Florida. It also is home to the Jennifer Leigh Muma 82-bed Level IV neonatal intensive care unit, and a nationally accredited rehabilitation center. Tampa General Hospital's footprint includes 17 Tampa General Medical Group Primary Care offices, TGH Family Care Center Kennedy, TGH Brandon Healthplex, TGH Virtual Health and 19 outpatient Radiology Centers. Tampa Bay residents also receive world-class care from the TGH Urgent Care powered by Fast Track network of clinics, and they can even receive home visits in select areas through TGH Urgent Care at Home, powered by Fast Track.  As one of the largest hospitals in the country, Tampa General Hospital is first in Florida to partner with GE Healthcare and open a clinical command center that uses artificial intelligence and predictive analytics to improve and better coordinate patient care at a lower cost.  For more information, go to www.tgh.org.
ABOUT TAMPA GENERAL'S AEROMED PROGRAM
With a mission to provide safe, innovative, and world class pre-hospital and interfacility critical care air transport for adults and children. Aeromed is a private, non-profit hospital-based air transport program established in 1989. The specialized air medical crew is trained to care for all types of patients, including those needing advanced life support measures. It has been accredited by the Commission of Accreditation of Medical Transport Systems (CAMTS) since 2013. Aeromed has been an operations customer of Metro Aviation since 2013.