Nationally Recognized Genitourinary Medical Oncologist Dr. Mayer Fishman Joins the Cancer Institute at Tampa General Hospital
Published: Jun 1, 2021
By Tampa General Hospital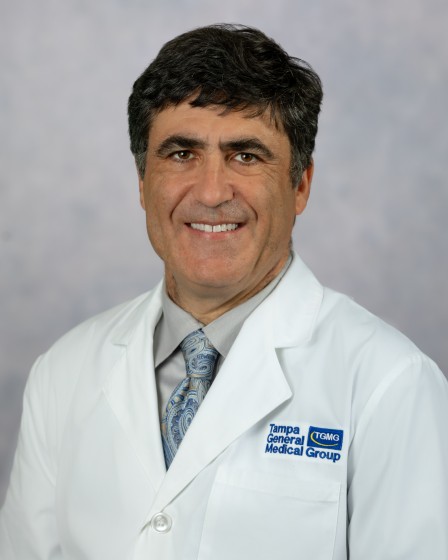 Dr. Fishman brings two decades of experience in multidisciplinary care of genitourinary (urinary and genital organs) malignancies and clinical research to Tampa General's new Cancer Institute.
Tampa, FL (June 1, 2021) ­ – Tampa General Hospital announced it has appointed Dr. Mayer Fishman, an innovative leader and authority with more than two decades of experience in the treatment of genitourinary (GU) malignancies, to its newly established Cancer Institute.
Dr. Fishman brings a wealth of experience in the treatment of kidney, bladder, prostate, testicular and urethral cancer and in providing second opinions, consultations and treatments of complex tumors in each of those areas.
In addition, he will be at the forefront of developing novel therapies given his ample expertise in clinical research utilizing novel modalities of treatment, in particular immune-based and targeted therapies for GU malignancies, areas in which Dr. Fishman is a nationally recognized leader.
"His comprehensive and compassionate care of patients with GU malignancies and his passion for clinical research is matched by his academic credentials and teaching skills. I have known Mayer for the past 20 years and have witnessed his commitment to academic and clinical excellence. As such, he is the right leader as we build one the best GU malignancies programs in the nation" said Director of Tampa General's Cancer Institute, Dr. Eduardo M. Sotomayor.
Fishman has more than 100 publications in peer-reviewed journals, including seminal contributions in novel immune-based and targeted therapies for GU malignancies. He is a sought-after speaker and he has participated in national and international forums for his specialty. He is a current member of the American Society of Clinical Oncology (ASCO), European Society for Medical Oncology (ESMO) and American Association for Cancer Research (AACR).
"A respected specialist of Dr. Fishman's caliber brings deep knowledge and hands-on experience to our new Cancer Institute," said Tampa General's Senior VP of Oncology and Network Development, Dr. Abraham Schwarzberg. "He joins a world-class team that will help us achieve our vision of providing the safest and most innovative treatment and care for our cancer patients and their families."
Building on the achievements of the Tampa General Hospital oncology program – rated among the top 10 percent for cancer care in the U.S., according to U.S. News & World Report's 2020-2021 rankings – the new Tampa General Hospital Cancer Institute will provide comprehensive care via groundbreaking therapies and advanced diagnostic imaging tools. Adding Fishman to the Cancer Institute fold underscores Tampa General's priority of providing top-tier, innovative care to cancer patients in a leading academic medical center.
"My focus on patient care is to develop care plans that encompass all aspects of the treatment," said Dr. Fishman. "I believe this aligns perfectly with the Cancer Institute's focus on comprehensive and compassionate care that meets all the patient's needs."
Through the Cancer Institute, Tampa General's cancer physicians will offer a highly coordinated range of multidisciplinary specialties such as hematologic malignancies, stem cell and cellular therapies, neuro-oncology, thoracic, breast, colorectal, urologic and gynecologic oncology. Advanced subspecialties will be offered as well, including liver and hepatobiliary oncology, otolaryngology (ear, nose and throat) and genitourinary (reproductive system and genitourinary tract). Tampa General will continue to take a multidisciplinary approach and will strongly emphasize compassionate and personalized care that focuses on the whole patient. For more information about the Tampa General Cancer Institute, visit www.tgh.org/cancer.
ABOUT TAMPA GENERAL HOSPITAL
Tampa General Hospital, a 1007-bed non-profit academic medical center, is one of the largest hospitals in America and delivers world-class care as the region's only center for Level l trauma and comprehensive burn care. Tampa General Hospital is the highest-ranked hospital in the market in U.S. News & World Report's 2020-21 Best Hospitals, and one of the top 4 hospitals in Florida, with five specialties ranking among the best programs in the United States. It is one of the nation's busiest adult solid organ transplant centers and is the primary teaching hospital for the USF Health Morsani College of Medicine. With five medical helicopters, Tampa General Hospital transports critically injured or ill patients from 23 surrounding counties to receive the advanced care they need. Tampa General houses a nationally accredited comprehensive stroke center and its 32-bed Neuroscience Intensive Care Unit is the largest on the West Coast of Florida. It also is home to the Jennifer Leigh Muma 82-bed Level IV neonatal intensive care unit, and a nationally accredited rehabilitation center. Tampa General Hospital's footprint includes 17 Tampa General Medical Group Primary Care offices, TGH Family Care Center Kennedy, TGH Brandon Healthplex, TGH Virtual Health and 19 outpatient Radiology Centers. Tampa Bay residents also receive world-class care from the TGH Urgent Care powered by Fast Track network of clinics, and they can even receive home visits in select areas through TGH Urgent Care at Home, powered by Fast Track.  As one of the largest hospitals in the country, Tampa General Hospital is first in Florida to partner with GE Healthcare and open a clinical command center that uses articfical intelligence and predictive ananlytics to improve and better coordinate patient care at lower cost. For more information, go to www.tgh.org.