TGH Cancer Institute Expands Its Breast Cancer Multidisciplinary Program with the Addition of Medical Oncologist Dr. Jamie McKenzie
Published: Jul 26, 2021
By Tampa General Hospital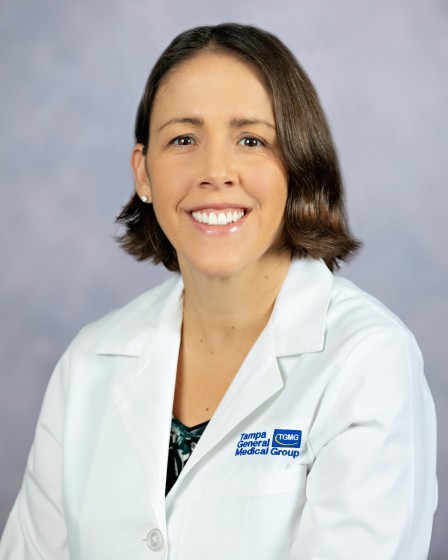 Dr. McKenzie will help breast cancer patients receive state-of-the-art and compassionate care in a multidisciplinary setting.
Tampa, FL (July 26, 2021) ­ – Tampa General Hospital has appointed Jamie McKenzie, MD, a medical oncologist specializing in the diagnosis and treatment of breast cancer, to its newly established TGH Cancer Institute.
As a champion of multidisciplinary breast cancer care and clinical research, Dr. McKenzie will play a key role in providing a holistic approach to improving treatment outcomes and support services that foster patients' complete wellbeing.  
Dr. McKenzie completed two fellowships during her medical training, a fellowship in hematology and oncology at Beth Israel Deaconess Medical Center in Boston, a world-class teaching hospital of Harvard Medical School and a fellowship in palliative medicine at Massachusetts General Hospital (MGH) and Dana-Farber Cancer Institute (DFCI).
She then served as a hematologist and medical oncologist primarily focused on breast cancer in Washington state and New England. She also worked with the Harvard Humanitarian Studies Initiative, a university-wide academic and research center in humanitarian crisis and leadership, in Boston and Debre Zeit, Ethiopia. Dr. McKenzie completed a resident rotation at Edendale Medical Center in Pietermaritzburg, South Africa.
"With her prestigious academic credentials, her passion for excellence and for delivering compassionate care, Dr. McKenzie will be a driving force in connecting breast cancer patients with advanced treatment options in a supportive environment," said Director of the TGH Cancer Institute, Dr. Eduardo M. Sotomayor. 
"She brings a unique combination of excellent training in medical oncology and palliative care at nationally recognized university health systems and the experience of working one-on-one with patients in community settings" said Dr. Abraham Schwarzberg, senior VP of oncology and network development at Tampa General Hospital. "Dr. McKenzie joins a world-class team that will help us achieve our vision of providing the safest and most innovative treatment and care for our breast cancer patients and their families."
"Tampa General's Cancer Institute will be a wonderful opportunity to work in a world-class academic medical center while providing breast cancer patients with options for advanced treatments and multidisciplinary care," said Dr. McKenzie. "Cancer is complicated and can affect every part of a patient's life. By developing an entire team to meet all the patient's needs from medical, surgical and radiation oncology to even nutritional counseling, physical therapy, and social work services, we can help a patient achieve the best possible recovery in a timely and compassionate manner."
In addition to her residency and fellowships with Harvard Medical School, Dr. McKenzie earned her medical degree from Drexel University College of Medicine in Philadelphia and her Bachelor of Science degree at Cornell University in Ithaca, N.Y. Her professional memberships include the American Society of Clinical Oncology, the American Society of Hematology, and the American Academy of Hospice and Palliative Medicine.
Building on the achievements of the Tampa General Hospital oncology program – rated among the top 10 percent for cancer care in the U.S., according to U.S. News & World Report's 2020-2021 rankings – the new Tampa General Hospital Cancer Institute will provide comprehensive care through clinical trials, groundbreaking therapies and advanced diagnostic and interventional tools.
"Our emphasis is on comprehensive and compassionate care that takes the whole patient in consideration," said Dr. Sotomayor. Through the Cancer Institute, Tampa General's cancer physicians will offer a highly coordinated range of multidisciplinary specialties such as hematologic malignancies, stem cell and cellular therapies, neuro-oncology, thoracic, breast, colorectal, urologic, and gynecologic oncology. Advanced subspecialties will be offered as well, including liver and hepatobiliary oncology, otolaryngology (ear, nose, and throat) and genitourinary (reproductive system and genitourinary tract). Tampa General will continue to take a multidisciplinary approach and will strongly emphasize compassionate and personalized care that focuses on the whole patient. For more information about the Tampa General Cancer Institute, visit www.tgh.org/cancer.
ABOUT TAMPA GENERAL HOSPITAL
Tampa General Hospital, a 1041-bed non-profit academic medical center, is one of the largest hospitals in America and delivers world-class care as the region's only center for Level l trauma and comprehensive burn care. Tampa General Hospital is the highest-ranked hospital in the market in U.S. News & World Report's 2020-21 Best Hospitals, and one of the top 4 hospitals in Florida, with five specialties ranking among the best programs in the United States. Tampa General is the safety net hospital for the region, caring for everyone regardless of their ability to pay, and in fiscal 2020 provided a net community benefit worth more than $182.5 million in the form of health care for underinsured patients, community education and financial support to community health organizations in Tampa Bay. It is one of the nation's busiest adult solid organ transplant centers and is the primary teaching hospital for the USF Health Morsani College of Medicine. With five medical helicopters, Tampa General Hospital transports critically injured or ill patients from 23 surrounding counties to receive the advanced care they need. Tampa General houses a nationally accredited comprehensive stroke center and its 32-bed Neuroscience Intensive Care Unit is the largest on the West Coast of Florida. It also is home to the Jennifer Leigh Muma 82-bed Level IV neonatal intensive care unit, and a nationally accredited rehabilitation center. Tampa General Hospital's footprint includes 17 Tampa General Medical Group Primary Care offices, TGH Family Care Center Kennedy, TGH Brandon Healthplex, TGH Virtual Health and 19 outpatient Radiology Centers. Tampa Bay residents also receive world-class care from the TGH Urgent Care powered by Fast Track network of clinics, and they can even receive home visits in select areas through TGH Urgent Care at Home, powered by Fast Track.  As one of the largest hospitals in the country, Tampa General Hospital is first in Florida to partner with GE Healthcare and open a clinical command center that uses artificial intelligence and predictive analytics to improve and better coordinate patient care at a lower cost.  For more information, go to www.tgh.org.