TGH Cancer Institute Expands Its Hematologic Malignancies Program with the Addition of Physician-Scientist Dr. David Swoboda
Published: Aug 4, 2021
By Tampa General Hospital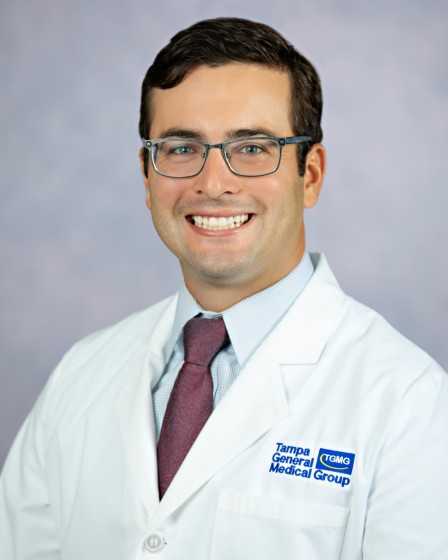 Dr. Swoboda is a physician-scientist focusing on novel therapeutics for patients with acute leukemias and myelodysplastic syndromes (MDS).
Tampa, FL (August 4, 2021)­ – Tampa General Hospital is announcing its appointment of Dr. David Swoboda, to the newly established TGH Cancer Institute.  Swoboda is a physician-scientist focused on evaluating new treatments for patients with hematologic malignancies, such as leukemias, lymphomas, multiple myeloma, myelodysplastic syndromes (MDS), and myeloproliferative disorders.
Swoboda joins TGH Cancer Institute from Moffitt Cancer Center, where he served as chief fellow for hematology and oncology. He completed his postgraduate training as chief resident at Medstar Georgetown University Hospital in Washington, D.C. Over the past three years, Swoboda has authored several research publications either as first author or coauthor in top-tier scholarly journals. He has also presented his translational work at numerous conferences and professional meetings.
Dr. Eduardo M. Sotomayor, director of the TGH Cancer Institute, said Swoboda's passion for research will benefit TGH patients.
"Being a physician-scientist myself, I understand the importance of supporting and mentoring the next generation of physician-scientists who will continue with the legacy of bringing novel therapies from the bench to the bedside of cancer patients," Sotomayor said. "I am thrilled that someone with the credentials of Dr. Swoboda, a highly productive and talented physician-scientist, who was actively being recruited by many centers, decided to join the TGH Cancer Institute."
Tampa General's commitment to providing cutting-edge care for every patient drew Swoboda to our institution, he said.
"During my fellowship, I had the opportunity to interact with many patients at Tampa General Hospital who had challenging clinical and social situations and at times, in the past, lacked the resources needed to get the best care possible," Swoboda said. "This inspired me to be part of the team here at the Cancer Institute to bring patients, many in underserved populations, the innovative approaches of care that they might not be able to receive otherwise."
As a clinician, Swoboda will focus on acute myeloid leukemia, MDS and myeloproliferative neoplasms. Acute myeloid leukemia is a blood cancer in which the bone marrow makes abnormal immature blood cells. Myelodysplastic syndromes are a rare group of cancer disorders resulting from the failure of the bone marrow to produce blood cells. Myeloproliferative neoplasms are characterized by the overproduction of blood cells which may progress to cancer.
Swoboda will provide personalized, multidisciplinary care to support patients' specific needs throughout their treatment, said Dr. Abraham Schwarzberg, senior vice president of oncology and network development at TGH.
"His passion and commitment to discovering new ways to treat patients with hematologic malignancies will be a strong asset to the Cancer Institute," Schwarzberg said. "He joins a world-class team led by Dr. Sotomayor, an internationally renowned physician-scientist, that will help us achieve our vision of providing the safest and most innovative treatment and care for our patients with hematologic malignancies and their families."
As a physician-scientist, Swoboda will help bring new areas of research to TGH Cancer Institute:
Precision care focusing on specific mutations in patients with leukemia and MDS
Innovative targeted clinical trials based on a patient's genetic makeup, as well as novel cellular and immune-based therapies for patients with hematologic malignancies
He will also work together with the division of pediatric oncology at Tampa General to develop a program to further the treatment of cancers in adolescents and young adults.
"Patients in their late teens and 20s fall into a gap between the available pediatric and adult care options and have their own particular set of needs," Swoboda said. "Applying the same approach as you would use for a 65-year-old patient may not have an optimum result."
Swoboda earned his medical and Bachelor of Science degrees from Florida State University. He has previously participated in medical outreach programs, including mentoring high school students and bringing care to underserved communities in the U.S. and Guatemala.  He is a member of the following associations: American Society of Hematology, Society for Hematology Oncology, American Society of Clinical Oncology, and American College of Physicians.    
Building on the achievements of the Tampa General Hospital oncology program – rated among the top 10 percent for cancer care in the U.S., according to U.S. News & World Report's 2021-2022 rankings – the new Tampa General Hospital Cancer Institute will provide comprehensive care via groundbreaking therapies and advanced diagnostic imaging tools. Through the TGH Cancer Institute, the academic medical center's cancer physicians will offer a highly coordinated range of multidisciplinary specialties such as hematologic malignancies, stem cell and cellular therapies, neuro-oncology, thoracic, breast, colorectal, urologic, and gynecologic oncology.
Advanced subspecialties will be offered as well, including liver and hepatobiliary oncology, otolaryngology (ear, nose, and throat) and genitourinary (reproductive system and genitourinary tract). Tampa General will continue to take a multidisciplinary approach and will strongly emphasize compassionate and personalized care that focuses on the whole patient. For more information about the Tampa General Cancer Institute, visit www.tgh.org/cancer.
ABOUT TAMPA GENERAL HOSPITAL
Tampa General Hospital, a 1,041-bed non-profit academic medical center, is one of the largest hospitals in America and delivers world-class care as the region's only center for Level l trauma and comprehensive burn care. Tampa General Hospital is the highest-ranked hospital in the market in U.S. News & World Report's 2021-22 Best Hospitals, and one of the top 4 hospitals in Florida, with five specialties ranking among the best programs in the United States. Tampa General is the safety net hospital for the region, caring for everyone regardless of their ability to pay, and in fiscal 2020 provided a net community benefit worth more than $182.5 million in the form of health care for underinsured patients, community education and financial support to community health organizations in Tampa Bay. It is one of the nation's busiest adult solid organ transplant centers and is the primary teaching hospital for the USF Health Morsani College of Medicine. With five medical helicopters, Tampa General Hospital transports critically injured or ill patients from 23 surrounding counties to receive the advanced care they need. Tampa General houses a nationally accredited comprehensive stroke center and its 32-bed Neuroscience Intensive Care Unit is the largest on the West Coast of Florida. It also is home to the Jennifer Leigh Muma 82-bed Level IV neonatal intensive care unit, and a nationally accredited rehabilitation center. Tampa General Hospital's footprint includes 17 Tampa General Medical Group Primary Care offices, TGH Family Care Center Kennedy, TGH Brandon Healthplex, TGH Virtual Health and 19 outpatient Radiology Centers. Tampa Bay residents also receive world-class care from the TGH Urgent Care powered by Fast Track network of clinics, and they can even receive home visits in select areas through TGH Urgent Care at Home, powered by Fast Track. As one of the largest hospitals in the country, Tampa General Hospital is first in Florida to partner with GE Healthcare and open a clinical command center that uses artificial intelligence and predictive analytics to improve and better coordinate patient care at a lower cost. For more information, go to www.tgh.org.