Tampa General Hospital is Named One of 100 Great U.S. Hospitals for the Seventh Consecutive Year
Published: May 29, 2020
By Tampa General Hospital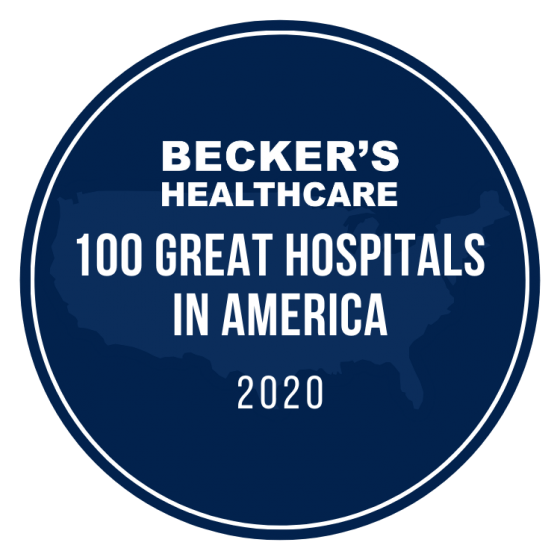 Tampa General Hospital is honored to be included in Becker's list of excellent and innovative hospitals.
Tampa, FL (May 29, 2020) – Tampa General Hospital has been named one of the "100 Great Hospitals in America" by Becker's Healthcare, a leading national publication for the health care industry.
It is the seventh year in a row that Tampa General has achieved this distinction. TGH is the only hospital in the Tampa Bay area to be named to the list, the only one on Florida's West Coast, and one of just four in the state. Becker's Healthcare is nationally recognizing the hospitals on this list for excellence in clinical care, patient outcomes, and staff and physician satisfaction.
"Tampa General Hospital is proud to be among industry leaders that have achieved advanced accreditation and certification in several specialties across the country. Our vision is to become the safest and most innovative academic health system in America. I am proud of the hard work of all our teams to achieve this recognition for seven years in a row," said John Couris, Tampa General Hospital President & CEO.
This list also includes industry innovators that have sparked trends in health care technology, hospital management and patient satisfaction. The hospitals were selected based on an analysis of ranking and award agencies, including U.S. News & World Report's 2019-2020 rankings. U.S. News also ranked TGH as the best hospital in the Tampa-St. Petersburg metro area.
Becker's noted that the 1,007-bed non-profit hospital "houses the area's only level 1 trauma center and one of just two adult and pediatric verified burn centers in the state."
Also, Becker's named Tampa General in 2019 as:
If you would like to learn more about Tampa General Hospital and all the specialties provided, please visit www.tgh.org
ABOUT TAMPA GENERAL HOSPITAL
Tampa General Hospital, a 1007-bed non-profit academic medical center, delivers world-class care as the region's only center for Level l trauma and comprehensive burn care. It is one of the nation's busiest adult solid organ transplant centers and is the primary teaching hospital for the USF Health Morsani College of Medicine. With five medical helicopters, Tampa General Hospital transports critically injured or ill patients from 23 surrounding counties to receive the advanced care they need. Tampa General houses a nationally accredited comprehensive stroke center and its 32-bed Neuroscience Intensive Care Unit is the largest on the West Coast of Florida. It also is home to an 82-bed Level IV neonatal intensive care unit, and a nationally accredited rehabilitation center. Tampa General Hospital's footprint includes 17 Tampa General Medical Group Primary Care offices, TGH Family Care Center Kennedy, TGH Brandon Healthplex, TGH Virtual Health and 15 outpatient Radiology Centers. Tampa Bay residents also receive world-class care from the TGH Urgent Care powered by Fast Track network of clinics, and they can even receive home visits in select areas through TGH Urgent Care at Home, powered by Fast Track.  As one of the largest hospitals in Florida, Tampa General Hospital is first in the state to open a command center in partnership with GE Healthcare. For more information, go to www.tgh.org.