Tampa General Hospital Earns Blue Distinction® Center Designation for Quality in Spine Surgery
Published: Jan 23, 2020
By TGH Marketing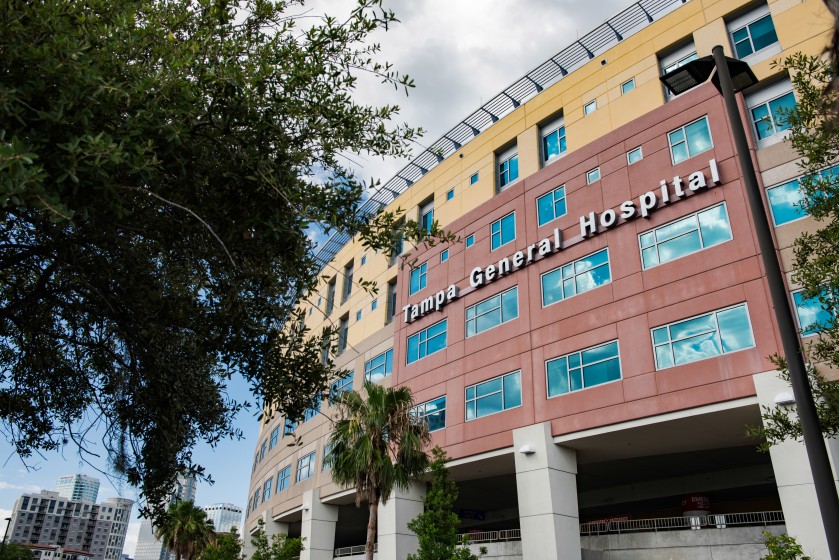 Tampa, FL (Jan. 24, 2020) Blue Cross and Shield Association (BCBSA) has selected Tampa General Hospital as a Blue Distinction Center for Spine Surgery, as part of the Blue Distinction Specialty Care program. Blue Distinction Centers® are nationally designated health care facilities that show a commitment to delivering high-quality patient safety and better health outcomes, based on objective measures that were developed with input from the medical community and leading accreditation and quality organizations.
Facilities designated as Blue Distinction Centers® for Spine Surgery demonstrate expertise in cervical and lumbar fusion, cervical laminectomy and lumbar laminectomy/discectomy procedures, resulting in fewer patient complications and readmissions compared to other hospitals.  All designated facilities must maintain national accreditation. Tampa General Hospital is proud to be recognized by BCBSA for meeting the robust selection criteria for spine surgery set by the Blue Distinction Specialty Care program.
"We're honored that Blue Cross Blue Shield Association has recognized our expertise in spinal surgery," said Steven E. Chew, TGH senior administrator for neuroscience & orthopedics.  "Our medical experts perform complex and delicate surgeries and we maintain the highest standards in the quality of our medical care. We have an entire team working together to create this level of quality."
The Blue Distinction Specialty Care program has helped patients find quality care in the areas of bariatric surgery, cancer care, cardiac care, cellular immunotherapy, fertility care, gene therapy, knee and hip replacements, maternity care, spine surgery, substance use treatment and recovery and transplants. Research for many of these programs shows that, compared to other providers, those designated as Blue Distinction Centers demonstrate high-quality and improved outcomes for patients. For more information about the program and for a complete listing of designated facilities, visit www.bcbs.com/bluedistinction.
1Agency for Healthcare Research and Quality (AHRQ)
About Tampa General Hospital
Tampa General Hospital, a 1007-bed non-profit academic medical center, delivers world-class care as the region's only center for Level l trauma and comprehensive burn care. It is one of the nation's busiest adult solid organ transplant centers and is the primary teaching hospital for the USF Health Morsani College of Medicine. With five medical helicopters, Tampa General Hospital transports critically injured or ill patients from 23 surrounding counties to receive the advanced care they need. Tampa General houses a nationally accredited comprehensive stroke center and its 32-bed Neuroscience Intensive Care Unit is the largest on the West Coast of Florida. It also is home to an 82-bed Level IV neonatal intensive care unit, and a nationally accredited rehabilitation center. Tampa General Hospital's footprint includes 14 Tampa General Medical Group Primary Care offices, TGH Family Care Center Kennedy, TGH Brandon Healthplex, TGH Virtual Care and 15 outpatient Radiology Centers. Tampa Bay residents also receive world-class care from the TGH Urgent Care powered by Fast Track network of clinics, and they can even receive home visits in select areas through TGH Urgent Care at Home, powered by Fast Track.  As one of the largest hospitals in Florida, Tampa General Hospital is first in the state to open a command center in partnership with GE Healthcare. For more information, go to www.tgh.org.
About Blue Cross Blue Shield Association 
The Blue Cross and Blue Shield Association is a national federation of 36 independent, community-based and locally operated Blue Cross and Blue Shield companies that collectively provide health care coverage for one in three Americans. BCBSA provides health care insights through The Health of America Report series and the national BCBS Health Indexsm. For more information on BCBSA and its member companies, please visit BCBS.com. We also encourage you to connect with us on Facebook, check out our videos on YouTube and follow us on Twitter.
About Blue Distinction Centers
Blue Distinction Centers (BDC) met overall quality measures for patient safety and outcomes, developed with input from the medical community. A Local Blue Plan may require additional criteria for facilities located in its own service area; for details, contact your Local Blue Plan. Blue Distinction Centers+ (BDC+) also met cost measures that address consumers' need for affordable health care. Each facility's cost of care is evaluated using data from its Local Blue Plan. Facilities in CA, ID, NY, PA, and WA may lie in two Local Blue Plans' areas, resulting in two evaluations for cost of care; and their own Local Blue Plans decide whether one or both cost of care evaluation(s) must meet BDC+ national criteria. National criteria for BDC and BDC+ are displayed on bcbs.com. Individual outcomes may vary. For details on a provider's in-network status or your own policy's coverage, contact your Local Blue Plan and ask your provider before making an appointment. Neither Blue Cross and Blue Shield Association nor any Blue Plans are responsible for non-covered charges or other losses or damages resulting from Blue Distinction or other provider finder information or care received from Blue Distinction or other providers.