Tampa General Hospital Vascular Laboratory Earns Vascular Testing Reaccreditation from Intersocietal Accreditation Commission
Published: Feb 21, 2020
By Tampa General Hospital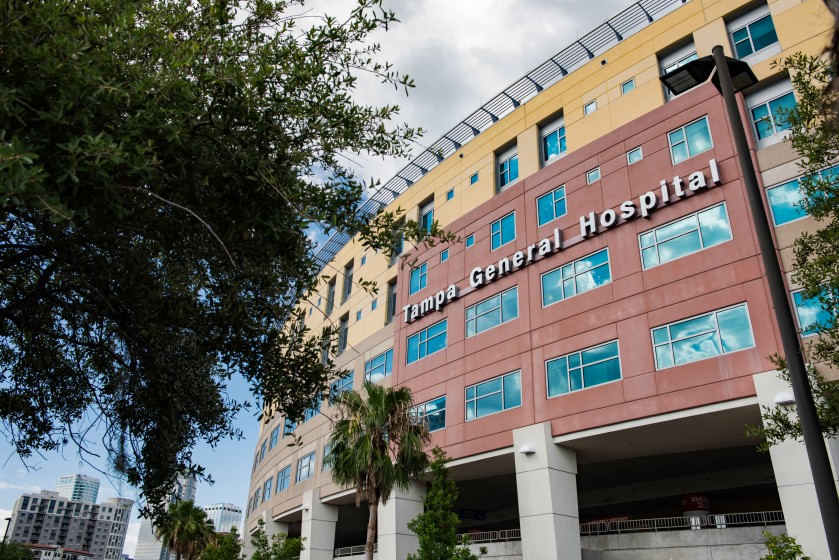 Tampa, FL (Feb. 21, 2020) – Tampa General's Ultrasound Vascular Laboratory, Department of Radiology, has been granted an additional three-year term of reaccreditation by the Intersocietal Accreditation Commission (IAC) in Vascular testing in the areas of Extracranial Cerebrovascular Testing, Peripheral Venous Testing, Peripheral Arterial Testing, and Visceral Vascular Testing.
The most recent accreditation demonstrates the hospital's on-going commitment to providing quality patient care in vascular testing. The IAC accreditation is a "seal of approval" that patients can rely on as an indicator of consistent quality care and a dedication to continuous improvement.
"The Ultrasound Vascular Lab has high standards through our dedicated, knowledgeable sonographers who provide care to the community," said Regina Maula, ultrasound educator at TGH. "TGH is a leader in healthcare and continues to raise the bar in keeping with our mission: "We heal. We teach. We innovate. Care for everyone. Everyday."
Early detection of life threatening heart disorders, stroke and other diseases is possible by vascular testing procedures performed in hospitals, outpatient centers, and physician's offices. Cardiovascular diseases are the No. 1 cause of death in the United States. On average, one American dies every 39 seconds of cardiovascular disease. Stroke, a disorder of the blood supply to the brain, is the third leading cause of death and the leading cause of disability in the country, with nearly 800,000 new strokes occurring annually.
Many factors contribute to an accurate diagnosis based on vascular testing. The training and experience of the technologist performing the procedure, the type of equipment used and the quality assessment metrics each facility is required to measure, all contribute to a positive patient outcome.
Accreditation by IAC indicates that Tampa General Hospital Vascular Laboratory, Department of Radiology has undergone an intensive application and review process and is found to be in compliance with the published Standards. Comprised of a detailed self-evaluation followed by a thorough review by a panel of experts, the IAC accreditation process enables both the critical operational and technical components of the applicant facility to be assessed, including representative case studies their corresponding final reports.   
ABOUT IAC
The IAC is a non-profit organization in operation to evaluate and accredit facilities that provide diagnostic imaging and intervention-based procedures, that improve the quality of patient care provided in private offices, clinics, and hospitals where the services are performed.
ABOUT TAMPA GENERAL HOSPITAL
Tampa General Hospital, a 1007-bed non-profit academic medical center, delivers world-class care as the region's only center for Level l trauma and comprehensive burn care. It is one of the nation's busiest adult solid organ transplant centers and is the primary teaching hospital for the USF Health Morsani College of Medicine. With five medical helicopters, Tampa General Hospital transports critically injured or ill patients from 23 surrounding counties to receive the advanced care they need. Tampa General houses a nationally accredited comprehensive stroke center and its 32-bed Neuroscience Intensive Care Unit is the largest on the West Coast of Florida. It also is home to an 82-bed Level IV neonatal intensive care unit, and a nationally accredited rehabilitation center. Tampa General Hospital's footprint includes 14 Tampa General Medical Group Primary Care offices, TGH Family Care Center Kennedy, TGH Brandon Healthplex, TGH Virtual Care and 15 outpatient Radiology Centers. Tampa Bay residents also receive world-class care from the TGH Urgent Care powered by Fast Track network of clinics, and they can even receive home visits in select areas through TGH Urgent Care at Home, powered by Fast Track.  As one of the largest hospitals in Florida, Tampa General Hospital is first in the state to open a command center in partnership with GE Healthcare. For more information, go to www.tgh.org.
###