Tampa General's Chief Technology Officer Selected as 2020 CIO of the Year Honoree by the Tampa Bay Business Journal
Published: Aug 24, 2020
By Tampa General Hospital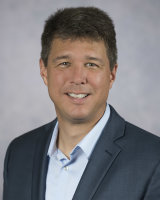 Tampa, FL (August 24, 2020) – The Tampa Bay Business Journal has selected Brian Hammond, vice president and chief technology officer of Tampa General Hospital, as one of eight 2020 Chief Information Officers (CIO) of the Year. The recognition honors local information technology executives and emerging leaders in the field who are working to advance their company's IT and computer systems.
The TBBJ recognizes that the IT field has become increasingly important during the coronavirus pandemic, as companies are forced to convert to remote work.
"Technology has never played a more important role in business than in today's unique environment," said Ian Anderson, TBBJ market president and publisher.  "A company's productivity, information security, and ability to communicate relies on technology now more than ever."
While COVID-19 is keeping everyone socially distant, TBBJ will celebrate this year's honorees by pivoting to a virtual panel discussion. On August 26, all eight honorees will participate in the discussion, which will focus on the importance of technology during the COVID-19 pandemic.
"I'm honored to represent Tampa General Hospital as a recipient of this prestigious award as a member of a world-class technology team," said Hammond. "I feel blessed to work at an outstanding organization with visionary leadership that serves such a vital role in the community."
Hammond has over 25 years of experience working in information technology, joining Tampa General in 2011. As chief technology officer, Hammond also develops the strategic vision for integrating ancillary systems to automate processes for TGH clinical staff. He successfully managed the security team during TGH's Epic upgrade and led the effort to automate the validation of more than one million security settings within the system.
Prior to this role, Hammond served as the director of technology integration at TGH from 2011 to 2016. Before joining TGH, Hammond held positions with several technical consulting firms, including Tribridge Inc. and Global Consultants Inc. He earned a Bachelor of Science in Marketing from Auburn University. He also completed a program for technical managers at the Georgia Institute of Technology.
"Brian is a world-class technology executive that has been a major force in supporting the mission and vision of Tampa General Hospital," said Scott Arnold, executive vice president and chief information officer of Tampa General Hospital. "His commitment to TGH is demonstrated by our continued success serving this great community. I am thrilled that Brian Hammond has been recognized as one of the best technology leaders in Tampa Bay."
Again, The Tampa Bay Business Journal will host a virtual panel seminar that features all of Tampa Bay's CIO of the year honorees on Wednesday, August 26 at 1 pm.  If you are interested in joining, please visit www.tbbjevents.com. The honorees will also be featured in a special section of the Business Journal's August 28th edition.
ABOUT TAMPA GENERAL HOSPITAL
Tampa General Hospital, a 1006-bed non-profit academic medical center, delivers world-class care as the region's only center for Level l trauma and comprehensive burn care. It is one of the nation's busiest adult solid organ transplant centers and is the primary teaching hospital for the USF Health Morsani College of Medicine. With five medical helicopters, Tampa General Hospital transports critically injured or ill patients from 23 surrounding counties to receive the advanced care they need. Tampa General houses a nationally accredited comprehensive stroke center and its 32-bed Neuroscience Intensive Care Unit is the largest on the West Coast of Florida. It also is home to the Jennifer Leigh Muma 82-bed Level IV neonatal intensive care unit, and a nationally accredited rehabilitation center. Tampa General Hospital's footprint includes 17 Tampa General Medical Group Primary Care offices, TGH Family Care Center Kennedy, TGH Brandon Healthplex, TGH Virtual Health and 18 outpatient Radiology Centers. Tampa Bay residents also receive world-class care from the TGH Urgent Care powered by Fast Track network of clinics, and they can even receive home visits in select areas through TGH Urgent Care at Home, powered by Fast Track.  As one of the largest hospitals in Florida, Tampa General Hospital is first in the state to partner with GE Healthcare and open a clinical command center that uses artificial intelligence and predictive analytics to improve and better coordinate patient care at a lower cost.  For more information, go to www.tgh.org.