Tampa General Hospital Joins in National Research to Fight COVID-19
Published: Apr 16, 2020
By Tampa General Hospital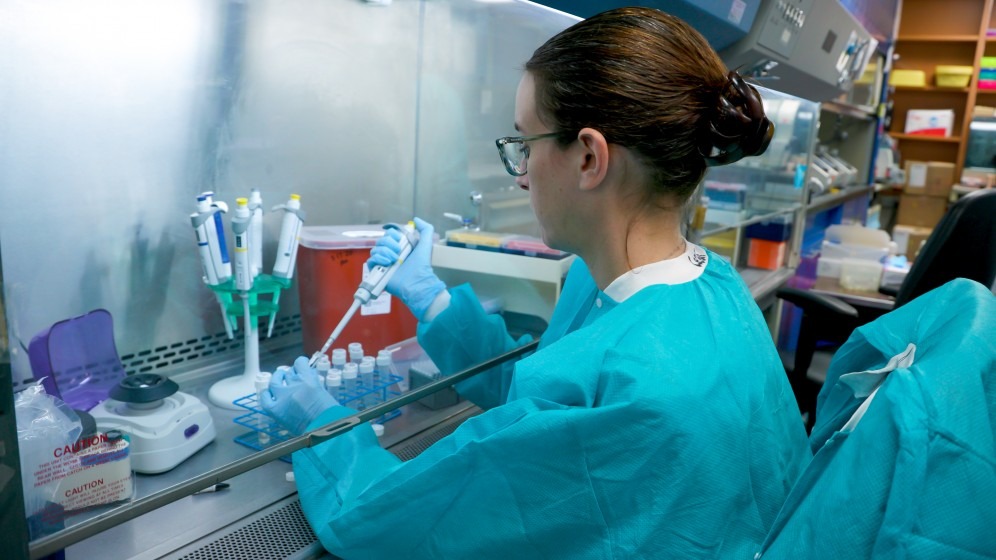 Tampa General Hospital is one of the first hospitals in Florida participating in several national research studies seeking effective ways to treat COVID-19.
Tampa, FL (April 16, 2020) – As a leading academic medical center, Tampa General Hospital is participating in significant national research studies as part of the nation's fight against COVID-19.
Tampa General has already been accepted as a research site in several of the nation's most important clinical trials. The hospital is conducting its own research as well.
"As we all have been affected by this global pandemic, innovation brings hope to fighting COVID-19. Tampa General is one of the few hospitals in Florida able to commit so many resources to seeking new therapies," said John Couris, president and CEO of Tampa General. "This is a testament to the power of academic medicine.  Because we're an academic medical center, we have the teams of experts and the clinical infrastructure already in place and ready to go."
Tampa General is the primary teaching hospital of the USF Health Morsani College of Medicine. Physicians on the medical staff and participating in research include USF Health faculty physicians and physicians from private practice groups.
"We're fortunate to have so many USF Health faculty members and private practice physicians committed to advancing medicine through research," Couris said. "Their drive to be at the forefront of discovery helps us deliver world-class care to our patients, especially during this time of need."
National studies that Tampa General Hospital is participating in include:
Enrolling health care workers in a national data base, called the Healthcare Worker Exposure Response & Outcomes (HERO) Registry,  that may ultimately determine whether an investigational drug, hydroxychloroquine, can help prevent COVID-19 infections.
Research to see whether infusions of antibody-rich plasma from recovering COVID-19 patients can help treat patients who are severely ill.
Trial of a monoclonal antibody in a new indication designed to modulate the body's immune response so that it doesn't damage the lungs and other organs.
The HERO Registry launched Monday, April 13. The registry invites U.S. healthcare workers at participating sites, including Tampa General, to share clinical and life experiences to better understand the perspectives and problems faced by those on the COVID-19 pandemic front lines.
The registry will unite America's healthcare workers into a community to facilitate rapid-cycle research, including an upcoming large study of hydroxychloroquine's effectiveness in preventing COVID-19 infections in healthcare workers. The HERO research program leverages PCORnet®, the National Patient-Centered Clinical Research Network, and is funded by the Patient-Centered Outcomes Research Institute (PCORI).
In addition, Tampa General is conducting independent research studies. These include a trial of the effectiveness of hydroxychloroquine to treat patients with COVID-19 and a project with USF Health to see whether nasal swabs created using a 3D printer are as effective as traditional swabs, as traditional swabs have been in short supply.
"We hope that this research will produce new weapons in the fight against COVID-19," said Dr. Sally Houston, executive vice president and chief medical officer.  "At Tampa General, we practice innovation every day in delivering world-class care to our patients. Now we're taking that same innovative approach and focusing it on a new target – COVID-19. We're committed to doing everything we can to help Florida and our nation find new solutions to overcome the greatest health challenge of our lifetimes."
ABOUT TAMPA GENERAL HOSPITAL
Tampa General Hospital, a 1007-bed non-profit academic medical center, delivers world-class care as the region's only center for Level l trauma and comprehensive burn care. It is one of the nation's busiest adult solid organ transplant centers and is the primary teaching hospital for the USF Health Morsani College of Medicine. With five medical helicopters, Tampa General Hospital transports critically injured or ill patients from 23 surrounding counties to receive the advanced care they need. Tampa General houses a nationally accredited comprehensive stroke center and its 32-bed Neuroscience Intensive Care Unit is the largest on the West Coast of Florida. It also is home to an 82-bed Level IV neonatal intensive care unit, and a state-certified spinal cord and brain injury rehabilitation center.Tampa General Hospital's footprint includes 14 Tampa General Medical Group Primary Care offices, TGH Family Care Center Kennedy, TGH Brandon Healthplex, TGH Virtual Care, 15 outpatient Radiology Centers and a TGH Urgent Care located in Brandon. As one of the largest hospitals in Florida, Tampa General Hospital is first in the state to open a command center in partnership with GE Healthcare. For more information, go to www.tgh.org.