DeBartolo Family Donates $7.65M to Tampa General Hospital
Published: Apr 7, 2020
By Tampa General Hospital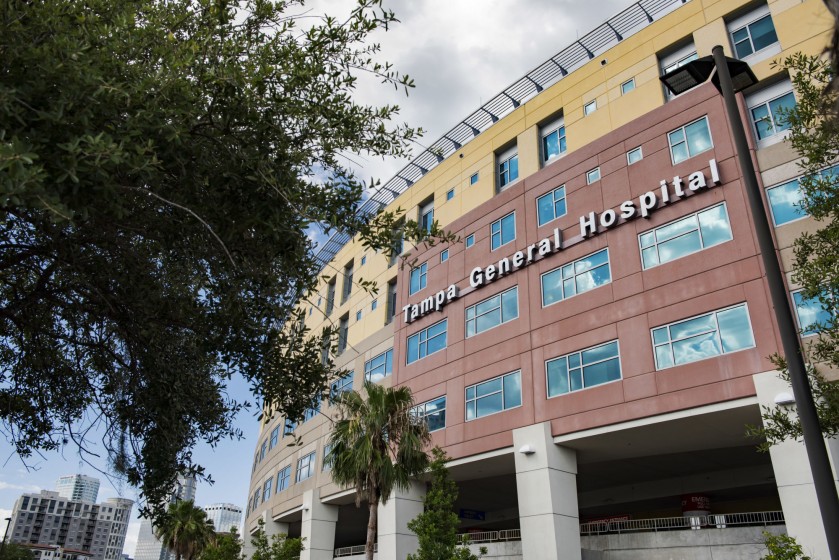 The generous donation will help support COVID-19 relief efforts, hospital programming and technology
Tampa, FL (April 7, 2020) – Eddie and Candy DeBartolo have generously donated $7.65M to Tampa General Hospital over the course of five months. This week, the DeBartolo family donated $2.5M to Tampa General Hospital to help treat patients in the Tampa Bay area diagnosed with infectious diseases including COVID-19. The funds will be used to develop a long-term dedicated COVID-19 unit that
would provide a dedicated area to diagnose and treat community members. This will also help pay for the construction and equipment, including necessary negative pressure isolation rooms and ventilators. A timeline for opening has not yet been set.
This donation will support TGH's long-term efforts to combat COVID-19 and other infectious diseases, and will supplement the hospital's current pandemic facility plan, which includes an isolation area in the Emergency Department for screening of potential COVID-19 patients, an Alternate Care Site (an outdoor triage area for collecting samples from ER patients) and two dedicated COVID-19 units within the hospital that are comprised of negative pressure isolation rooms.
"It is critical that, in times of need, our community members with the means to do so find ways to give back and support our first responders who are on the front lines of this battle. I have been so encouraged by the outpouring of love from our community and wanted to do something to honor these health care heroes," said Eddie DeBartolo.
Additionally, the family donated $150,000 to the TGH Team Member Emergency Fund, which is a special fund designated to help team members in crisis who cannot afford to pay bills such as mortgage/rent, utilities or car payments due to the inability to work.
"It means so much to Tampa General Hospital to see the good that can come from our community during this time of crisis. Our team members, physicians and patients – and our entire community – will benefit for many years from this generous gift," said John Couris, President & CEO of Tampa General Hospital.
The DeBartolos have been longtime supporters of Tampa General Hospital. In December, the family donated $5M in honor of Dr. Thomas Bernasek, an orthopedic surgeon on staff at Tampa General, and part of Florida Orthopedic Institute. Dr. Bernasek is also a board member of Tampa General.
"The TGH Foundation is so grateful to the DeBartolo family for their generosity over the years," said Frann Richards, Chief Development Officer, Tampa General Hospital Foundation. "Their investment in Tampa General Hospital will do so many wonderful things for the community. The legacy the family is leaving will be seen for many years to come, not just during this pandemic. We applaud their donation, and their encouragement of others to follow suit."
To learn more about the COVID-19 fund or other fundraising opportunities to support Tampa General Hospital, please visit tgh.org/foundation or contact Michael Masem, Vice President, Development and Donor Relations, at 813-844-7574 or mmasem@tgh.org.
ABOUT TAMPA GENERAL HOSPITAL
Tampa General Hospital, a 1007-bed non-profit academic medical center, delivers world-class care as the region's only center for Level l trauma and comprehensive burn care. It is one of the nation's busiest adult solid organ transplant centers and is the primary teaching hospital for the USF Health Morsani College of Medicine. With five medical helicopters, Tampa General Hospital transports critically injured or ill patients from 23 surrounding counties to receive the advanced care they need. Tampa General houses a nationally accredited comprehensive stroke center and its 32-bed Neuroscience Intensive Care Unit is the largest on the West Coast of Florida. It also is home to an 82-bed Level IV neonatal intensive care unit, and a nationally accredited rehabilitation center. Tampa General Hospital's footprint includes 14 Tampa General Medical Group Primary Care offices, TGH Family Care Center Kennedy, TGH Brandon Healthplex, TGH Virtual Care and 15 outpatient Radiology Centers. Tampa Bay residents also receive world-class care from the TGH Urgent Care powered by Fast Track network of clinics, and they can even receive home visits in select areas through TGH Urgent Care at Home, powered by Fast Track.  As one of the largest hospitals in Florida, Tampa General Hospital is first in the state to open a command center in partnership with GE Healthcare. For more information, go to www.tgh.org.