Words Can't Describe
Published: Sep 10, 2021
By Beth Hardy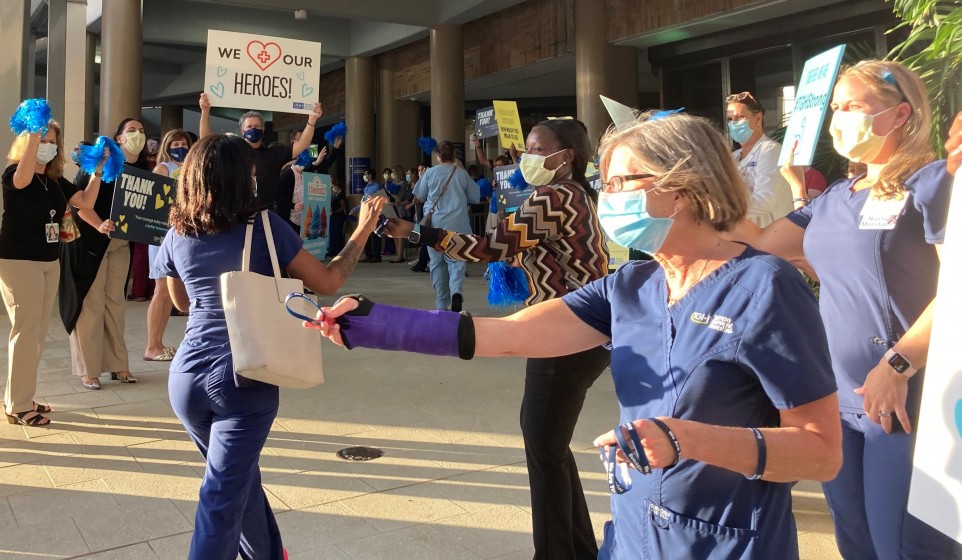 "Words can't describe how much you mean to us!" That's what just one of the signs said during a "Clap-In/Clap-Out" event held by Tampa General Hospital leadership staff and board members on Thurs., Sept. 9 to express appreciation to their dedicated team members caring for COVID-19 patients.
"Our team members have been relentlessly fighting this devastating disease for 18 months and to now be dealing with the largest surge of cases, is almost unimaginable," said John Couris, president and CEO of Tampa General. "We are so grateful for the determination of our team members who keep going despite all the challenges of the pandemic and the best way is to show them, to get out there and let them know how deeply we appreciate them."
During the 7 p.m. shift change, leadership, board members and physicians lined the walkway of the hospital's team member entrance with signs and pom-poms to cheer and clap for the team as they arrived for work or departed. Music, several food trucks and Belle, a golden retriever service dog and the hospital's "Chief Smile Officer," rounded out the festive atmosphere. Hospital leaders also presented team members with wrist bands imprinted with the phrase, "#TGHStrong."
For several weeks, Tampa General has been holding clap-in/clap-out events to thank its team members. Community organizations such as the Tampa Police Department, Rotary Club of Tampa West Chase and the American Heart Association have gathered at the hospital's team member entrance during evening shift change to show their appreciation.
"What's important to know that every team member and every hospital department are involved in caring for COVID-19 patients in some way. From nurses, doctors, respiratory therapists, environmental services, dietary services, lab technicians, the welcome desk team, physical therapy, imaging, volunteers, support teams and more, everyone plays a role," said Couris. "That's why it is so important to do more than say thank you; we need to show it."
To help stop the surge of the Delta and other COVID-19 variants, Tampa General encourages vaccines, wearing masks and hand washing. To find a free vaccine in your community, visit:
To see Tampa General's Clap-In/Clap-Out event, visit https://vimeo.com/tghcares/review/601869921/d18217ab23.
---