Tampa General Offers Breakthrough Hybrid Coronary Revascularization Procedure
Published: Jan 15, 2021
By Tampa General Hospital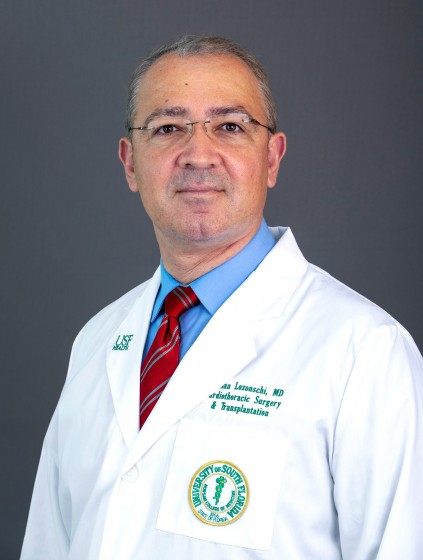 For decades, Tampa General's cardiothoracic surgeons have specialized in minimally-invasive valve and bypass techniques such as sternal-sparing mitral and tricuspid valve repair and replacement procedures. With the addition of Cardiothoracic Surgery Director, Dr. Lucian Lozonschi, TGH now offers patients hybrid robotic coronary revascularization, a breakthrough procedure that Lozonschi helped pioneer.
For patients with multiple blocked arteries, especially when the left anterior descending artery (LAD) is critically blocked by plaque buildup, the surgical gold standard has been coronary artery bypass grafting (CABG) with cardiopulmonary bypass. Survival rates are best when the left interior mammary artery (LIMA) is grafted to the blocked LAD, restoring flow. While this open-heart procedure offers durability, patients end up in recovery for several weeks. Percutaneous coronary intervention (PCI) with drug-eluting stents have yielded similar outcomes as open CABG. The recovery time is days, but durability is much shorter compared to LIMA to LAD CABG.
Recognizing that patients would benefit from CABG without cardiopulmonary bypass, Lozonschi employs hybrid robotic coronary revascularization (HCR) technique by maximizing the strengths of both approaches. "Hybrid coronary revascularization treats coronary artery disease using the best of both worlds," says Lozonschi.
Tampa General Cardiothoracic Surgery Director, Dr. Lucian Lozonschi was one of the first physicians in the U.S. to perform hybrid coronary revascularization and has since performed more than 150 procedures.
The technique involves a LIMA to LAD bypass performed using a surgical robotic system. Then, non-LAD blockages are opened using PCI. The technology provides the durability of CABG and outcomes of PCI for non-LAD blockages without a long recovery and the risk of open heart surgery. Lozonschi was among the first physicians in the U.S. to perform the procedure as part of a national clinical trial. He has performed more than 150 hybrid coronary revascularization procedures. Women, older patients, and high-risk patients with advanced lung, kidney and liver disease are particular candidates for this breakthrough procedure that is now available at Tampa General Hospital.