Innovations in the Surgical Treatment of Refractory Epilepsy
Published: Jan 25, 2021
By Tampa General Hospital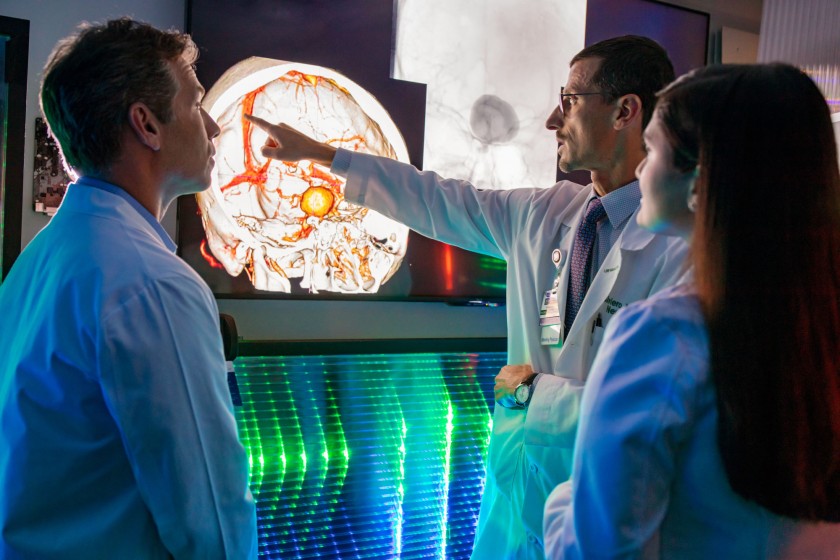 Though most seizures can be controlled with oral medication, patients with epilepsy that remains uncontrolled by medications may experience multiple seizures per day and be rendered totally disabled by their illness. In some cases, they spend most of their waking hours either seizing or recovering from a seizure.
The Tampa General Hospital (TGH) Neuroscience Institute was one of the first in the southeastern United States to pioneer surgical treatment of refractory epilepsy and has long been a nationally recognized referral center for the most severe cases.
The world-class multidisciplinary team of experts at TGH includes internationally renowned epileptologists and some of the country's most skilled epilepsy surgeons and neuropsychologists, as well as expert nurses and neuroradiologists. This highly skilled team utilizes some of the most cutting-edge technologies in the field to precisely pinpoint and eliminate the site of seizure origin.
This process begins with an extensive and very sophisticated evaluation, culminating in the patient's admission for seizure localization. During this hospitalization, TGH neurosurgeons precisely place dozens of electrodes directly into the tissues of the brain where seizures are thought to originate using a robotic device (the robotic stereo-electroencephalography assistance (ROSA®) robot). The robot allows the neurosurgeon to place more electrodes more safely and precisely than would be possible with manual insertion, which can produce a 3D stereoscopic rendering of brainwave activity. Patients are then admitted to the TGH Epilepsy Monitoring Unit, where they are closely observed with continuous stereoscopic EEG and video recording for seizure activity. TGH epileptologists then analyze this complex neurophysiological data and pinpoint the precise location where the patient's seizures start. Additional evaluation is carried out using the most advanced techniques of functional MRI, as well as other advanced imaging modalities such as SPECT and PET scanning, along with neuropsychological testing and Wada testing. This phase of evaluation is directed not only at further refining the location of the seizure focus, but also carefully mapping out the brain region surrounding the focus and charting plans for the exact size and location of brain surgery, to enable elimination of the seizure site without damaging nearby cortex important for other neurological functions. In addition to surgical resection, TGH specialists employ laser therapy to precisely destroy a seizure site without open surgery, and use an array of neuromodulation technologies that suppress and interrupt seizure activity before it becomes clinically manifest, using implanted nerve and brain stimulation devices and electrodes.
In addition to their clinical expertise, TGH experts are also top thought leaders in their fields, performing cutting-edge research and writing the articles and textbooks from which other epileptologists and neurosurgeons learn and refine their crafts. Tampa General is accredited by the National Association of Epilepsy Centers (NAEC) as a Level 4 epilepsy center, and the number of epilepsy surgeries it performs annually places it among the busiest epilepsy centers in the Southeast.
"This technology, our world-class specialists and our integrated team approach is at the forefront of epilepsy surgery, and offers patients excellent outcomes and a rapid recovery," said Dr. Clifton L. Gooch, medical director of Neurology & Neurosurgery, TGH Neuroscience Institute, vice president of Clinical & Translational Research, Tampa General Hospital and chair of the University of South Florida's Department of Neurology.
"More importantly, these treatments are life-changing, and in some cases can actually provide a permanent cure. Many of our patients tell amazing stories of recovery from total disability to normal lives. For us, that is really what counts, and what makes this work so incredibly rewarding."