Complex bariatric surgery gives heart patients new options – and new hope
Published: Jan 26, 2021
By Dave Scheiber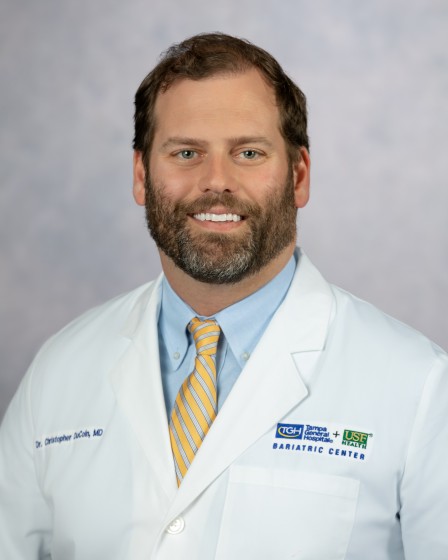 The heart failure patient had received an LVAD in 2015 and desperately needed a life-saving heart transplant. But for four years, he had been unable to lose weight. His obesity made his chances too risky to be eligible for a transplant – but his LVAD and heart condition made most bariatric surgeons reluctant to operate. His prospects were diminishing fast amid mounting frustration and fear.
Enter Tampa General Hospital. A leading academic medical center known for its multidisciplinary expertise, TGH can perform complex procedures that many other hospitals do not offer. And it was here that the man's life took a remarkable change for the better – with a future suddenly filled with promise and possibilities thanks to the innovative, state-of-the-art bariatric surgery center.
Dr. Christopher DuCoin, a world-class bariatric surgeon who developed the program, first met the patient in November 2019 and performed the unusual surgery in July 2020. The results have been nothing short of dramatic. Within three months, the man had lost enough weight – some 75 pounds – to qualify for the transplant list. He's now been actively listed by Tampa General's Transplant team and it's only a matter of finding the right blood type and donor to complete the comeback story.
"It's amazing that he lived five years with an LVAD, but he will get his heart now," said DuCoin, chief of gastrointestinal surgery at both Tampa General and the USF Health Morsani College of Medicine.
When that moment comes, it will be due to the skilled, collaborative team that practices in the hospital ranked #24 in the nation for gastroenterology and GI surgery by U.S. News & World Report. Tampa General also is the primary teaching partner for the Morsani College of Medicine.
"You have to have the bariatric team, the referral team, the cardiologists, the cardio-thoracic surgeons," DuCoin said. "It takes a lot to coordinate this effort. But more than that, it's difficult to find all of this in a single institute. The stars have aligned here just right."
That alignment is a hallmark of the center, with its dynamic, integrated program offered in a handful of other hospitals nationwide. One of the keys to success is the center's willingness to perform bariatric surgery on high-risk patients. The complex, robotics-driven procedure continues to yield positive outcomes. It is no surprise that patients now come from throughout the Southeast for the operation, which DuCoin called "one of the safest elective surgeries we do."
Many hospitals avoid taking on the inherent risks involving obese, heart-failure patients, many equipped with LVADS, ­as they cling to hopes with the clock running on their survival. But for TGH, which performed the state's first heart transplant in 1982, blazing new ground is part of its DNA.
The hospital is always exploring ways to help individuals whose cases are the most complex and who are most in need. And that underscores the hospital's willingness to invest in the infrastructure to make this game-changing bariatric surgery a reality – ultimately helping patients reduce perilous 40-plus BMI to the 30 or below recommended for transplantation.
"It is extremely hard to do that on your own," DuCoin said. "Bariatric surgery is your tool kit to getting there."