Tampa General Nurse's Leadership of a Special Team Scores A Super Bowl Honor
Published: Feb 3, 2021
By Dave Scheiber
By Dave Scheiber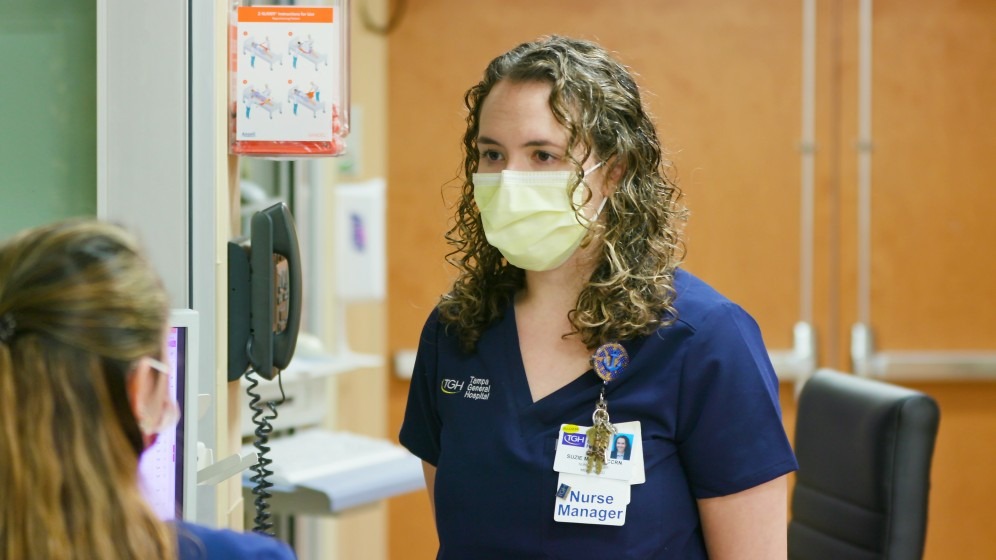 Suzie Dorner was mildly puzzled by a text that popped up on her cell phone last month – a request out of nowhere from the executive director of the Tampa Sports Commission, Rob Higgins, to join him on a video call the next day. The COVID ICU nurse manager at Tampa General Hospital had no clue why he wanted to talk to her.
"I thought he was going to give me tickets to hand out to some of my team members to the Super Bowl, and that would have been great," Dorner recalled this week with a smile.
She was right about the Super Bowl being on the agenda. But Higgins, also head of the Tampa Bay Host Committee for the big game, promptly turned the proceedings over to a special guest, legendary Tampa Bay Buccaneers linebacker Derrick Brooks.
The beaming NFL Hall of Famer informed Dorner that she had been named by the National Football League as an honorary Super Bowl captain, along with two others – military veteran James Martin and educator Trimaine Davis – for their selfless commitment to helping others. All will be on the field at Raymond James Stadium on Sunday evening for the ceremonial coin toss prior to kickoff of the much-anticipated showdown between the Tampa Bay Bucs and the Kansas City Chiefs.
"I still can't believe it's real," Dorner said. "I'm just one of 18 million health care workers in America. So it's just an honor to be chosen as their representative."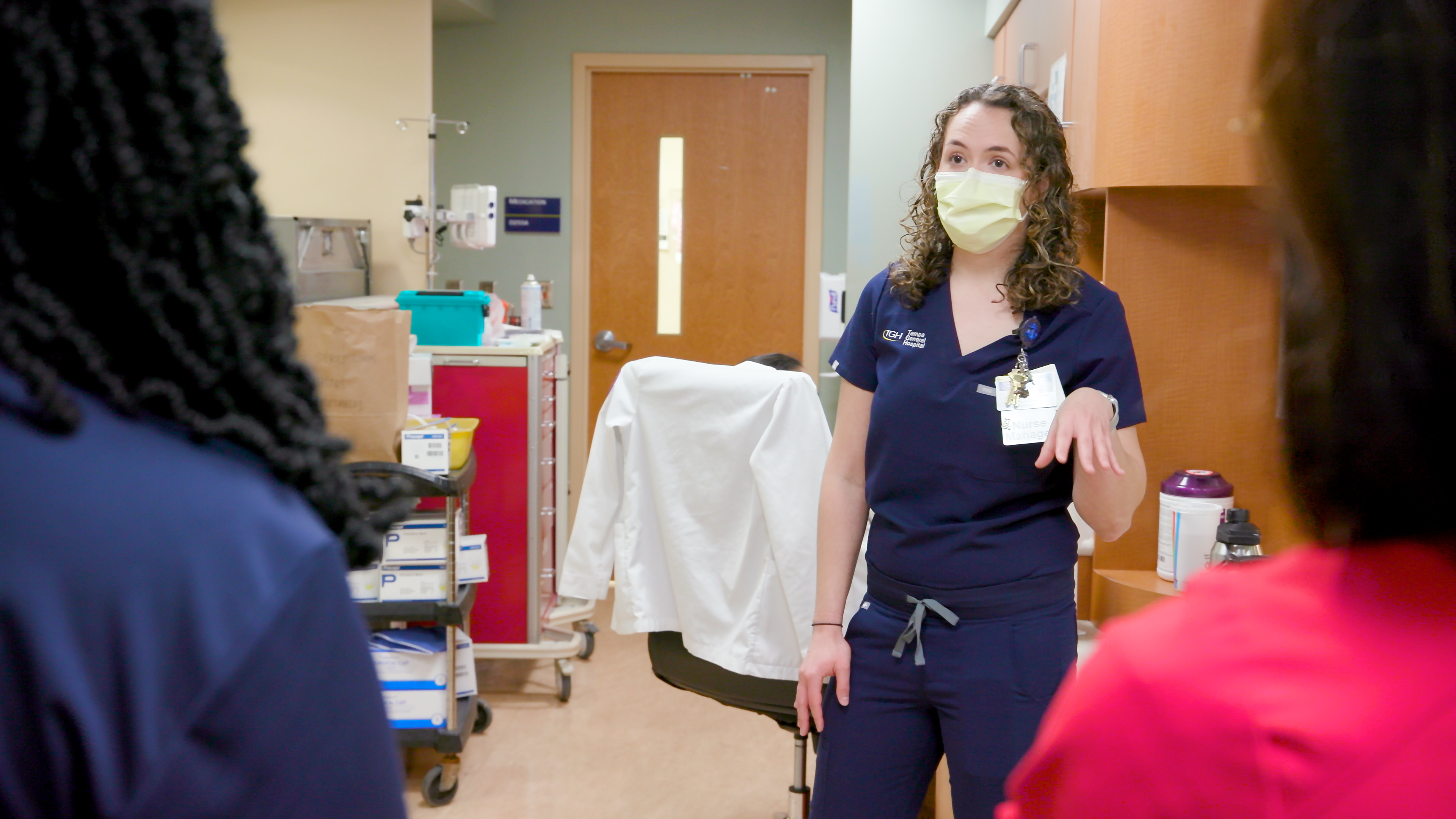 When the moment comes, her thoughts will not be far from her two grandmothers, both of whom passed away in Ohio from natural causes during the pandemic – including her maternal grandmother, Emily Talcott, a nurse in World War II. "She inspired me to do what I do now," said Dorner.
The emotional and physical strain from the past year – not just from her profound personal losses but from overseeing a TGH unit steeped each day in the life-and-death COVID fight – makes her Super Bowl honor all the more meaningful.
"We've all endured so much this past year," she said. "It's emotionally, mentally and physically draining. We've all seen so much. I've seen things I've never thought I'd see in my lifetime. In July, I walked into our 18-bed COVID ICU and every single person was intubated, which is something I've never seen in my career. It was younger patients, too, in their 20s and 30s. That was when I was like, 'Oh, no. It's here. This is real.' "
Tapping her natural leadership skills, Dorner has worked hard to find ways to support her nurses and patients, such as getting more iPads in the unit to facilitate the difficult goodbyes with family members; making sure chaplains and psychologists are available to provide comfort; and creating a quiet self-care room for her nurses having a hard shift to get their bearings.
"What helped me stay calm was that I knew I had to be there for my team," she said. "I had to be the person to say, 'Hey guys, it's going to be okay; we're going to get through this together.' "
Dorner's spirit of perseverance will be shared in another powerful way prior to kickoff Sunday. National Youth Poet Laureate Amanda Gorman, who riveted the country on Jan. 20 by reading her poem, "The Hill We Climb," at the inauguration of President Joe Biden and Vice President Kamala Harris, has been commissioned by the NFL to write a poem dedicated to Dorner, Martin and Davis that will air during the pregame show on CBS.
"She's just so eloquent with her words," Dorner said. "And I'm so excited to hear what she will say."
A graduate of Florida State University's nursing school, she is now in her eighth year working at Tampa General and was promoted to nurse manager of the Medical Intensive Care Unit in October 2019. Just a few months later, her world, and that of her staff, would change drastically as COVID-19 began to spread across the country. Early on, within a day, the MICU was converted to a COVID unit, ready for the impending influx of severely ill patients.
Dorner credits the ongoing support of TGH leadership for helping her team get through the crisis.
"Our leadership has been absolutely phenomenal since Day 1 in responding to the pandemic," she said. "Whenever there's been an issue, they help you resolve it quickly."
The closeness of the nursing staff is reflected in a symbol that shows up throughout the unit – on badges, charms, pins and pictures on the walls. It's an image of an anchor, devised to denote their unit's motto: "Anchored in Excellence."
Now, a special nurse's commitment to excellence, representing that commitment by health care workers everywhere, will be anchored at the Super Bowl for all the world to see.