Renowned Expertise in Cranial Nerve Disorders and Skull Base Surgery
Published: Feb 2, 2021
By Tampa General Hospital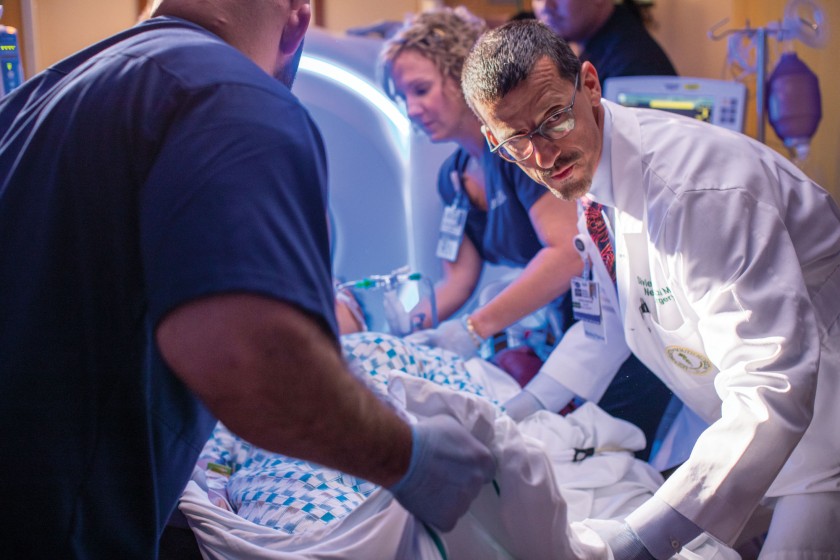 Nationally Recognized Expertise in Trigeminal Neuralgia And Other Cranial Nerve Disorders
Tampa General is among the most trusted and recognized medical centers in the country for the medical and surgical treatment of disorders of the cranial nerves. This reputation spans TGH's capabilities in the comprehensive management of trigeminal neuralgia, hemifacial spasm, geniculate neuralgia, and glossopharyngeal neuralgia. With technical expertise in the entire gamut of surgical treatments, including microscopic vascular decompression and innovative nerve stimulation techniques, TGH attracts patients from throughout the Southeast as a destination center for even the most complex cases.
Dr. Harry van Loveren, head of Neuroscience at Tampa General Hospital and vice-Dean of the USF Morsani College of Medicine, has developed a national reputation for his expertise in treating cranial nerve disorders. He is the author of numerous publications and regularly lectures on the topic. He has also been appointed to the Medical Advisory Board of the Trigeminal Neuralgia Association. Dr. van Loveren has performed hundreds of minimally-invasive operations for these conditions and is frequently consulted to advise other neurosurgeons patients whose conditions are considered complex.
One of the Nation's Top Centers for Skull Base Surgery
Tampa General is recognized as one of America's premier centers for Skull Base Surgery and is renowned for management of the most complex brain tumors in cranial surgery. Patients are referred from around the country to TGH for a multi-disciplinary team approach, often as their last hope in seeking a high quality of life and even survival. The Tampa General comprehensive team includes members from all necessary specialties such as neurosurgery, neuro-otology, head and neck surgery, ENT (ear, nose and throat) surgery, oculoplastic surgery, plastic reconstructive surgery, medical oncology, radiation oncology, neuroradiology, pediatric neurosurgery, pediatric oncology, and rehabilitation. TGH leadership supports their team with the most advanced technology available in the world including intra-operative MRI, fluorescence-guided surgery, endoscopic surgery, 3D-Microscopic surgery, Frameless-guided neurosurgery, and Laser Interstitial therapy.
Dr. van Loveren and his team have trained more than 20 of the world's leading skull base surgeons, and van Loveren was a founding member of the North American Skull Base Surgery Society and President of the Southern Neurosurgical Society. His strategies, techniques and philosophies have been published in numerous journal articles and two seminal books on surgical approaches to skull base surgery. According to Dr. van Loveren, "The purpose of the skull base surgery team is to bring everyone and everything we have available to make what seemed impossible possible, to save one patient at a time, and to be the doctors we always hoped we could become."