New Implantable Device Helps Monitor Cardiac Failure From The Comfort of Home; Eliminates Frequent Doctor Visits
Published: Feb 11, 2021
By Tampa General Hospital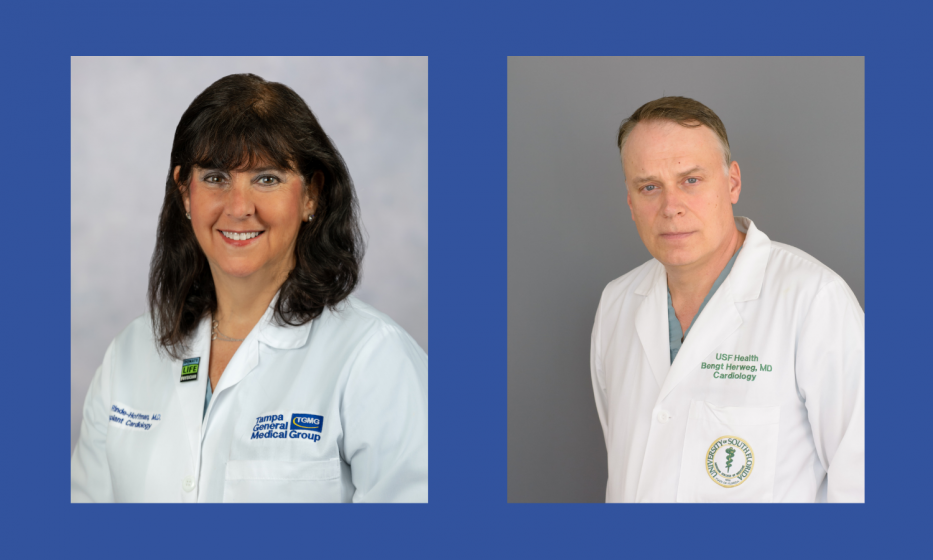 Barbara Peete spent 34 years of her life as an elementary school teacher in Florida. She led a productive life, making a daily impact on thousands of young students. She raised two children together with her husband of 52 years, Herb, a NASA engineer.
Before and after retirement, they pursued their dream of travel, visiting grandchildren in Maryland and Virginia and taking family cruises. In 2017, they traveled to the blue seas of Bermuda, when Barbara felt she was coming down with a cold. She did not worry about it, until she saw a doctor. She was diagnosed with a viral infection alongside atrial fibrillation, otherwise known as an irregular heartbeat.
When they returned home, she had to be hospitalized several times under her cardiologist's care. An echocardiogram was performed and diagnosed her with a decreased ejection fraction. Barbara was then issued a cardiac LifeVest, which is a wearable defibrillator for patients at risk for sudden cardiac death. She wore it for about eight months.
Looking back, Barbara's father died suddenly of a heart attack at age 39. Barbara wondered if she would meet the same fate, especially since her brother was also having many heart-related issues that required several hospitalized procedures. She continued to take steps to protect her health.
After using the LifeVest, her local electrophysiologist said she needed an implantable cardioverter defibrillator or ICD, a device that would shock her heart if she experienced a potentially life-threatening arrhythmia. Her cardiologist then referred her to Tampa General Medical Group's Dr. Debbie Rinde-Hoffman, an advanced heart failure specialist, transplant cardiologist specialist and medical director of the advanced heart failure and mechanical circulatory support programs. Even though Dr. Rinde-Hoffman's location was a long two-hour drive from Barbara's home, her local cardiologist recommended Rinde-Hoffman because of her reputation and expertise.
"Dr. Rinde-Hoffman, in her professional wisdom, knew what she was doing as soon as we showed up," said Barbara. Dr. Rinde-Hoffman adjusted Barbara's medications and confirmed that she had cardiomyopathy or heart failure. Due to her age, she was not a candidate for a heart transplant and she preferred to pursue all potential options.
The next steps were to have an ablation to stabilize her cardiac rhythm issues, which was performed by Dr. Bengt Herweg, a cardiac electrophysiologist with USF Health and Tampa General, who specializes in treating rhythm disorders. In addition, her clinical condition was further stabilized with the use of an infusion – Milrinone – which is an IV continuous drip that she was dependent upon for a period of 319 days. It would hopefully allow introduction and titration of other oral meds that would obviate the need for an LVAD.
As the critical necessity to monitor Barbara's heart failure continued, Dr. Rinde-Hoffman discussed the Abbott CardioMEMS HF System clinical trial for which she was the principal investigator at Tampa General Hospital.  Barbara was evaluated and determined she was a good candidate for it. She was enrolled in the GUIDE-HF trial in November of 2019.
"The CardioMEMS could not have come around at a better time as COVID is upon us," said Dr. Rinde-Hoffman. "This is the first fully implantable monitor that allows us to monitor patients' heart failure without the patient actually having to come into the office and to avoid costly heart failure admissions to the hospital."
The CardioMEMS is a permanent, implantable device that remotely monitors fluid accumulation, a precursor to congestive heart failure. It is a form of telemedicine that monitors changes in the patient's pulmonary artery pressure, an early indicator of the onset of worsening heart failure. These early changes can often be addressed through simple adjustments, such as changing medication, without requiring an appointment with the doctor. The beauty of the device is that it gives doctors up to a two-week warning that things are changing.
It has been a year since Barbara was implanted with the device and she has not had a single heart failure admission since the trial began. It has been FDA approved and is now covered by Medicare and most insurance plans.
Every morning, Barbara now takes her own blood pressure and weighs herself. She charts her sodium and water intake. She then lays down next to the monitoring device beside her bed, and when the light is green, the information is telephonically relayed. It takes under five minutes and is painless. There are no visible signs of the implant in her chest. The device is smaller than a dime and is placed via a vessel in the leg. It is a seamless and painless process that is helping her avoid future cardiac issues.
Although she does not mind traveling to TGH for her regular checkups, the CardioMEMS easily helps keep her heart failure in check and helps her avoid more hospitalizations.
When asked about the CardioMEMS, Barbara says, "Do it! And be committed! If a machine can show you that much and the doctor can alert you, why not? When people ask me why I drive all the way to Tampa, I say 'yes, I do,' and I feel good about it after all I have been through. I feel fantastic! I consider driving a couple of hours to Tampa very minor because Dr. (Rinde-)Hoffman cares deeply for her patients and determines the best treatment for them."
Barbara says she and her husband Herb would like to travel to countries that they have not visited. She looks forward to spending more time with family members and doing more volunteer work in the community and at her church.