Deep Brain Stimulation Used to Treat Movement Disorders
Published: Feb 3, 2021
By Tampa General Hospital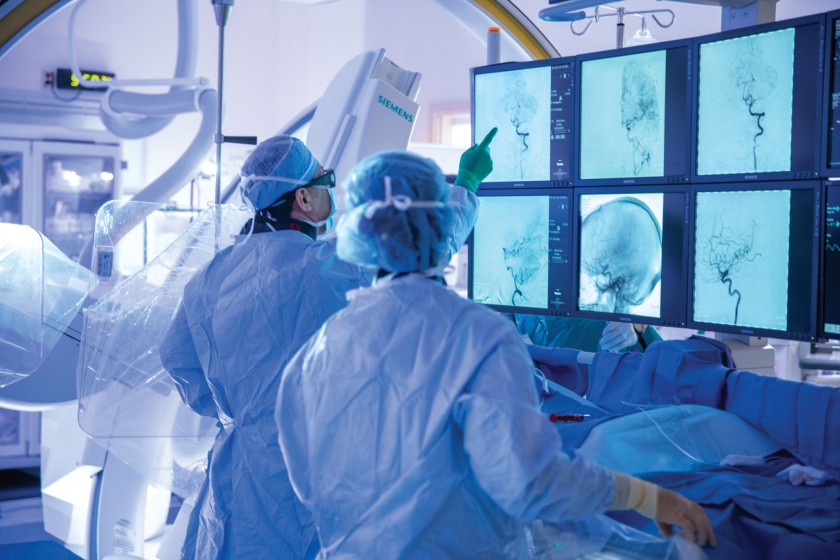 Deep brain stimulation (DBS) is an established, FDA-approved treatment for patients with movement disorders such as Parkinson's disease, essential tremor (ET), dystonia, and several other neurological disorders including epilepsy and obsessive-compulsive disorder (OCD), whose symptoms are not optimally controlled by medications and other non-surgical interventions or who experience side effects with these medications.
Tampa General Hospital was one of the first sites in North America to offer deep brain stimulation and is currently among the busiest centers offering this therapy in the southeastern United States. Tampa General Hospital's Movement Disorders Neuromodulation Center is a national referral center for the treatment of Parkinson's disease, essential tremors, dystonia, ataxia, and Huntington's Disease. The program consists of a multidisciplinary team of experts including internationally renowned movement disorders neurologists, neurosurgeons, and neuropsychologists, as well as expert nurses, speech-language pathologists, physiatrists, social workers, and neuroradiologists. In addition to a detailed neurological evaluation by the members of this team, success of surgery depends on precisely targeting specific areas of the brain with the deep brain stimulator leads, and tailoring the delivery of the electrical stimulation to each patient's specific symptoms.
Tampa General Hospital is committed to delivering the most recent advances in deep brain stimulation to our patients, including awake surgery with use of intraoperative neurophysiology and CT imaging, and asleep surgery using intraoperative MRI to determine lead placement. The neurosurgery team at Tampa General Hospital also works with all three device manufacturers to offer devices with the latest cutting-edge technology, including directional leads and brain sensing technology. With these advances, patients with Parkinson's disease treated at Tampa General Hospital can expect an almost 70% improvement in symptoms due to tremors, stiffness, and slowness leading to significant improvement in function and quality of life, and oftentimes a substantial reduction in Parkinson's medications.
Future technologies being explored at Tampa General include the use of focused ultrasound for incisionless surgery for movement disorders. In addition, our team is involved in several multicenter clinical trials to expand the use of DBS to treat Alzheimer's Disease, addiction, eating disorders, depression, and other psychiatric disorders.
"With recent advances in the technology of these devices and multiple ongoing studies exploring new indications for these surgical procedures, I believe that neuromodulation will dominate the field of neurosurgery in the next decade and beyond. At Tampa General Hospital, we have experienced excellent outcomes for our patients who need these highly specialized procedures," says Donald Smith, MD, head of Tampa General's Functional Neurosurgery Division. "The technology and expertise we have at TGH plays a huge role in this success, but just as important is our close collaboration with the  neurologists who help us see which patients can benefit."