Can Artificial Intelligence Improve Orthopedic Surgery?
Published: Feb 2, 2021
By Tampa General Hospital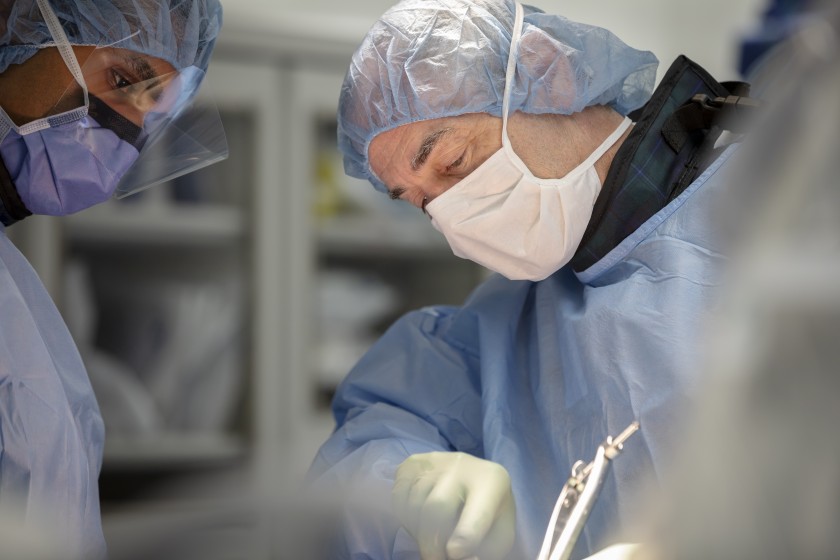 Trauma Surgeons at Tampa General Hospital, in partnership with Florida Orthopaedic Institute, are testing OrthoGrid Trauma's image-processing software application to assist in both intraoperative assessment and execution phases of orthopaedic trauma surgery. The application assists surgeons in assessing anatomical alignment throughout the reduction of bone fragments. Surgeons can then use the application to assist with execution of their surgical plan. As they precisely position orthopaedic trauma components intraoperatively, surgeons can use OrthoGrid Trauma to measure implant position relative to the bone structures of interest, provided those landmarks can be identified on fluoroscopic images. To operate OrthoGrid Trauma, a fluoroscopic image is acquired from a C-arm and displayed on a touchscreen monitor outside the sterile field, where interactive image analysis tools and templates can be used at the surgeon's discretion. OrthoGrid Trauma incorporates artificial intelligence (AI) to support efficient navigation of specific instrumentation, while ensuring another level of accuracy by automatically correcting fluoroscopy distortion – an identified risk for alignment assessment. The software operates on image principles that are not implant or vendor-specific.
Image-guided automation is made possible by advanced, deep learning-based algorithms applied to a specific, yet universal, use case in orthopaedic surgery. Orthopaedic trauma surgeons frequently use fluoroscopic images when restoring anatomic alignment, to visualize the starting point and incremental advancement of instruments and implants, and when repairing fractures. Having the ability to confirm anatomic alignment and visualize the anticipated trajectory of their instruments and implants in real-time offers surgeons the potential to improve their efficiency, accuracy, and reproducibility.
Real-time applications can support trauma surgeons' existing workflows, so adoption is immediate and seamless without a learning curve. Surgeons can spend more time focusing on quality of treatment, not adapting to a new device. In addition to achieving this advancement, OrthoGrid has tackled important issues such as fluoroscopic distortion correction – a critical step to improving accuracy in orthopaedic surgery. The company is now focused on further testing and optimizing its AI-powered trauma solution, which it expects to be available for purchase in early 2021.