Leaning Into the Fight Against COVID-19
Published: Aug 5, 2021
By Ellen Fiss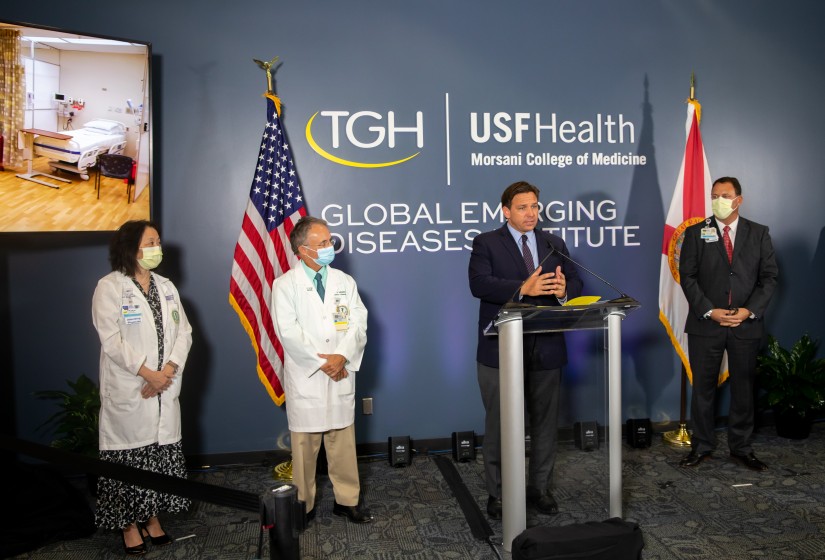 The importance of lifesaving COVID-19 vaccinations and medical innovations such as monoclonal antibody treatments were the focus of a press conference on Aug. 5, 2021 with Florida Governor Ron DeSantis and Tampa General Hospital President and CEO John Couris at the hospital's Global Emerging Diseases Institute (GEDI).
Couris and DeSantis were joined by Dr. Charles Lockwood, dean of the USF College of Medicine and Dr. Kami Kim, director of infectious diseases and international medicine, USF Health Morsani College of Medicine.
Tampa General was one of the first in the state to offer this therapeutic treatment to COVID-positive patients to minimize the severity of their symptoms and eliminate long hospital stays.
One of reasons DeSantis visited Tampa General is to call attention to monoclonal antibody therapy. "People didn't know about this," he said.
Since November of 2020 and in collaboration with USF Health Morsani College of Medicine, Tampa General offers infusion therapy for certain patients with COVID-19. Located on Tampa General's main campus in the GEDI, the outpatient clinic administers monoclonal antibody therapies authorized by the U.S. Food and Drug Administration (FDA) under an emergency use authorization (EUA). 
DeSantis recalled when the FDA provided authorization for the use of monoclonal antibodies, he contacted Couris to offer the state's assistance in setting up a clinic. "But John said, "we've got this," and "Tampa General really leaned into it," said DeSantis.
An entire team of physician leaders from Tampa General and USF Health Morsani College of Medicine support the Institute. The GEDI treats patients suffering from COVID-19 and other infectious diseases, conducts cutting-edge research and teaches the next generation of infectious disease physicians. "Along with USF, we were conducting research early on before the FDA authorized monoclonal antibody treatment," said Couris. More than 60 clinical trials related to COVID-19 have been conducted through Tampa General and USF.
A total of 1,600 patients have been treated by Tampa General with monoclonal antibodies. "By targeting towards the virus, this therapy prevents infection that can keep patients out of the emergency room," said Kim, who also leads the monoclonal antibodies clinic. "People have less severe disease and aren't going to give it to others, it's an important treatment," she noted.
Tampa General was also on the leading edge of another advancement in reducing the spread of COVID-19 – the vaccine. In December 2020, the hospital was one of the first five in Florida to receive the vaccine and the first in the state to vaccinate a nurse.
"We've taken care of the sickest and most complex patients and if you come to us with COVID-19, we can take care of you. The best way to avoid coming here is through vaccination. It protects you from long-term COVID symptoms and death by about 90 percent," said Lockwood.
Monoclonal antibodies are molecules that act as substitute antibodies that can restore, enhance or mimic the immune system's attack on cells. Monoclonal antibodies for COVID-19 may block the virus from attaching to human cells, making it more difficult for the virus to reproduce and cause harm and may also neutralize a virus.
Monoclonal antibody therapy is most beneficial when given immediately following onset of symptoms or upon diagnosis of COVID-19. Patients should discuss monoclonal antibodies treatment with their health provider, who can provide a referral, if appropriate. For more information, visit Tampa General Monoclonal Antibodies Treatment.
To find a COVID-19 vaccine, visit https://floridahealthcovid19.gov/vaccines/vaccine-locator/.