TGH Transitional Care Center – Care at Home for COVID-19 Patients
Published: May 22, 2020
By Taylor Howard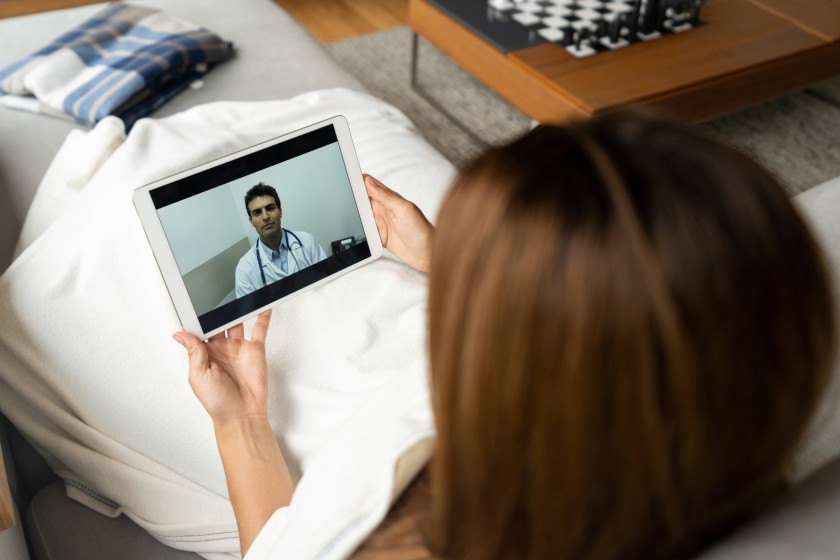 On March 30, 2020, USF Health's Department of Internal Medicine and Division of Infectious Disease teamed up with the the Florida Department of Health in Hillsborough County and Tampa General Hospital to create the TGH Transitional Care Clinic. The Clinic serves as a network of healthcare professionals providing care for patients who have tested positive for COVID-19. Team members track patients' symptoms and provide care virtually, allowing infected individuals to stay home.
The program offers recommendations and instructions to patients, so they can manage the virus at home and prevent hospitalization or re-admission to the hospital. The program provides another way that we can ensure the safety of all patients and team members.
This network of providers uses telehealth visits to assess, monitor, and treat patients for COVID-19. During video visits, patients receive a full medical assessment, including prescriptions for necessary medications, and in some cases, are provided pulse oximeters to closely track their heart rate and oxygen levels. The team continues to monitor the patient's vitals throughout the course of the disease. For the sickest patients, in-person care may be arranged at an isolation clinic with specialized staff and USF Health physicians.
The Transitional Care Clinic encompasses not only the clinical care of the patient, but provides connections with home care companies, behavioral health clinicians and other resources for social support. If interested, patients may also be referred to clinical trials and participate in research clinical trials.
The Transitional Care Clinic is a referral only clinic within TGH/USF and cannot take referrals from outside facilities.
To contact the TGH Transitional Care Clinic, please call (813) 844-8383.