How Isolation Rooms Help Keep Patients Safe
Published: May 5, 2020
By Clarissa Rodriguez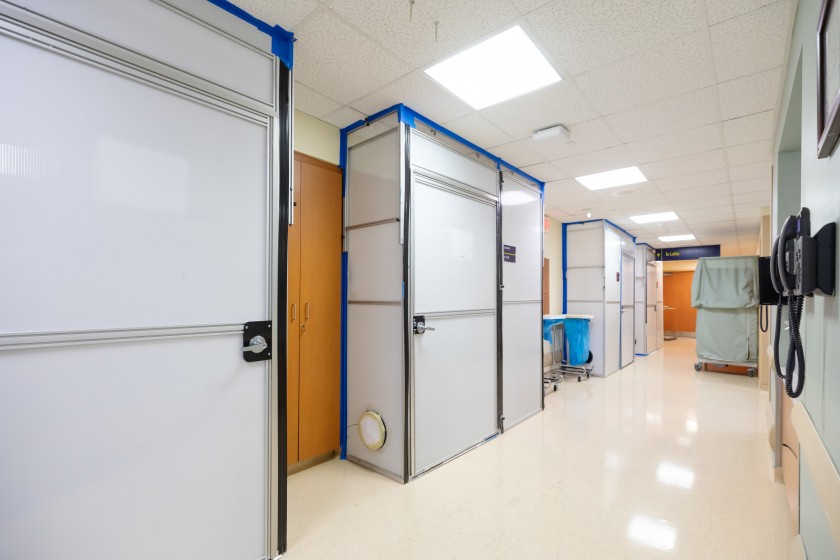 In health care facilities, isolation represents one of several measures that can be taken to implement infection prevention and control. These measures help prevent the spread of contagious diseases from one person to another, whether that may be another patient, health care worker or hospital visitor.
Peggy Thompson, Director of Infection Prevention at Tampa General Hospital, shares specific precautionary measures being taken within the hospital to ensure all patients and team members are safe..
"First, and most important, we have been preparing for disease transmission such as COVID-19 for many years," says Thompson. "We not only train, but also do a competency assessment on the practice of hand hygiene, disinfection practices, isolation precaution, and donning and doffing of personal protective equipment. This allowed us to easily review and reassess performance of these practices as we were preparing for this pandemic."
Engineering controls, such as the use of negative airflow rooms for any patient in airborne isolation, is key in preventing the spread of diseases. Tampa General Hospital currently has 83 negative air pressure rooms distributed around the facility and created several new negative pressure isolation units to house COVID-19 patients in a separated area of the hospital.
Negative pressure isolation rooms are designed so that all of the air from the room is exhausted outside and not recirculated in the building which helps prevent the spread of airborne diseases like COVID-19 from escaping and infecting other people
"Isolation precautions are intended to minimize pathogen transmission and reduce hospital-acquired infections," explains Thompson. "We regularly round to ensure that practices are followed and answer any questions to keep our patients and health care team safe."
TGH works closely with the Department of Health on all COVID-19 cases. Any patient who presents COVID-19 symptoms and meets the criteria for testing will be placed in a negative pressure isolation room and cared for by teams who are well-trained to care for patients with infectious disease and viruses.
"These isolation precaution practices will continue as we enter this new phase," says Thompson. "It will be especially important for the community to continue practicing good hand hygiene and social distancing as businesses begin the process of reopening. This will help prevent the spread of the pandemic and create a successful transition into the next phase. We want to assure the community that we are prepared and that the health and safety of our patients, team members and physicians still remains our number one priority."
If you have any questions, please call the TGH Helpline at (813) 844-8084.