Have a medical emergency? Don't wait to call 911
Published: May 1, 2020
By Lisa Greene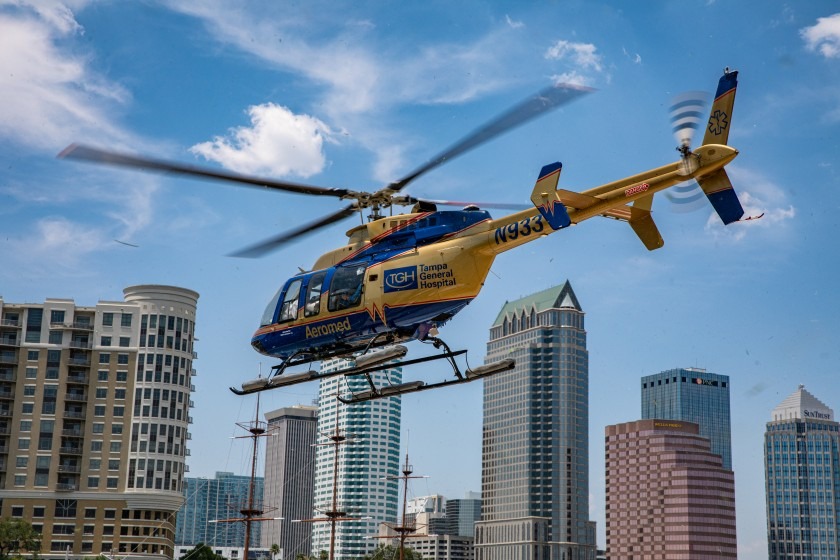 If you are experiencing a medical emergency, don't be scared to come to the Emergency Department.
Doctors understand people's fears, but they want to reassure patients: don't let your worries about COVID-19 keep you away.
If you have an emergency, you need to get it treated as soon as possible, said Dr. David Wein, chief of Emergency Medicine at Tampa General Hospital. The hospital has safety protocols in place to protect people from infection and enough medical staff to care for patients who need help.
"If you're having chest pain or symptoms of a stroke, then you need to be seen in the Emergency Department," Wein said. "That's what we're here for -- to take care of you."
Tampa General is seeing about 40 to 60 percent fewer patients than normal, Wein said – but the rate of patients suffering enough to need admission to the hospital has increased about 10 to 15 percent. Emergency rooms around the country are reporting similar drops in patient visits.
"Patients are showing up later and sicker," he said. "I think part of it is fear and part of it is people trying to be good natured in conserving resources for the public."
Wein and other doctors are concerned that patients who delay receiving care for an emergency may wind up with long-term health consequences. When patients delay care for a heart attack, they may suffer permanent damage to the heart muscle. Patients who aren't treated immediately for a stroke may suffer mobility limitations or speech loss.
"They may be left with a lifelong disability that we might have been able to prevent or decrease if they had come to the hospital sooner," Wein said.
Dr. Charles Lockwood, dean of the USF Health Morsani College of Medicine and senior vice president of USF Health, said: "Really, this is the safest spot you can be…If you are having chest pain, symptoms of a stroke, weakness so that you can't speak – come immediately to the emergency room. This is a remarkably safe environment."
Patients also shouldn't delay doctors' visits for needed medical care, he said, even if it's not an emergency.
"If you're having symptoms, or if your blood pressure is out of control, or if your diabetes hasn't been managed, see your doctor," he said. "Really, I cannot emphasize that enough."
If you come to Tampa General's Emergency Department, safety precautions start immediately. As soon as you arrive, you'll be asked whether you have symptoms that might indicate COVID-19 or another respiratory illness. These patients are immediately moved to respiratory treatment rooms, most of which have negative air pressure so that any germs can't travel elsewhere. They are then treated by caregivers wearing full PPE. TGH also has a separate unit to treat COVID-19 patients who are admitted to the hospital.
In the Emergency Department, patients who don't have these symptoms will still be given a mask to wear and treated by caregivers wearing masks. All patients who are admitted to the hospital are tested for the virus, whether they have symptoms or not. Tampa General team members also are screened for symptoms and having their temperatures checked each day.