When to Visit the Tampa General Hospital Emergency Department
Published: Jun 26, 2020
By Tampa General Hospital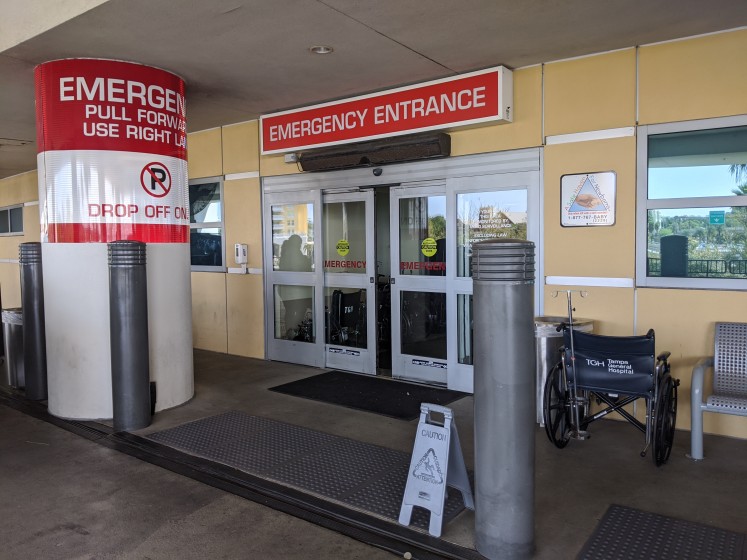 It's a global pandemic, tensions are high… some may be wondering do I really need to visit an Emergency Department? What can I expect during my visit? In a medical emergency, your number one priority should be getting the care you need as fast as you can.
At Tampa General Hospital the health and safety of our patients remains our number one priority despite the "new normal" of living in a COVID-19 world.
"If you are experiencing a medical emergency, you need to get it treated as soon as possible," said Dr. David Wein, chief of Emergency Medicine at Tampa General Hospital. The hospital has safety protocols in place to protect people from infection and enough medical staff to care for patients who need help.
"If you're having chest pain or symptoms of a stroke, then you need to be seen in the Emergency Department," Wein said. "That's what we're here for -- to take care of you." The CDC has issued specific recommendations to prevent the spread of COVID-19 in health care facilities, including ER's. Tampa General is closely following these safety measures to keep people safe from getting COVID-19.
Here are some important reminders:
When to Visit an Emergency Department
The TGH Emergency Department is open 24 hours a day, seven days a week to care for the community
Call 911 or go directly to the emergency room if you or a family member has any of these medical emergencies: chest pain, stroke, heart attack, fall where you cannot get up, major head injury, poisoning, serious allergic reaction, severe injury that includes broken bones, vomiting or coughing up blood, severe stomach pain
It's safe to come to the TGH Emergency Department
TGH checks temperature at all entrances
TGH cares for COVID-19 patients in separate areas
Social distancing is clearly marked in waiting areas
Universal masking policy in place for team members and patients
TGH has enough personal protective equipment for every team member to care for patients safely
Visitor restrictions are in place and to learn more visit www.tgh.org
TGH is Not a Testing site for COVID-19
Tampa General Hospital performs medical screening exams for all patients who visit the ED
Since TGH is not a designated COVID-19 testing site, your visit will be treated as an Emergency Department visit
For COVID-19 testing, please call the Hillsborough County COVID-19 hotline at (888) 513-6321 or schedule an appointment online at www.hillsboroughcounty.org/Coronavirus
If you come to Tampa General's Emergency Department, safety precautions start immediately. As soon as you arrive, you'll be asked whether you have symptoms that might indicate COVID-19 or another respiratory illness.
These patients are immediately moved to respiratory treatment rooms, most of which have negative air pressure so that any germs can't travel elsewhere. They are then treated by caregivers wearing full PPE. TGH also has a separate unit to treat COVID-19 patients who are admitted to the hospital.
All patients who are admitted to the hospital are tested to see whether they have the virus, whether they have symptoms or not. Tampa General team members also are screened for symptoms and having their temperatures checked each day. If you have any questions about COVID-19 or safety measures Tampa General Hospital has put in place, call the TGH Helpline at (813) 844-8084. The TGH Helpline is available 7 days a week from 8 a.m. to 8 p.m.