Maximizing Patient Outcomes Without the Risk of Falling
Published: Jun 30, 2020
By Ellen Fiss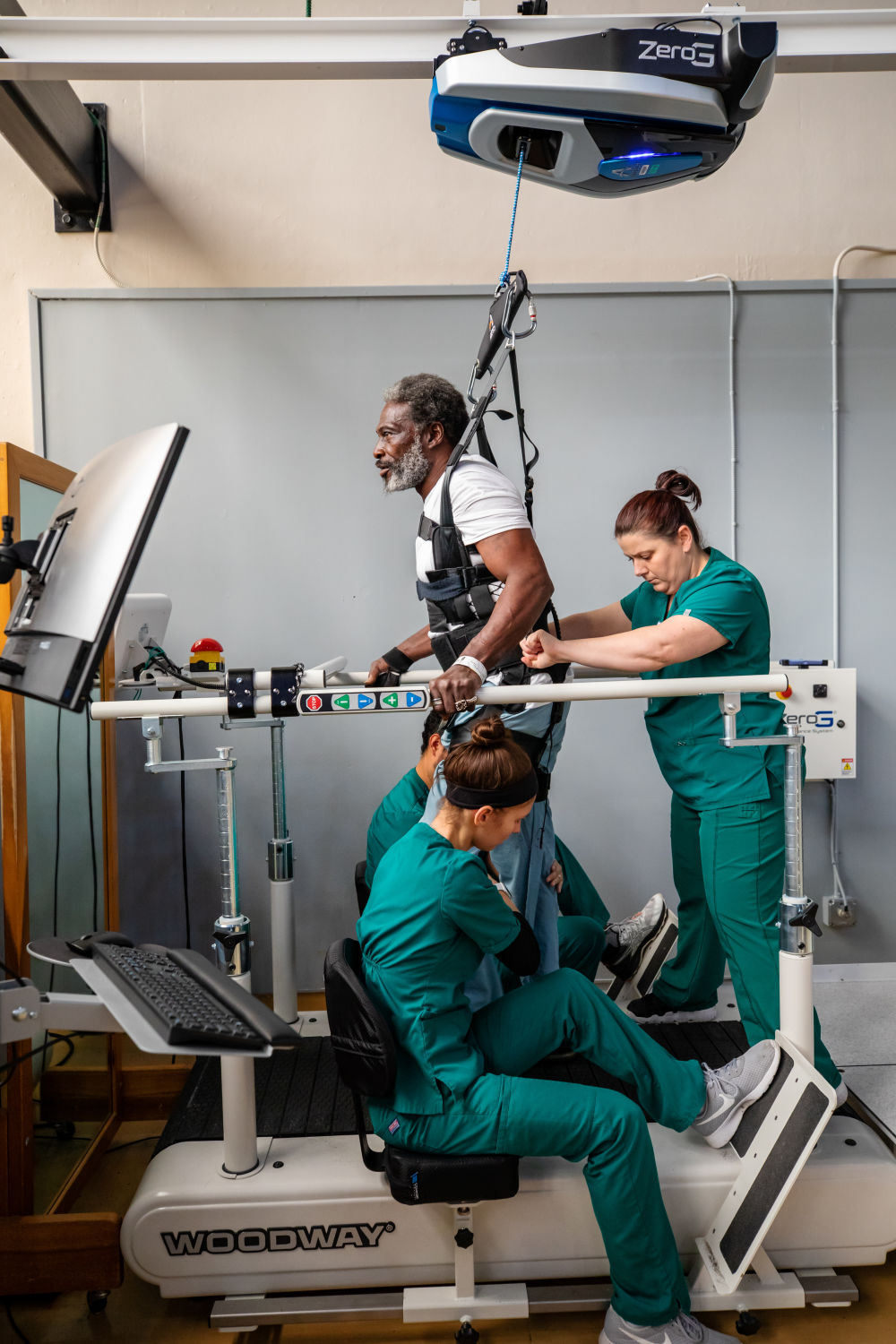 Imagine you've had a stroke or been severely injured from a car accident. 
Or you've developed a neurological condition that paralyzes your whole body. You can't walk at all. Your life has suddenly turned upside down.
Paralysis affects hundreds of people in the Tampa Bay area each year; people like Steve Connors. Connors was once a paratrooper with the prestigious 82nd Airborne of the U.S. Army, based at Fort Bragg. Throughout his career, he was a medical transporter, a deputy sheriff, and currently a member of the Lakeland Fire Department. He's always been active and lived a life of service.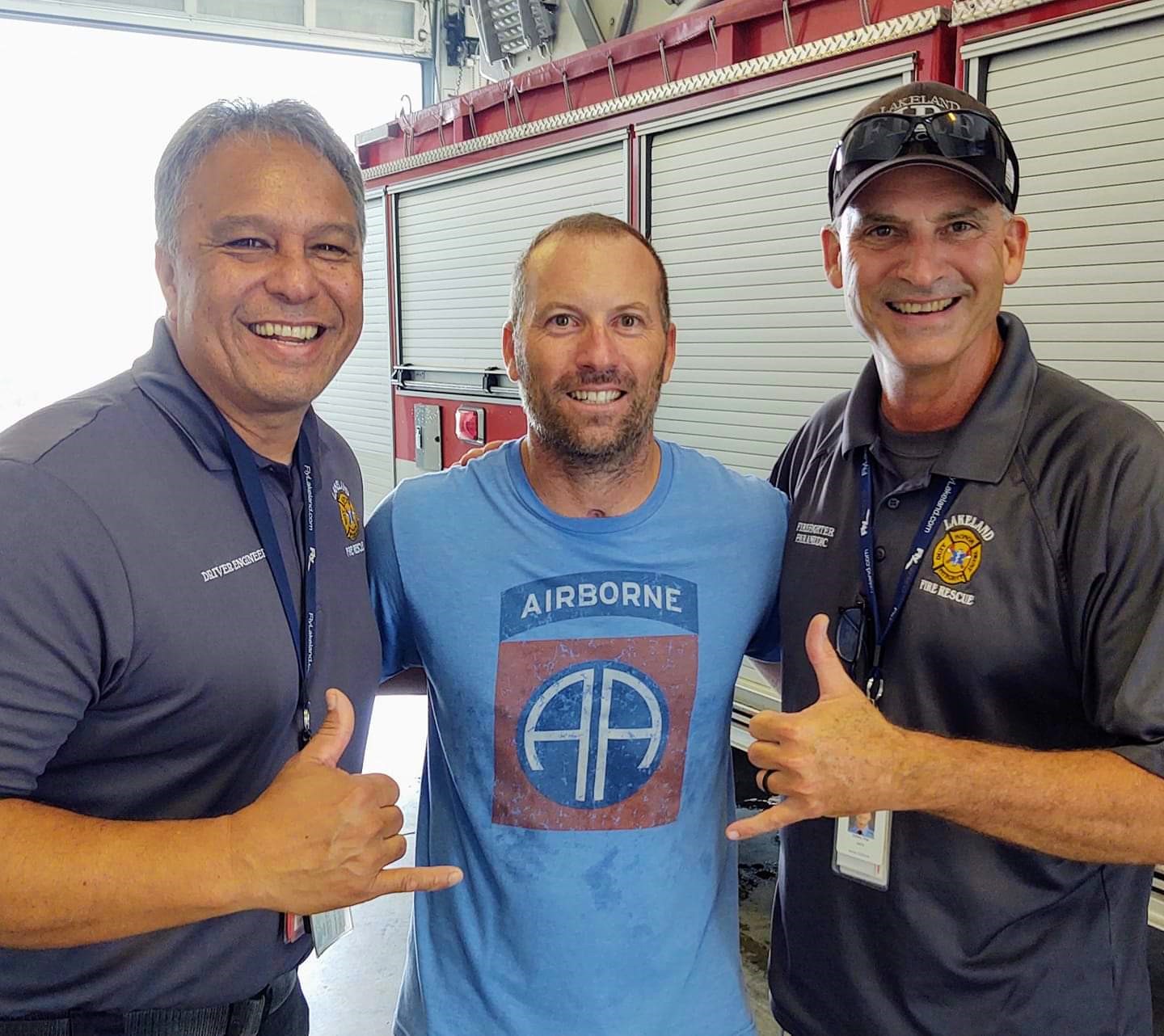 But last December, Steve woke up and had tingling in his hands and feet and knew he had to get to the hospital. Even though he lived a reasonable distance away in Plant City, he told his wife she had to transport him to Tampa General Hospital and bypass the other hospitals along the way. He knew Tampa General could provide the best care. 
The sensation first manifested as an inexplicable weakness and then rapidly evolved into a life-threatening situation, eventually paralyzing his entire body. Steve was in extreme pain, unable to walk, eat, speak, and even breathe for himself.
The doctors diagnosed him with Guillain-Barré  Syndrome, a rare neurological disorder in which the body's immune system attacks nerves. He spent months in the hospital. 
But Connors is a fighter. And no stranger to hard work.  He powered through and progressed from being ventilated in the ICU to enduring daily hours of inpatient physical and occupational therapy.  
When Steve came to TGH, he was a healthy, fit 202 pounds, but after months of being bed-bound, he lost his muscle mass, and his weight came down to 157 pounds. Then he entered rehabilitation. "It was painful, but I worked out hard every day," said Connors. "When I first started in rehab, I couldn't hold a Coke can; I was so weak." 
Thanks to a generous donation by The Hillsborough County Hospital Authority and the TGH Foundation's Rehab Equipment and Technology Fund, a new, state of the art technology called the "ZeroG Gait and Balance System" by Aretech helped Steve regain his strength and learn to walk again.
The ZeroG protects patients from falls while providing body-weight support as patients practice walking, balance tasks, learn sit-to-stand maneuvers, and even stairs, alongside their physical therapist. Because the ZeroG harness is mounted to a wall track, the patient and the therapist have the reassurance that the patient is safe and cannot fall and injure themselves. 
Manuel Garcia-Gaona, a physical therapist, and a TGH trainer of the ZeroG,  says it's 100-percent secure and can hold patients up to 400 pounds. What used to take up to three physical therapists to assist the patient now only takes one. 
"When a patient comes to the TGH Rehab Center, they have lost their independence, and they're very emotional. They were living their lives independently but now can't do much for themselves," Garcia-Gaona said. "Our goal is to increase their independence. The ZeroG enables patients to feel secure and safe, while building a sense of hope," he said. "Therapists like it, too, because there's less chance of back strain."
Steve remembers sitting and watching other rehab patients, thinking he could never achieve what they did. But then he thought about it more and decided that there will always be someone "worse than me" and said to himself, "no, I CAN do that!"
The ZeroG helped him have the confidence to push the limits.
Steve is currently in outpatient rehab twice a week at Tampa General Hospital and a big advocate of the ZeroG. Through hard work and extensive physical therapy, he has relearned how to eat and walk and is slowly rebuilding his strength to return to doing what he loves, serving as a Lakeland firefighter. 
Here is a brief video on the XeroG in use at the Tampa General Rehabilitation Center:  https://vimeo.com/430707042/04ceb16dfe
Photos and video produced by Daniel Wallace, TGH Visual Media Specialist.