The Tampa Bay Lightning's official practice facility is now the "TGH Ice Plex"
Published: Feb 7, 2020
By Curtis Krueger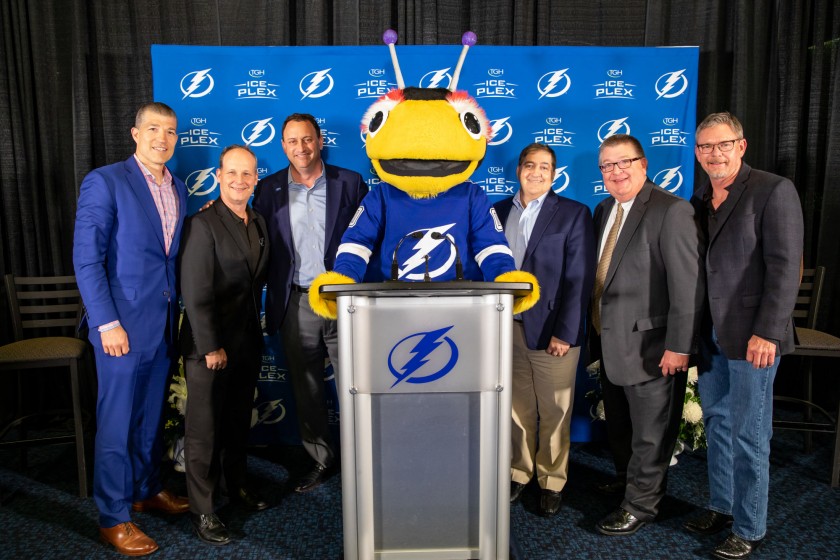 Tampa General Hospital and the Tampa Bay Lightning celebrated the newest chapter in their partnership with a ribbon-cutting at the "TGH Ice Plex" – the new name of the Lightning's official training facility.
The ceremony on Feb. 7, 2020 brought together two pillars of the Tampa Bay community, as well as many local hockey fans who came to a free skating session in the afternoon.
"We absolutely love the Lightning," said TGH President and CEO John Couris, who praised team owner Jeff Vinik for building what is widely seen as one of the premier franchises in sports.
"You do an absolutely outstanding job and it makes it easy as a world-class organization to partner with a world-class organization," Couris said.
Couris noted that Tampa General Hospital has expanded from Hillsborough County to neighboring counties and has grown from 17 locations to more than 50 because, "if you have a healthy community you have a prosperous and vibrant community."
The TGH Ice Plex is not only a practice facility for one of the National Hockey League's most successful franchises, it also is a community hub that hosts thriving local youth and adult hockey leagues. Tampa Bay Lightning CEO Steve Griggs called it "one of the best player environments in the NHL."
Jay Feaster, vice president of community hockey development, said the facility is "a critical part of the community hockey mission" and hosts a busy lineup of school and community league games, as well as a successful "Learn to Play" program.
After an introduction from Lightning broadcaster Rick Peckham, TGH Ice Plex owner Tom Bradley opened the event by saying "Welcome to the TGH Ice Plex – my first time saying that, and it feels good."
Vinik was present, as was Lightning General Manager Julien BriseBois and Lightning Hall of Fame player Dave Andreychuk.
 One member of the community who came for the event was Nate Mazanowski, who spends a lot of time at the TGH Ice Plex watching his son play hockey. Once he heard about the TGH and Lightning ribbon-cutting event, he knew he wanted to come with his family. "I wanted to see and celebrate with them."
TGH has a long history of supporting the Tampa Bay community, promoting active lifestyles and providing world-class heath care. 
The Lightning's privately funded $6 million facility, at 10222 Elizabeth Place in Tampa, was completed in 2018. It created a world-class locker room and training facility for the team. The TGH Ice Plex also invested $500,000 at the time in the project on rink, glass and dasher board upgrades. The new facility is 18,000 square-feet, compared to 5,500-square foot space.