20,000 Doses of Hope
Published: Dec 18, 2020
By Ellen Fiss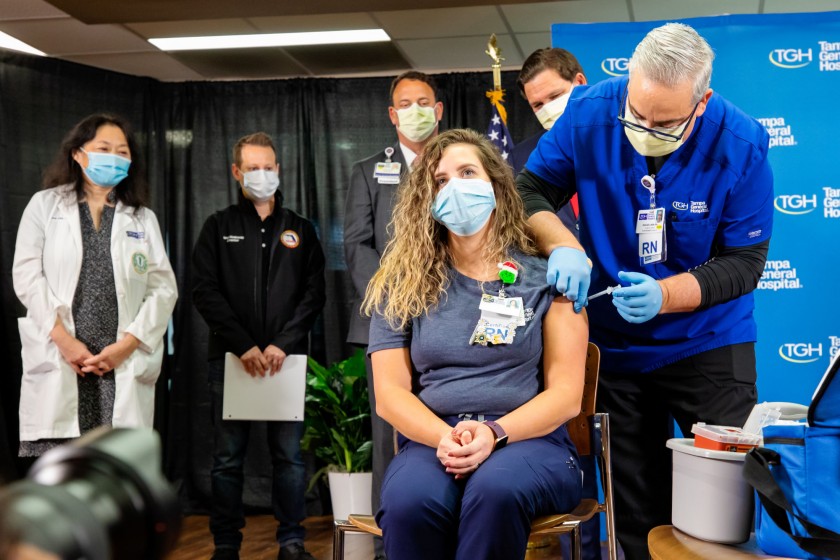 Hope can take many forms and on Monday, December 14, it arrived at Tampa General Hospital in a delivery truck.
This hope comes in vials. Specifically, vials of the Pfizer BioNTech COVID-19 Vaccine delivered in specialized ultra-cold thermal shipping cases.
As the historic delivery backed up to the loading dock, it was greeted by Florida Governor Ron DeSantis, John Couris, president and CEO of Tampa General Hospital and Dr. Charles Lockwood, dean, University of South Florida Morsani College of Medicine and senior vice president, chief academic officer, Tampa General Hospital.
The excitement was palpable as the Governor signed for the potentially live saving vaccine and it was stored in pharmacy freezers designed to maintain the necessary cold temperatures.   
"We now have 20,000 doses of hope for our community," said Couris at a press conference following the delivery. "This is monumental if you're sitting in our shoes, caring for the patients who need us the most."
 "This is a game changer, it's a great day for the United States, it's a great day for the state of Florida," proclaimed the Governor.
The highlight of the press conference was the first vaccination of a Florida nurse. Vanessa Arroyo cares for COVID-19 patients in the ICU. "We cared for the first COVID patient and have been on the frontlines since the beginning of the pandemic. I've seen challenges, despair and grief," said Arroyo. "It's important for one of our own to receive the vaccine so that we can continue helping the community."
TGH has launched an intensive vaccination process for its frontline staff at high risk of encountering COVID-19 patients. Hundreds more immunizations are planned to be given to front line health care workers at risk for exposure to the virus in the coming weeks.
Over the first few days of vaccination, TGH staff shared their thoughts and feelings about receiving the vaccine.
First step in getting back to normal life
The next day, Arroyo shared more about what getting the vaccine meant to her personally. "This morning my six-year-old daughter came up to me and said 'Mommy, I'm so proud of you that you got the shot.' I was just thankful to be a part of history." 
Arroyo continued, "I wasn't really nervous. I'd done my research. I trust in science. I trust in the researchers. I wanted to set an example for my peers and for the community that it's safe to get the vaccine."
As an ICU nurse who cares for COVID-19 patients, Arroyo reflected on the meaning of the vaccine for the community. "It's strange to think that a year ago we were all at holiday parties and sitting together, and I hope this is a first step in us all getting back to normal life, so that by the next holiday season we're all able to be together again."
Walking on the Moon 
Dr. Lockwood compared the arrival of the vaccine to watching astronaut Neil Armstrong walk on the moon in 1969. Just over 48 hours after the vaccine was delivered, Dr. Lockwood received his shot. "I am exposed to the virus, so I have plenty of reasons to want to have the vaccine. I've thoroughly researched and it's an incredibly safe vaccine. So, this is really safe and incredibly effective. It's much more effective than we thought it was going to be," he said.
A Chaplain's View
TGH Chaplian Jenny Sumner Carswell serves both patients and their families to bring comfort and compassion for those who must be alone while hospitalized. She holds their hand, sings to them or shares whatever is meaningful for that patient. She got the vaccine because she sees it as "a way out... to turn the page on this chapter that has just been awful. It has been an impossible couple of months. I don't want to watch another family say goodbye over Facetime. I decided that I'm going to get this and show the community that it's important." 
An Epic Experience 
USF Residents Ricky and Laura got their shots at the same time and described the experience as "epic." "We feel so grateful for all the people involved in the development of this vaccine and honored to be able to receive it. It's been a rough year for all of us and this feels like a win. We can finally see the light at the end of the tunnel."
Let's All Do Our Part
Matthew said "I am amazed and humbled at the scientific achievements that made this vaccine possible. I took this step because I believe in science, and that this vaccine is safe and effective. I would encourage everyone to get this life-saving vaccine as soon as it's available. For the 300,000 and counting (lives lost to COVID-19), let's all do our part."
TGH began vaccinating front line health care workers the first day the vaccine was received. Close to 500 staff were vaccinated the next day and the hospital expects to vaccinate from 400 to 600 personnel over the next six weeks, including the required second booster 17 to 21 days following the initial dose.
In the initial phase and in accordance with federal guidelines, the COVID-19 vaccine stored at Tampa General will only be available to TGH physicians and staff at greatest risk for exposure to COVID-19 in the workplace. As the vaccine supply received has allowed, TGH is supplying community health systems – AdventHealth, BayCare, Bayfront, HCA and Moffitt with the vaccine for their first phase group of health care workers.
As vaccinations become more widely available TGH will provide vaccinations to all its team members, patients, and other members of the public in accordance with CDC guidelines.
 "We're honored to be one of the hospitals leading this effort," noted Couris. "All of our preparation is being put into action now and we're hopeful that in the months ahead, we'll see the benefits of the vaccine along with maintaining safety measures such as wearing masks, practicing physical distancing and following hand hygiene recommendations."