Tampa Bay Lightning Honors Tampa General Hospital as Community Hero
Published: Aug 30, 2020
By Ellen Fiss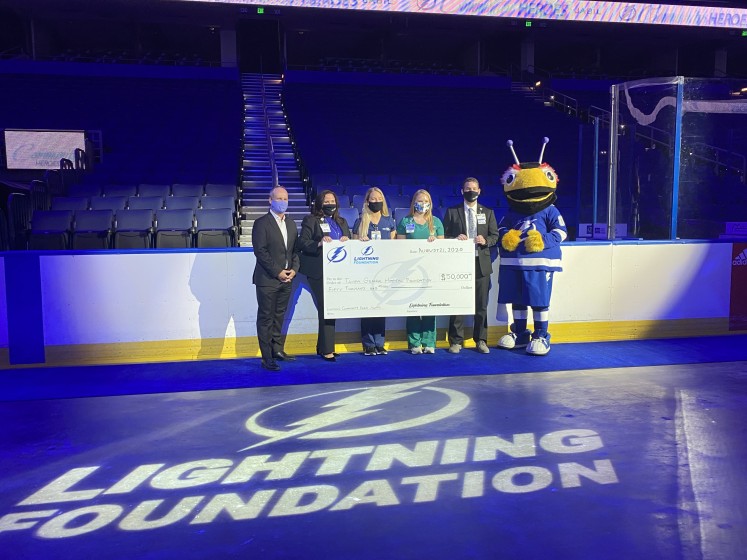 Tampa, FL (August 30, 2020) – The Tampa Bay Lightning has donated $200,000 to local healthcare charities as part of their ongoing Community Heroes program. Tampa General Hospital was one of four hospitals to receive a $50,000 donation from the Lightning Foundation and the Lightning Community Heroes Program, in recognition of dedicated patient care during the unprecedented time of COVID-19.
The Lightning also recognized TGH for leading the way throughout the pandemic. Tampa General created interactive dashboards that collect data in cooperation with 50 other hospitals to help the entire region keep track of available ICU beds and ventilators and John Couris, TGH president and CEO, had regular phone calls with these other CEOs to collaborate on the best patient care. Tampa General COO, Kelly Cullen, had weekly phone calls with her counterparts at the other systems to continually share information. TGH also provided a prevention response outreach program (TPRO) to help local businesses re-open safely and responsibly.
"We greatly value our partnership with the Lightning and are honored to be recognized for our collaboration with neighboring healthcare institutions in the fight against COVID-19,"
said Frann Richards, Sr. Vice President and Chief Development Officer of the TGH Foundation. "We are both humbled and immensely grateful for this generous gift. What a meaningful way to spotlight and support our front-line healthcare heroes!"
The Lightning Foundation has pledged to continue to donate $200,000 for every round of the NHL playoffs where the Lightning compete. Since their initial pledge in 2011, the Lightning Foundation has granted $20.85 million to more than 750 different nonprofits in the Greater Tampa Bay area.