Use of Cloth Face Coverings During Coronavirus (COVID-19)
Published: Apr 22, 2020
By Clarissa Rodriguez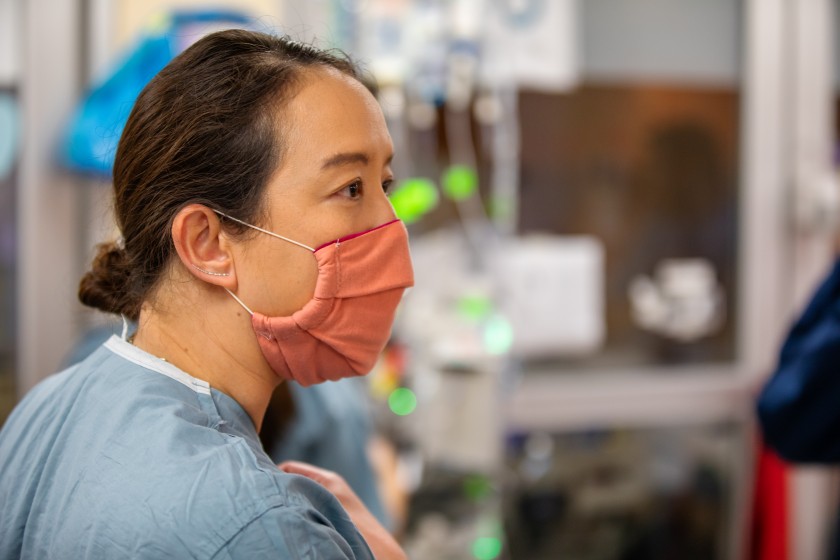 The global outbreak of coronavirus (COVID-19) has required ordinary people to begin using personal protective equipment (PPE) in their everyday lives.
The CDC recently released national guidance on the use of cloth face coverings to help slow the spread of COVID-19.
Peggy Thompson, Director of Infection Prevention at Tampa General Hospital, recommends wearing a cloth face covering in public settings where social distancing measures are difficult to maintain like work, pharmacies and grocery stores.
"Please remember that your actions can help keep yourself and others around you healthy and safe," says Thompson. "Even a simple cloth mask is effective at trapping droplets from your coughs and sneezes, which will protect yourself and others from potentially spreading the virus."
To get the most out of your cloth face covering, make sure you are wearing it correctly. Thompson shares five tips from the CDC on how to properly wear a cloth face covering.
Cloth face coverings should:
1. Fit snugly but comfortably against the side of your face.
2. Be secured with ties or ear loops.
3. Include multiple layers of fabric.
4. Allow for breathing without restriction.
5. Be able to be laundered and machine dried without damage or changes to the shape.
Thompson advises machine washing cloth face coverings with hot, soapy water after each use and drying on high heat. Be careful not to touch your eyes, nose and mouth when removing your face mask and wash your hands immediately after. Also remember to avoid touching the outside of your mask while wearing it and if you do, be sure to clean your hands immediately after.
Cloth face coverings made from household items and common materials have quickly become a global DIY trend. The CDC website features sew and no-sew option instructions for homemade cloth face coverings in addition to a YouTube video with simple step-by-step instructions for making your own face covering.
"Cloth face covering are also a good alternative for the environment," explains Thompson. "Procedural masks are lightweight, single use, and if not disposed of properly, can easily be blown by the wind into nearby waterways. If you choose to use a procedural mask, be sure to dispose it properly in a waste receptacle."
The cloth face coverings recommended by the CDC are not N-95 respirators. N-95 respirators are critical supplies that must continue to be reserved for healthcare workers and other medical first responders, as recommended by current CDC guidance.  
Tampa General Hospital is now accepting cloth mask donations from the community, with a goal to provide 10,000 cloth masks to TGH team members and patients over the next few weeks. Those wishing to donate can visit our drop-off location on Wednesdays from 9 a.m. – 11 a.m. & Fridays from 11 a.m. – 1 p.m. It is located at 1 Davis Blvd. Tampa, FL 33606. You can also donate by mail by sending your masks to Tampa General Hospital, Attn: Volunteer Services, P.O. Box 1289, Tampa, FL 33601.