Thank You, Tampa Bay!
Published: Apr 7, 2020
By Taylor Howard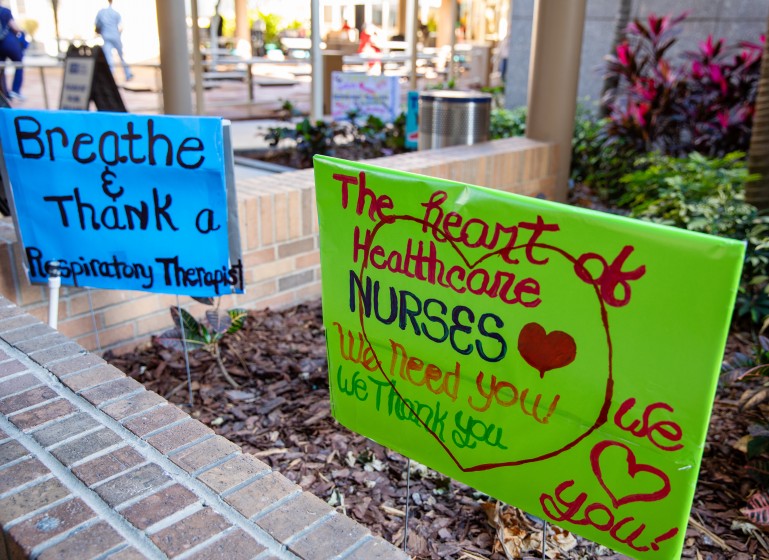 We want to start by thanking all of you for taking the Coronavirus (COVID-19) seriously. The sacrifices you are making during this time, whether you are social distancing from the people you love, canceling a special event or closing the doors of your business, are all measures we must take to slow the spread and flatten the curve of this pandemic.
Thank you for your support of the hospital, physicians, team members and each other during this trying time. COVID-19 has led to extraordinary changes throughout the hospital, and while we work to ensure the safety of our patients, we are so grateful for the outpouring of support from this community.
Our team is working around the clock to fight COVID-19 and ensure that patients are receiving world-class care, while continuing to anticipate and prepare for whatever comes next. The fact that you are willing to recognize this work is humbling.
We are especially grateful for the (literal) signs of support the community has left for us at the hospital.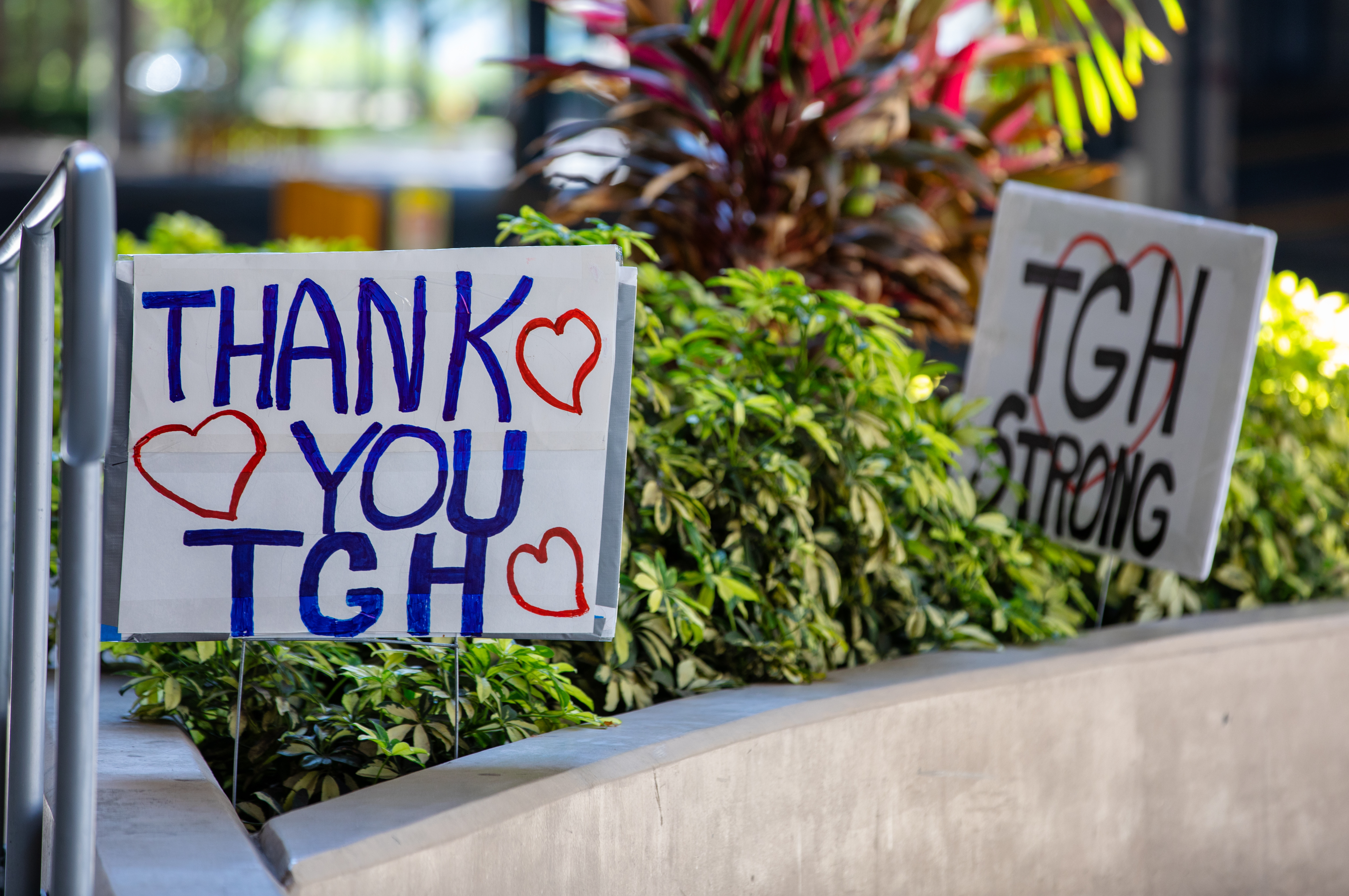 Here are just a few examples of team members sharing how much it has meant to them:
"In my 18 years with this organization, I have never seen this level of outpouring toward us. I could not help but shed a tear when I saw this earlier. It makes me even more proud of my profession and my peers. Thank you, Tampa Bay."
– Gregory Peters, TGH Physician Practice Administrator
"There's nothing like walking out after a long day and seeing these colorful signs thanking you for the work you do.  All of us at TGH are so touched.  It brings a smile to your face and warmth in your heart.  We are doing well!"
 – Denise Vander Werf, TGH Senior Administrator of Imaging & Diagnostics
Not only have we received words of encouragement, but we have received a generous amount of food and supply donations for our team members. In these challenging times, the acts of kindness we've experienced over the last few weeks mean the world to us and we can't thank our community enough.
Said best by Melisa Hayman, manager of informatics at TGH, "How amazing to have our community's love and support during this time. We love you too, Tampa. And know we do this for YOU!"
During this challenging time, the incredible support of our community has been almost overwhelming. From signs outside the hospital to unbelievable acts of generosity, we're so grateful to everyone for their love and support. We invite you to continue showing support by posting photos or words of encouragement for our team on social media and using the hashtag #TGHHeroes.
Additionally, many of you have reached out to ask how you can help so, in response, we've established a COVID-19 Emergency Fund. Every penny of this fund will go directly to meet the needs of the hospital as we pivot to meet the challenges of this pandemic. 
If you'd like to make a donation, please do so here.