Tampa Police Department Shows Their Appreciation for TGH Healthcare Heroes
Published: Apr 17, 2020
By Taylor Howard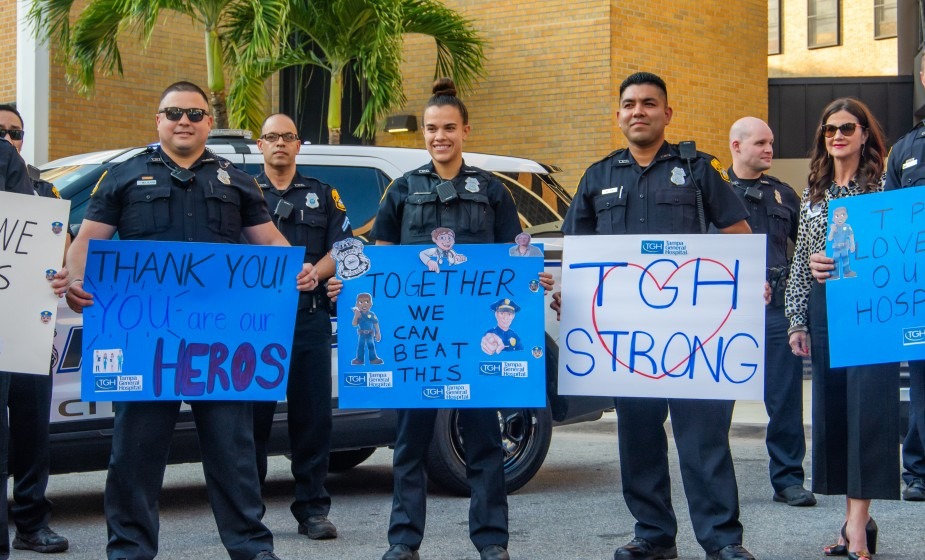 The Tampa Police Department took time to thank the healthcare team members at Tampa General Hospital as they continue providing world-class care to Tampa Bay even during this pandemic. As TGH team members remain on the frontlines against Coronavirus (COVID-19), we remain committed to safe, world-class care for all patients, no matter the circumstances.
Most of the time, our healthcare heroes are welcomed to Tampa General Hospital with a smile or wave of hello, but thanks to Tampa Police, they recently received much more than that.
On Thursday, April 9, TPD lined up at the hospital entrance holding signs of appreciation during shift change from day to night, greeting team members with a round of applause, smiles and cheers. They held hand-made signs with written messages of encouragement - "together we can beat this," "frontline heroes," and "Thank you! You are heroes."
Our team members were surprised and humbled by the unexpected love and recognition that TPD gave them.
"I totally didn't expect this. I'm really emotional. I feel like crying because it is so amazing how everyone works together. We are trying to help," said Grace Millard, a nurse at Tampa General Hospital.
Dr. Michele Mendoza works in the emergency department at Tampa General Hospital and is currently  living states apart from her six-year-old son.
"This is why something like this is so meaningful - to know that we're not out here alone and that we have the support of some pretty amazing people at TPD," said Dr. Mendoza.
What TPD didn't realize is that TGH had a surprise for them too.
When the day shift staff found out that TPD would be coming by, they decided that TGH team members wouldn't be the only ones recognized. Healthcare workers across the hospital made signs to show their support for Tampa's police officers and their service during this pandemic. The team walked out with signs that read "one team, one fight," "real superheroes wear uniforms & badges," and "TGH loves TPD."
SGT. Jerome Graham from TPD was humbled and honored by the gesture of appreciation.
 "At the Tampa Police Department, we get a lot of support from the community," said Graham. "I know we're on the frontlines, but the medical staff and the hospital are really on the frontlines of this pandemic. We have to pull together as one to beat this pandemic. Like my grandmother would say, this too shall pass."
How you can show your support
Do you want to thank our TGH healthcare heroes? We invite you to show support by posting photos or words of encouragement for our team on social media and use hashtag #TGHHeroes. Your messages of love and support will be streamed directly to screens displayed throughout TGH for all to see. Your encouraging words mean more so much to our team – and now is the perfect time to thank them for all they do.