For 30 years, TGH "Super Santa" has brought gifts to foster children
Published: Dec 19, 2019
By Curtis Krueger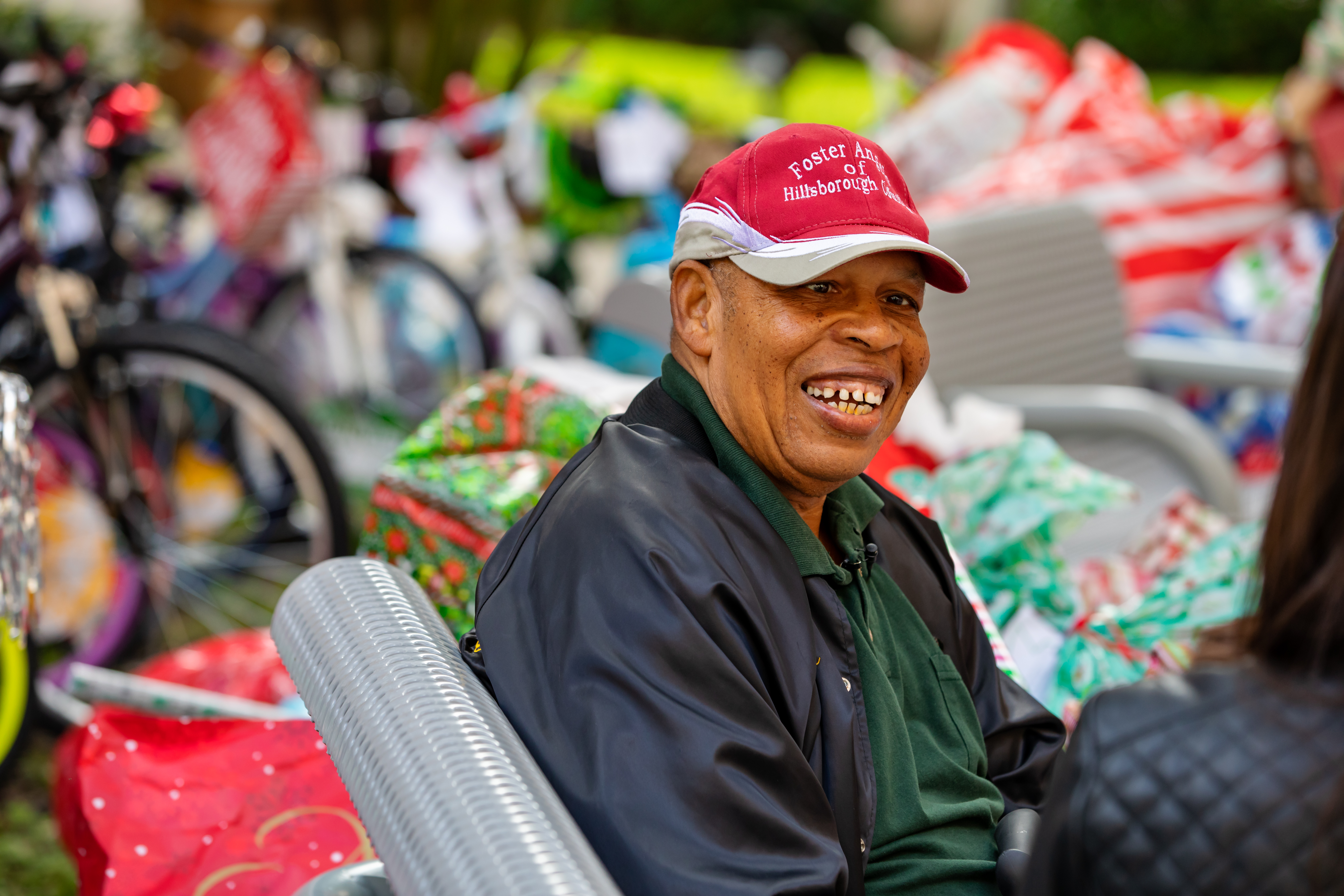 Tampa General Hospital's own "Super Santa" was honored Thursday at the 30th annual Hillsborough Foster Angels toy presentation, which collected thousands of toys and gifts for needy children.
"These kids deserve something for Christmas too," said Delwyn Collins, a TGH kitchen assistant who for three decades has led Tampa General's Foster Angels toy drive and buys hundreds of toys with his own funds all year long, stockpiling them to provide holiday gifts to foster children. He thanked his TGH "family" for joining in.
For many years, Tampa General has been the largest single donor to the Foster Angels program. This year, TGH team members donated around 3,000 toys.
The event drew Tampa Mayor Jane Castor, Hillsborough County Sheriff Chad Chronister, Chris Card of Eckerd Connects, TGH President and CEO John Couris, the Tampa Bay Lightning Thunderbug and several members of the media.
A crowd of hospital team members ringed around the towering TGH holiday tree. Many of them brought gifts and congratulated Collins on his 30-year history of helping others.
"He has been the best Santa in the world for the past 30 years, and not just the best Santa but probably the only Santa these children will get," Chronister said. He thanked all TGH team members and volunteers for Foster Angels of Hillsborough County. "It's because of you there's going to be some children who believe in Santa, there's going to be some children who believe in humanity and hope."
Couris praised the entire effort and said the hallmark of great societies is that the more fortunate help the less fortunate. "If it wasn't for people focusing on the right things at the right times, these children wouldn't get to experience just a small piece of joy at Christmas."
 Castor agreed. "This just describes what a great community we all are a part of," she said.
For all the years Collins has been working to help others, FOX 13 Anchor Kelly Ring and Photojournalist Bryan Gray have covered the story. "You've made me a better person for sure," Ring said to Collins. "You've lived your whole life thinking about other people."
Collins was named a Tampa Bay Lightning Community Hero in 2016. His efforts to help others have been featured in numerous media reports over the years. The publication HealthLeaders wrote, "Tampa General Dishwasher Embodies the spirit of Christmas." ABC Action News last January featured him as a "Positively Tampa Bay Game Changer."