INTRODUCING TGH VIRTUAL HEALTH
Now you can visit a medical care professional live any time, anywhere on your smartphone, tablet or computer, 24/7/365. You're minutes away from being treated!

HOW IT WORKS
Patients, using an app on their mobile devices or computers, can explain their symptoms and hear the medical opinions and advice of an expert provider.
Providers will consult with patients via voice and video in real time.
Live, face-to-face care for adults and kids.
Prescriptions can be sent directly to your pharmacy.
Wait time averages 6 minutes. A provider can typically resolve a health care problem in 10 minutes.
TGH Urgent Care Powered by Fast Track providers are now accepting all visits 8 AM – 8 PM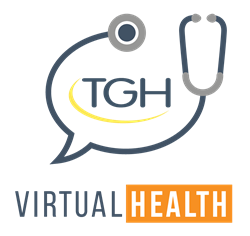 TGH Virtual Health board-certified providers are on-call and available 8 PM – 8 AM


COMMONLY TREATED CONDITIONS
Sinus Infection
Bronchitis
Sore Throat
Rash
Flu
Asthma
Pink Eye
Allergies
Cough
UTI
Plus many more
Patients pay with a credit card. No other local provider network offers a service like ours. The service is available 24/7/365.

For assistance using TGH Virtual Health, e-mail TGHvirtualhealth@teladochealth.com or call customer support at (855) 756-8708.

Visit our Virtual Health FAQs page to learn more.