Spinal Tumor Diagnosis and Management at Tampa General Hospital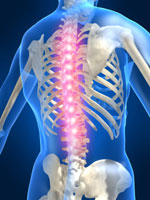 A spinal tumor refers to an unusual mass of cells that accumulates in the spinal column. There are three main types of spinal tumors: intramedullary tumors, which develop in the cells of the spinal cord; extramedullary tumors, which develop in the cells or nerve roots surrounding the spine; and vertebral tumors, which develop in the bones or cartilage of the spine. As spinal tumors grow, they can compress the nerve roots within the spinal column, or even impinge upon the spinal cord itself. This can cause symptoms such as pain, difficulty walking, muscle weakness, and potentially even paralysis. Nerve or spinal compression can also complicate the treatment process. Spinal tumor treatment requires an especially high level of precision due to the risk of neurological complications; as a result, patient outcomes and quality of life are often the best when treatment is provided by oncologists who have extensive experience with these unique and complex tumors, such as the team of neuro-oncologists at Tampa General Hospital. When treating a patient with a spinal tumor, our oncologists devise a comprehensive plan to remove or eradicate as much of the tumor as possible without disturbing the spine itself. This may involve a combination of several different treatments, such as minimally invasive surgery, plastic surgery, radiation therapy, chemotherapy, corticosteroid injections, and molecular/targeted therapies. Our neuro-oncology program offers an extensive range of spinal tumor therapies in a single, convenient location. Additionally, our patients benefit from:
The ability to be treated by some of the most experienced surgeons, radiation therapists, and medical oncologists in the nation
Individualized spinal tumor treatment plans that take into account a number of critical factors, such as the stage and precise location of a patient's tumor
A complete range of supportive care services, such as physical therapy and pain management, to enhance recovery and quality of life
Please call 813-844-7585 for a physician referral.