Skin Cancer Care and Treatment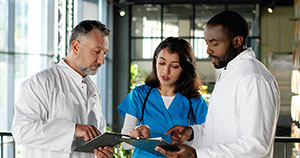 Skin cancer is by far the most common form of malignancy. At the cutaneous oncology program at Tampa General Hospital's Cancer Institute, our experts diagnose and treat skin cancer—even incredibly complex cases—with compassion and skill. Tampa General Hospital has earned "high performing" designation for cancer care by U.S. News & World Report for 2023-24, meaning we are ranked among the top 10% of U.S. hospitals.


TYPES OF SKIN CANCER WE TREAT
The skin is the largest organ in the body and is exposed to the outside world. As a result, causes of skin cancer can include environmental factors, such as sun exposure, or genetic predispositions or both. Skin cancer typically develops in areas that are commonly exposed to sunlight but may occur on any area of the body depending on the type of malignancy.

We treat the three main types of skin cancer, which include:
Basal cell carcinoma
Squamous cell carcinoma
Melanoma
The American Cancer Society estimates that approximately 3.3 million Americans are diagnosed with non-melanoma skin cancers each year. The statistic does not account for melanoma cases, which occur less frequently but are considerably more dangerous.

While we typically treat adults with skin cancer, we also treat children with cutaneous malignancies as well.


OUR SKIN CANCER TEAM
The best cancer centers in the world take a multidisciplinary approach to skin cancer treatment and TGH is no exception. Our team includes dermatologists, medical oncologists, surgical oncologists, radiation oncologists, pathologists and many other medical professionals who all work together to outline the best course of treatment for each patient.


SKIN CANCER TREATMENTS
Because skin cancer can be an ever-evolving type of malignancy, it is not uncommon for patients to require multiple biopsies and surgeries over the years. Skin cancer treatment plans could also include chemotherapy, radiation, targeted therapy and immunotherapy. Our experienced physicians stay abreast of and use skin cancer treatment advances in technology, topical and oral medications and other modalities to target each patient's specific type of skin cancer.


OUR FOCUS ON SKIN CANCER PREVENTION & SCREENING
Florida is called the Sunshine State for a reason, and its residents enjoy being outdoors as much as possible. Unfortunately, without proper protection from the sun, the risk for developing skin cancers increases, even in children. As a result, TGH's skin cancer experts place a strong emphasis on educating the community about skin cancer prevention and local screening opportunities.
FIND A SKIN CANCER EXPERT
If you're concerned about an atypical mole (called dysplastic nevi), flaky red patches, raised growths or other irregularities on your skin, contact TGH or use our Physician Finder tool to find a skin cancer doctor.