Open Laparoscopic and Robotic Surgeries for All Types of Hernias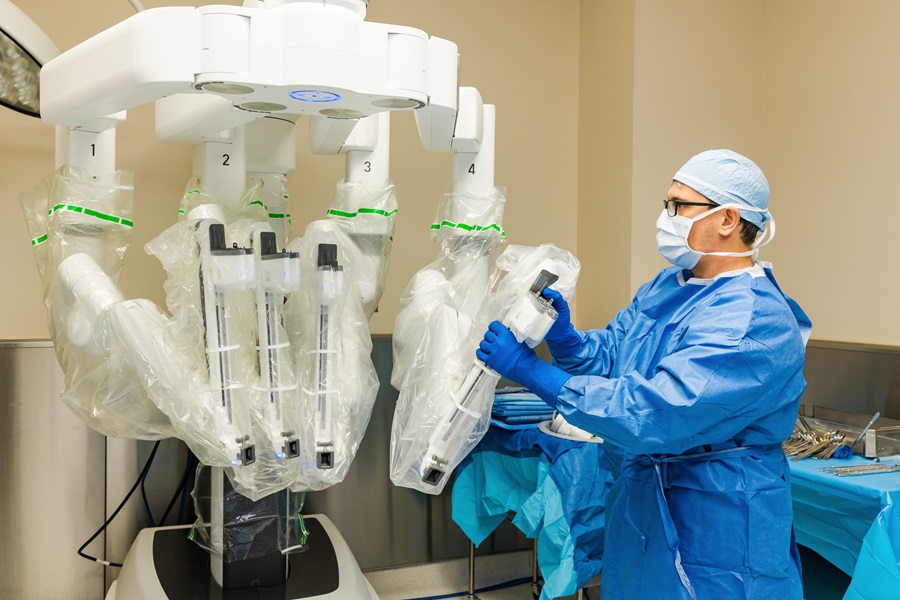 Tampa General Hospital's Hernia Center offers the newest approaches to open, laparoscopic and robotic surgery for all types of hernias, from the simplest to the most complex. Protocol-driven and evidence-based, the center is also a referral center for the most complex, difficult cases. Dr. Adham R. Saad and Dr. Salvatore Docimo, Jr., have well over a decade of combined experience in complex hernia repair, published numerous research studies on the topic of hernia, and strive to have the best hernia outcomes. Whether the hernia is primary, recurrent, or in the setting of other complex medical issues, such as obesity, we are always happy to evaluate the patient and offer them the best course of action. Both Drs. Docimo and Saad focus a large portion of their practice on complex hernia repair which ensures patients receive expert surgical recommendations and care in dealing with their complex hernia.
WHAT IS ABDOMINAL CORE HEALTH?
Abdominal core health is a new concept in the field of hernia repair. The abdominal core is comprised of muscles in the front of your abdomen, your back, your sides, as well as the muscles of the diaphragm and pelvis. Pathology, such as hernias, benign and malignant tumors, or muscle injury can have a negative effect on your abdominal core and limit your daily activities.
INTERDISCIPLINARY APPROACH
The Center for Complex Hernia Repair & Abdominal Core Health is dedicated to performing the most complex of hernia repairs. Additionally, we provide a tailored surgical plan both before and after surgery to ensure a positive recovery by utilizing a team approach. The center has access to numerous specialists with the sole purpose of ensuring a positive hernia repair outcome. We enlist assistance from the following specialties if needed: bariatric surgery, urology, surgical oncology, colorectal surgery, plastic surgery, anesthesia, pain medicine, physical therapy, radiology, nutrition, and all medical specialties as well.
ROBOTIC SURGERY
The center is committed to utilizing and incorporating the most advanced surgical techniques available today to improve surgical outcomes. Robotic surgery has been introduced to all hernias which allows surgeons to prove the most precise hernia repair possible. We also perform very complex hernia repairs robotically, such as component separation (transversus abdominus muscle release), if indicated, which allows the patients to avoid a traditional open procedure. Performing complex hernia repairs robotically allows the patient to recover much more quickly and often reduces a patient's length of stay by over 50%.
HERNIA RESEARCH & THE ABDOMINAL CORE HEALTH QUALITY COLLABORATIVE (ACHQC)
The center is committed to providing the most up-to-date, evidence-based hernia repairs. Therefore, we are an active member of the ACHQC. The ACHQC is a non-profit research organization that collects information on hernia repairs and abdominal core health-related outcomes. The information gathered from numerous academic medical centers across the nation is then used by the ACHQC members to complete research that guides future surgical optimization practices and hernia surgery. Both Drs. Docimo and Saad have published hernia-focused research in peer-reviewed journals.
BARIATRIC SURGERY & COMPLEX HERNIA REPAIR
Dr. Docimo, who sits on the Board of the American Hernia Society and is a Fellow of the American Society for Metabolic & Bariatric Surgery, dedicates a portion of his clinical and research practice to complex hernia repair in the morbidly obese patient. Dr. Docimo, who also performs bariatric surgery, has published on the subject of obesity and hernia repair.
Research has demonstrated a reduction in surgical complications and improved hernia outcomes in non-obese hernia populations. However, as the incidence of obesity continues to increase, we continue to see an increase in the number of hernia patients who are also obese. In collaboration with the bariatric center, patients with a complex hernia and suffering from obesity will first undergo a bariatric surgical procedure. Once the patient meets their weight loss goals, typically 6-12 months after weight loss surgery, they will then undergo their complex hernia repair.
Discover the Digestive Diseases Institute
Learn more about Tampa General Hospital's Digestive Diseases Institute and see how we define medicine.