National Leaders in Complex Bariatric Surgery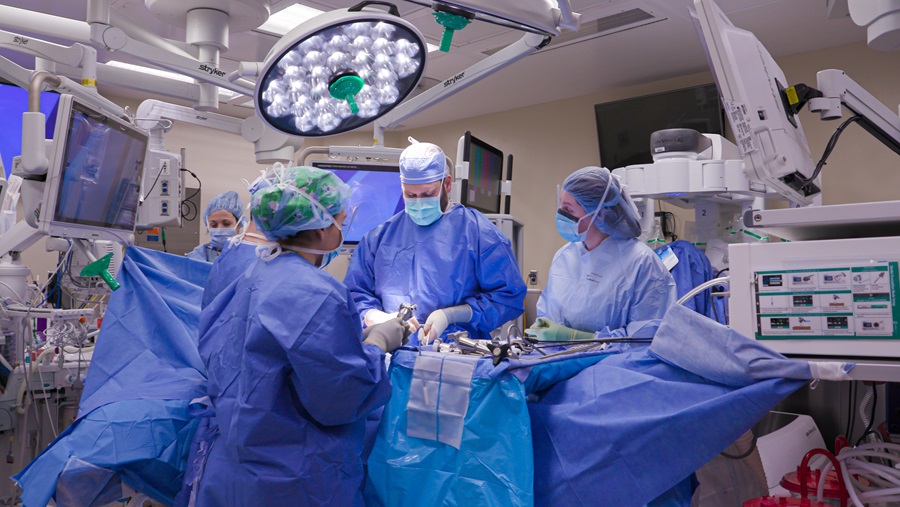 The Tampa General Hospital (TGH) Bariatric Surgery Program within the Digestive Diseases Institute features a multidisciplinary team of surgeons, obesity medicine physicians, nurse practitioners, dietitians, psychologists, cardiologists, pulmonologists and exercise physiologists who manage some of the most challenging bariatric cases — from surgery to medical management to endoscopy — with optimal outcomes.
HIGH-VOLUME, MINIMALLY INVASIVE PROCEDURES WITH LOW RISK
With the largest and busiest academic robotic program in Florida, TGH offers the most advanced, minimally invasive procedures, including laparoscopic Rouxen-Y gastric bypass (RYGB), sleeve gastrectomy and duodenal switch. The bariatric program at TGH also includes endoscopic surgery (transoral) for new patients and those needing revisional procedures. The TGH + USF Health Bariatric Center is the referral center for the West Coast of Florida, and where other programs send their most complex patients.
ROBUST MULTIDISCIPLINARY MEDICAL WEIGHT-LOSS PROGRAM
The TGH + USF Health Bariatric Center is home to Florida's first board-certified obesity medicine physician. The clinic cares for all patients, regardless of complexity, and reports 2,000 patient encounters each month. Working with specialists across TGH institutes, bariatric specialists create an individualized care plan tailored to each patient's unique medical needs, ranging from the most complex heart failure patients in need of a new heart, to patients trying to lose weight.
Obese patients with end-stage heart, kidney or liver disease whose weight would otherwise exclude them from organ transplantation are referred to TGH's medical weight loss program to prepare them for surgery.
BARIATRIC SURGERY EXPERTISE MEANS MORE OPPORTUNITIES FOR PATIENTS WITH COMPLEX COMORBIDITIES
A heart failure patient who received a left ventricular assist device (LVAD) in 2015 desperately needed a life-saving heart transplant. But his obesity and inability to lose weight made his chances too risky to be eligible for a transplant. As prospects quickly diminished amid mounting frustration and concern, the patient turned to Christopher DuCoin, MD, MPH, FACS, bariatric surgeon in the innovative, state-of-the-art bariatric surgery program at TGH.
The patient underwent a robotic-assisted laparoscopic sleeve gastrectomy and has lost over 80 pounds. In less than three months since his bariatric surgery, he has met the requirement for a heart transplant and has now been listed for his new heart.
"It's amazing he has done so well with an LVAD, and exciting that he will now get his new heart," Dr. DuCoin said. "To do a surgery like this, you have to have a dedicated bariatric team, cardiologists, cardiac anesthesiologists and cardio-thoracic surgeons. Then you must find all of that in a high-volume transplant and bariatric center. It is hard to find all of that in a single institute. We are fortunate that the stars have aligned just right at Tampa General to do such surgery."
Unique to TGH's Bariatric Surgery Program is the expertise of its surgeons and the multidisciplinary nature of the program. This translates into more opportunities for high-risk patients. It's also the reason why patients from throughout the southeast United States travel to TGH for bariatric surgery.
NATIONAL LEADER IN BARIATRIC SURGERY
TGH's Digestive Diseases Institute and Bariatric Surgery Program m are led by Dr. DuCoin, Chief of the TGH Digestive Diseases Institute, Surgery, who works in close collaboration with his partners, Ashley Mooney, MD; Salvatore Docimo, DO, FASMBS, FACS; Joseph Sujka, MD; Lindsay Wiles, MD, OMP, and Amy Weiss, MD, MPH. He is also currently Chief of the Division of Gastrointestinal Surgery at the USF Health Morsani College of Medicine.
Dr. DuCoin has been recognized as a "Best Doctor" in Tampa for General and Bariatric Surgery. Dr. DuCoin was the recipient of the SAGES Brandeis Leadership Program for Health Policy and Management Award, was elected to the Board of SAGES, and is a President-elect of the Young Fellows Association within the American College of Surgeons. Dr. DuCoin is well-published, and a sought-out scholarly speaker with 56 regional, national and international lectures, 52 peer-reviewed journal articles and 14 book chapters. He has also taught more than 50 surgical residents, seven surgical fellows and numerous medical students the art of surgery.
ADOLESCENT BARIATRIC SURGERY
Dr. Ashley Mooney directs TGH's Adolescent Bariatric Surgery Program and has helped numerous children lose weight and recover from adolescent hypertension and diabetes. Working with Dr. Amy Weiss, medical director of the program, Dr. Mooney provides younger patients with the highest level of care.
BARIATRIC ENDOSCOPY
TGH's Endoscopic Bariatric Program is led by Dr. Salvatore Docimo, whose unique specialty is transoral (incisionless) surgery. The procedure offers a minimally invasive alternative for complex revisional endoscopic procedures that might be too challenging for surgery. Dr. Docimo's expertise has earned him recognition as a national leader on transoral surgery. He was first in Florida to perform the procedure. He is well-published, a national speaker and a leader within national surgical societies and Florida-based societies.
Discover the Digestive Diseases Institute
Learn more about Tampa General Hospital's Digestive Diseases Institute and see how we define medicine.