Interventional GI and Advanced Endoscopy Program is a Leading Referral Center for Innovative Treatments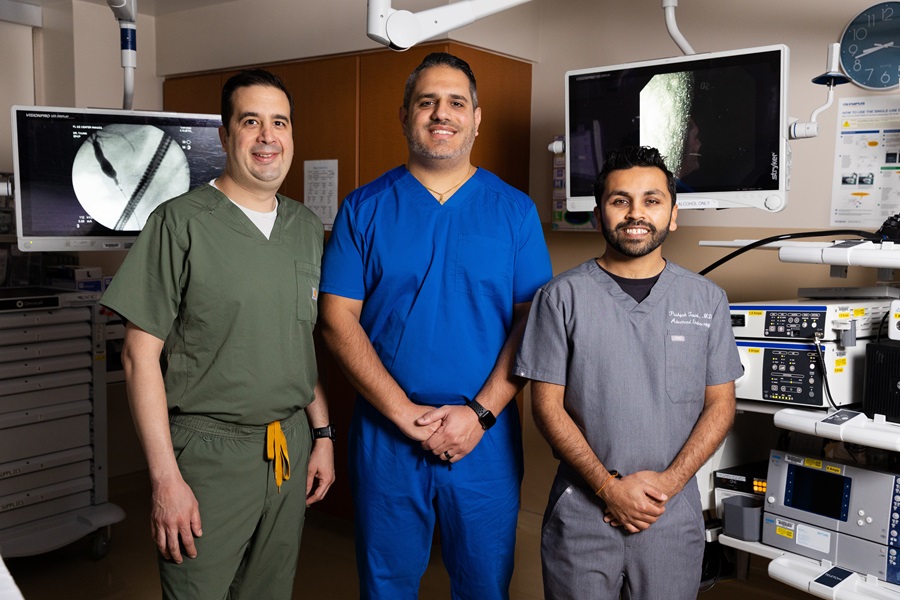 Tampa General Hospital (TGH) is home to one of the most comprehensive interventional GI and advanced endoscopy programs in Florida, specializing in procedures to diagnose and treat complex GI diseases.
TGH's interventional endoscopic program is a tertiary and quaternary referral center for patients requiring diagnostic and therapeutic care for many GI disorders. The team performs minimally invasive procedures that do not require external excisions, have faster recovery times than traditional surgery and help to prevent more invasive surgical treatments. The program is unique in that the specialists are committed to helping patients avoid surgery by combining the most innovative techniques with cutting-edge devices.
MULTIDISCIPLINARY TEAM OF SPECIALISTS
Interventional endoscopists at TGH work closely with a larger multidisciplinary team that includes GI surgeons, oncologists, hepatologists, radiation oncologists, radiologists, pathologists, dietitians and behavioral therapists. The program also provides training for the next generation of endoscopic leaders through an advanced interventional endoscopy fellowship training program.
NONSURGICAL INNOVATIONS
TGH is one of only a handful of centers in the region to offer patients advanced nonsurgical diagnostic and treatment therapies. With the use of endoscopic ultrasound (EUS) and endoscopic retrograde cholangiopancreatography (ERCP), not only do the specialists diagnose various pancreaticobiliary disorders, but they also use innovative techniques to access the pancreaticobiliary system, facilitate drainage procedures (e.g., pseudocysts), and create entero-enteric anastomoses. In addition, their use of EUS-guided fiducial placement has proved effective in helping radiation oncologists treat esophageal and pancreatic tumors.
Physicians across Florida refer patients to TGH for a host of nonsurgical treatments that require a level of specialization only available at select institutions. These include:
ERCP to diagnose tumors, remove large stones and treat biliary and pancreatic strictures with stent therapy
EUS for pancreatic fluid collection drainage, gastrojejunostomy creation for gastric outlet obstruction and performance of ERCP in gastric bypass patients
Radiofrequency ablation and cryotherapy for Barrett's esophagus
Submucosal "third-space" endoscopy for removal of large and difficult precancerous polyps
Endoluminal stenting for palliative treatment of cancers
TGH is in a select group of academic centers in the U.S. to perform the EDGE procedure on gastric bypass patients. When these patients suffer from bile duct stones or other pancreaticobiliary disorders, it is difficult to access their anatomy due to the bypass. The EDGE procedure leverages EUS-directed transgastric ERCP for stent placement and eliminates the need for surgical intervention that historically has been required for proper treatment. TGH specialists performed 15-20 of these procedures in the past 18 months with a near 100% success rate. The team has also recently started performing EUS-assisted gastrojejunostomies for patients with gastric outlet obstruction from pancreatic cancer. Pancreatic cancer patients may develop tumors that obstruct the intestine, preventing them from eating. This novel, nonsurgical technique creates a bypass between the stomach and intestine and allows patients to eat and improve their nutritional status for continued treatment.
GI SURGERY EXPERTISE
For conditions that do require surgery, TGH is one of a few institutions in Florida to offer advanced surgical treatments such as robotic gastrojejunostomy, wherein pancreatic cancer patients whose tumors obstruct the intestine must undergo a surgical bypass between the stomach and the small bowel.
UNIQUE FELLOWSHIP PROGRAM
TGH and the USF Health Morsani College of Medicine offer one of only 60 advanced interventional endoscopy fellowship programs in the U.S. The program is unique in that fellows learn advanced endoscopic techniques to treat a host of GI conditions, including some of the most complex cancers. Fellows who have completed the training are treating patients all across the U.S.
EXPERT LEADERSHIP
TGH's interventional GI and advanced endoscopy program is led by Dr. Pushpak Taunk, who specializes in pancreaticobiliary diseases, therapeutic endoscopy and endoscopic imaging. The team is comprised of three highly trained advanced endoscopists, Dr. Rene Gomez, Dr. Jonathan Hilal and Dr. Taunk. All three specialists are fellowship-trained in gastroenterology and advanced endoscopy. Together, they have received multiple teaching awards, published numerous studies and given talks both locally and nationally on innovative endoscopic procedures. They are all members of leading societies, including the Florida Gastroenterological Society, the American College of Gastroenterology and the American Society of Gastrointestinal Endoscopy.
Discover the Digestive Diseases Institute
Learn more about Tampa General Hospital's Digestive Diseases Institute and see how we define medicine.