Division of Colon and Rectal Surgery Gives New Hope to Patients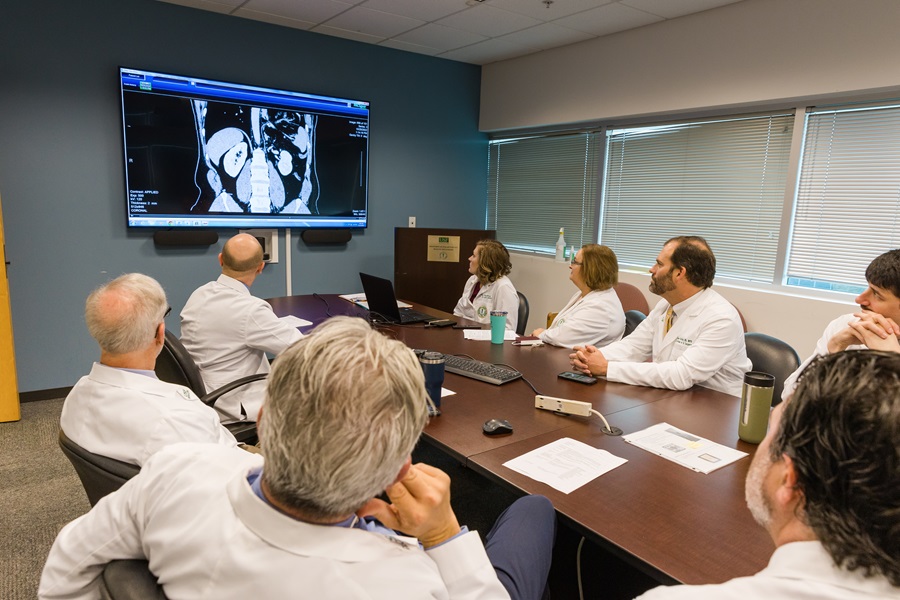 The Tampa General Hospital Colorectal Cancer Center of Excellence is a nationally renowned, high-volume service that offers patients the most up-to-date and technically advanced medical treatments available. The hallmark of treatment is to provide personalized care through a multidisciplinary approach that strives for the best possible outcomes for patients. From minimally invasive surgical procedures, targeted chemotherapy or radiation treatments, genetics, and psychosocial support, patients are given the best possible treatment options for maintaining their quality of life.
LEADERS IN MINIMALLY INVASIVE SURGICAL TREATMENT
Surgeons at TGH have been at the forefront of developing a variety of modern surgical techniques that result in shorter hospital stays, less pain, and quicker recovery. TGH was the first in the region to employ robotic and laparoscopic surgical procedures that allow for the precise removal of the cancerous organ with a reconstruction of the colon, thus avoiding a colostomy bag in most cases. Transanal minimally invasive surgeries (TAMIS) offer incisionless surgical approaches for rectal tumors, often resulting in same-day discharge from the hospital. TGH provides the highest volume of colorectal cancer surgery in the region and is in the top tier nationally in safety and outcomes measures. As recognized thought leaders in the development of these modern surgical techniques, TGH has had the privilege of training hundreds of surgeons nationally to safely employ these new surgeries.
TGH uses advanced protocols for enhanced recovery after surgery (ERAS), which results in decreased post-operative pain, more rapid return of intestinal function, quicker discharge from the hospital, and overall faster recovery.
GASTROINTESTINAL TUMOR GROUP
The Gastrointestinal Tumor Group, or Multidisciplinary Team (MDT), is comprised of a diverse team of specialized physicians and allied professionals dedicated to the care of patients with colorectal and other gastrointestinal cancers. Each patient's cancer care is reviewed by the MDT to assure they receive the most up-to-date approach to treatment. Just as no two patients are alike, no two cancers are alike. So, optimal treatment plans are determined for each individual patient. This organized approach to specialized patient care allows TGH to offer cutting-edge clinical trials focused on improving cancer care.
PIONEERING COLORECTAL CANCER SCREENING & TREATMENT PROTOCOLS
A national leader in colorectal cancer clinical trials, TGH is often one of the top accruing sites for some of the most impactful trials in the country. Participation in these trials gives patients at TGH access to some of the most cutting-edge treatment options available that expand research to allow for truly personalized care.
Surgeons at TGH have been at the forefront of colorectal cancer treatments and screening for nearly two decades. Dr. Jorge Marcet has helped advance the treatment of rectal cancer as a leading researcher in two pivotal clinical trials – TIMING and OPRA – that have fundamentally changed and markedly improved treatments and outcomes for patients with this type of cancer. TGH was one of the highest enrollers in both clinical trials, the results of which have been published in Lancet Oncology and Journal of Clinical Oncology.
Previously, advanced rectal cancer had been difficult to treat, with high complication rates from radical surgery and less-than-ideal, life-changing ostomies. The TIMING and OPRA trials both progressively showed that a significant number of rectal tumors are sensitive enough to radiation and chemotherapy, eliminating the need for radical surgery with comparable cure rates. The "watch-and-wait" protocol is becoming a widely accepted treatment approach, and Dr. Marcet continues to consult on cases with colorectal surgeons around the country.
Dr. Marcet was also instrumental in changing the colonoscopy screening threshold. He and his colleagues conducted a study to explore the increasing incidence of colorectal cancer among people younger than 50. As a result of this groundbreaking study published in the Diseases of the Colon and Rectum, the American Cancer Society changed its recommendation for colonoscopy screening from the ages of 50 to 45. The colorectal team continues to work with referring physicians and the greater community to provide education and promote regular screenings based on these findings.
INTERNATIONALLY RENOWNED RESEARCHER JOINS LEADERSHIP TEAM
Dr. Timothy Yeatman has joined TGH as an Associate Center Director for Translational Science and Innovation of the TGH Cancer Institute. Dr. Yeatman has been continuously funded by the National Cancer Institute (NCI) since 1997 and spent his career as a physician-scientist, with a clinical and research focus on the molecular mechanisms that govern colorectal cancer. Working in the environment of team science and multidisciplinary collaboration, he is nationally recognized as an expert in the field of molecular profiling and gene expression classifier development.
Dr. Yeatman is a pioneer in personalized medicine, having headed the development of the world's largest human tumor biorepository and database with comprehensive molecular profiling of over 20,000 tumor specimens. He was the principal architect of the Total Cancer Care (TCC) initiative in personalized medicine and served as the President and founding Chief Scientific Officer of M2Gen.
COLORECTAL SURGERY AND RESEARCH FELLOWSHIP PROGRAMS
TGH and USF offer a Colorectal Surgery Fellowship training program, one of the few advanced specialty training programs in the country, for surgeons specializing in the management of colon and rectal diseases. In addition, the institutions offer a research training program in clinical, basic science and translational research. The Jacobsen Colorectal Research Fellowship prepares surgeons to be thought leaders as physician-scientists specializing in the care of colorectal cancer and other colorectal diseases.
CENTER FOR THE CARE OF INFLAMMATORY BOWEL DISEASE
The Division of Colon and Rectal Surgery and the Division of Gastroenterology have partnered to create a multidisciplinary inflammatory bowel disease (IBD) program centered on the care of patients with Crohn's disease and ulcerative colitis. This first-of-its-kind clinic, the USF Health IBD Center of Excellence provides much-needed specialized and comprehensive care for patients with IBD. Patients have the opportunity to consult with an IBD-specialized gastroenterologist and colorectal surgeon in the same office setting. Other support for patients is available in the form of nutrition counseling and wound care. This type of program and support is unique and one of only a few such programs in the country.
Discover the Digestive Diseases Institute
Learn more about Tampa General Hospital's Digestive Diseases Institute and see how we define medicine.