Center for Swallowing Disorders Delivers State-of-the-Art Care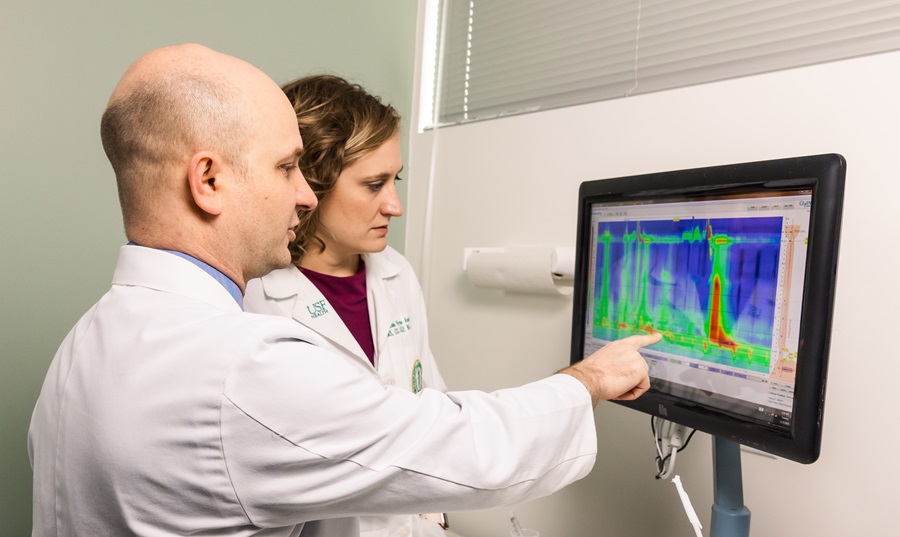 The Joy McCann Culverhouse Center for Swallowing Disorders is a national and international referral center for the most complex esophageal disorders that other hospitals cannot treat. This center of excellence is devoted to providing access to internationally renowned specialists who deliver interdisciplinary, comprehensive diagnoses and treatment. One of only a few endowed swallowing centers in the United States, the center was funded as a gift from the Culverhouse family, the previous owners of the Tampa Bay Buccaneers.
In addition to delivering world-class care, the center is also dedicated to teaching students, residents, fellows and patients about esophageal disorders, and acquiring and publishing new knowledge through personal experience and clinical research.
NATIONALLY RECOGNIZED WITHIN GI PHYSICIAN COMMUNITY
The center's staff includes two board-certified gastro-enterologists who specialize in swallowing disorders, John Jacobs, MD, Center Director, and Wojciech Blonski, MD, as well as two speech and swallowing therapists, Joy Gaziano and Jamie Anderson, who specialize in the evaluation and treatment of oropharyngeal swallowing disorders and functional eating disorders. Surgical colleagues include Vic Velanovich, MD, Christopher DuCoin, MD, Adham Saad, MD, Joseph Sujka, MD, and Boris Kiriazov, MD. Patients are seen at TGH, the USF Health Morsani College of Medicine, and the James A. Haley Veterans' Hospital.
The team regularly consults with pulmonologists, ENTs and neurologists in a weekly conference to offer a multidisciplinary approach to care.
"Esophageal disease often requires a multidisciplinary effort," noted Dr. Jacobs, who is also Interim Director of the Division of Digestive Diseases and Nutrition at the USF Health Morsani College of Medicine. "In the Joy McCann Culverhouse Center for Swallowing Disorders, we work with a great team of surgeons and speech pathologists. It is this collaborative effort that leads to great outcomes for our patients."
MULTIDISCIPLINARY APPROACH TO ESOPHAGEAL TREATMENT
A highly specialized team offers a comprehensive, multidisciplinary approach to the diagnosis and treatment of swallowing disorders, including achalasia, Barrett's esophagus, complex esophageal strictures, eosinophilic esophagitis, esophageal cancer, and swallowing issues related to stroke and movement disorders. The center treats the largest number of eosinophilic esophagitis patients in Florida.
FULL COMPLEMENT OF ESOPHAGEAL TREATMENTS
Where other swallowing programs specialize in one or two conditions or treatments, the Joy McCann Culverhouse Center for Swallowing Disorders offers the full complement of treatments based on patient needs.
Advanced surgical endoscopy procedures such as Per-Oral Endoscopic Myotomy (POEM) and robotic surgeries such as Heller myotomy are performed by USF and TGH foregut surgeons (esophageal and stomach surgeons) to treat achalasia. Achalasia is a rare disease of the esophagus that impairs eating and can produce dangerous weight loss. TGH is renowned for the treatment of this rare disease, performing more of these surgeries than any facility in Florida. Patients travel to TGH for treatment because of the expertise and individualized treatment plans available to them.
Esophageal specialists at TGH also specialize in luminal restoration when a patient's esophagus is completely constricted, high-resolution manometry, Bravo pH and impedance-pH tests, pneumatic dilation, esophageal Botox injections, and complicated dilation of esophageal strictures.
CENTER FOR EDUCATION AND CLINICAL RESEARCH
In addition to delivering the most advanced care for swallowing disorders, physicians at the Joy McCann Culverhouse Center for Swallowing Disorders are called upon to educate specialists across the U.S. about complex esophageal disorders. The center participates in state-of-the-art clinical research to advance patient care. For example, Dr. Joel Richter was one of the original investigators of omeprazole, which is used to treat gastroesophageal reflux disease (GERD). He is also credited with more than 600 publications in the area of complex swallowing disorders and has served as president of both the American College of Gastroenterology and the International Society for Diseases of the Esophagus.
More recently, Drs. Jacobs and Richter published a landmark review on esophageal lichen planus, an esophageal mucosal inflammatory disorder often misdiagnosed or missed altogether by general gastroenterologists and even other similar centers.
LED BY CASTLE CONNOLLY TOP DOCTOR
Dr. Jacobs has been named a "Top Doctor" by Castle Connolly and Tampa Bay Metro magazine. His clinical practice emphasizes all aspects of esophagology, and he has a particular focus on the treatment of gastroesophageal reflux disease, eosinophilic esophagitis, achalasia, lichen planus, esophageal dysmotility, connective tissue disorders and other disorders that interfere with swallowing. Dr. Jacobs is the author or coauthor of numerous original papers and textbook chapters, including the introductory chapter in the sixth edition of The Esophagus. He also has memberships in leading associations, including the Florida Gastroenterologic Society, the American College of Gastroenterology, the American Society of Gastrointestinal Endoscopy and the American Gastroenterological Association.
"What drew me to taking care of patients with esophageal disease is how impactful it is when a patient's esophagus does not work correctly," Dr. Jacobs said. "Whether a patient has food getting stuck or heartburn or regurgitation, esophageal disease can significantly impact each and every meal."
Discover the Digestive Diseases Institute
Learn more about Tampa General Hospital's Digestive Diseases Institute and see how we define medicine.