To save a baby, a medical team of 40 choreographs complex procedure
By Dave Scheiber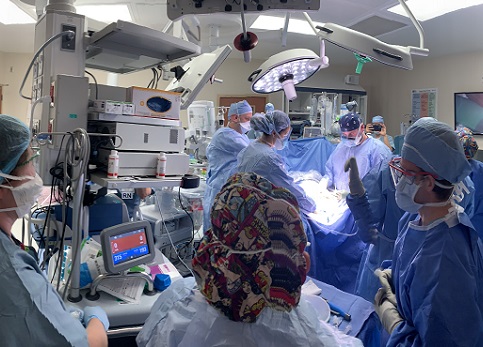 When Diana McDowell was wheeled toward the Tampa General Hospital operating room to deliver her baby boy on Nov. 23, 2020, she looked up from her gurney to see a sight she never expected: doctors and nurses in scrubs lining the hallway applauding as she came into view.
McDowell felt a rush of emotion and gratitude. In that moment, the fear and uncertainty weighing heavily on mind faded – as she prepared for a complex, highly specialized surgery to deliver her baby, whose airway was completely displaced by the development of an abnormal fluid-filled sac-like structure in the baby's neck. Called a cystic hygroma, the growth would impair the baby's ability to breathe as soon as he was born.
She knew there were no guarantees that she would see her infant son alive when the procedure – known as EXIT, short for Ex Utero Intrapartum Treatment – was complete. Yet there was one thing McDowell believed in her heart.
"No matter what the outcome was," she recalled, "I knew that every single person there was going to do their best to take care of my baby and take care of me."
Many of the 40 or so USF Health and TGH medical team members already were inside one of two adjacent operating rooms reserved that day. They were each poised to handle their specific roles for the rare procedure, planned when McDowell was referred to Tampa General after her baby's condition was discovered on a scan when she was seven months pregnant.
As a leading academic medical center, TGH is one of the few hospitals in Florida with the expertise to perform this complex operation. A team of USF Health and TGH physicians performed the hospital's first EXIT procedure in 2009, and the procedure has been done at TGH at least three times since 2019.
It is so complicated that by the time McDowell's surgery began, doctors, nurses and medical technicians from multiple units across the hospital had already conducted a choreographed run-through two weeks earlier. They had held numerous videoconferences to review plans and backup strategies and remained on call 24-7 in the four weeks leading up to the surgery in case McDowell went into labor in the middle of the night.
This is the high-stakes nature of EXIT, needed when babies are found to be suffering a compression of their airways in the womb due to an obstruction. During the procedure, the mother is anesthetized, while only the head and shoulders of the baby are delivered through a Cesarean incision. If all goes as planned, the baby will quickly be intubated while still connected to the placenta to receive life-sustaining cardio-pulmonary support – and then the rest of the delivery can be completed.
The process requires battlefield-like coordination between teams from maternal fetal medicine, neonatology, pediatric anesthesia, pediatric surgery and more. The procedure affords precious little margin for error, with every second counting in an atmosphere of high stress that demands unflappable nerves from every team member in the room.
"The amount of organization required to have all these different teams of people in the operating room at once is enormous," said Dr. Sarah Običan, division director of maternal fetal medicine and co-director of the TGH + USF Health Fetal Care Center and an associate professor of obstetrics and gynecology at the USF Health Morsani College of Medicine.
"It takes incredible coordination and effort. We held multiple meetings and every person who would be part of the surgery had to commit being at a practice session or they wouldn't be allowed to participate," she said. "We ran through various scenarios to determine 'If this happens, then what are we going to do?' We had to be prepared for every possible situation."
Običan, who worked on the EXIT procedure with fellow TGH obstetrician and gynecologist Dr. Alejandro Rodriguez, an assistant professor in the Morsani College of Medicine and co-director of the TGH + USF Health Fetal Care Center, underscored the dual nature of the challenge.
"It's difficult in that you have to do two things: Take care of both the mother and the baby," Običan said. "This requires relaxing the uterus so much that it doesn't contract. You need it to be very flaccid so that when the baby is halfway out – ready to be intubated – it is still on essentially a cardio-pulmonary bypass provided by the placenta. You can't allow the uterus to contract, because that will cause the placenta to deliver and then you've lost the opportunity to be on that bypass."
In that event, the baby would have to be immediately delivered without being intubated. Odds of a positive outcome would be severely reduced. There are other variables as well. If an intubation could not be successfully performed, a tracheotomy would be required. The plan for McDowell called for one doctor to get two attempts at intubating the baby. If neither worked, another doctor would step forward and try twice in hopes getting the breathing tube in place – with the baby's survival on the line and the clock ticking.
"We know going in, and mom knows, that we are going to do everything we can, but if the baby doesn't get an airway, it's not going to make it," Običan said.
Meanwhile, Običan had her own formidable challenge. She would use a uterine stapling device that makes a large incision in the uterus while simultaneously stitching up the sides of the cut to reduce bleeding, which could otherwise cause a drop in the mother's blood pressure or blood pooling internally – and the potential of losing her. The manufacturer only makes a very limited number of tools every year, Običan says, and TGH always orders several just in case.
"I have to use two of them and have two on back up because if one doesn't deploy, I have an extra one on hand," she said. "And I practiced multiple times before the procedure with my co-surgeon, Dr. Rodriguez."
While Običan was busy preparing, TGH + USF Health Fetal Care Center Nurse Coordinator Julie Johnson, RN, BSN, RNC, played the role of master scheduler among the different units. She also served as McDowell's personal point of contact.
"I'm that constant face," she said. "I was the person Diana knew she would travel the road with. She had my cell number and could call me anytime day or night."
Before anesthesia was given, Johnson asked for a moment so she could pray with McDowell. The procedure then began and unfolded with planned precision, with Običan and Rodriguez delivering the head and shoulders of the baby through the incision. But then came the critical moment – the attempt at intubating. TGH Children's Hospital neonatologist Dr. Jaime Flores-Torres, who had brought a team from neonatology and had another one standing by in the NICU, was first to try.
It worked perfectly. There was still much to be done, but nearby Johnson did a silent golf clap with that key hurdle surmounted. "It's a stressful moment," said Flores-Torres, an assistant professor of pediatrics in the Morsani College of Medicine. "You always go through different scenarios in your head of what might happen. But it's very rewarding when you get the tube in place, and know the baby is doing well."
When McDowell came to shortly afterward, Johnson was by her side to deliver the good news. The two women hugged and cried together. McDowell's husband, Troy, who had been waiting anxiously in a nearby lounge, was brought in minutes later to share in the joyous moment.
Quentin spent his first four months in the NICU, then came home and was doing well reaching all of a baby's normal milestones by his first birthday. The growth on his neck is being treated with injections of medication to shrink it. Eventually, when he's older, it will be evaluated for surgical removal. In the meantime, he still has a tracheostomy tube to make sure he can breathe safely. McDowell counts her blessings to have been referred by her OB/GYN and a maternal fetal medicine group to TGH.
"Julie was amazing – she was there for every text, every call, and would call me at 9 o'clock at night just to check on me, and answer any questions," McDowell said. "But truthfully, everyone was amazing.
"I was just overwhelmed by Dr. Običan the way she would explain things to me. She made me feel so assured that I was definitely in good hands, no matter what the outcome would be," McDowell said. "She gave her heart 100 percent to the situation. And Dr. Flores-Torres, I can't say enough about him. All of them – and everyone else at TGH – made me feel like they were in this with me all the way, before, during and after."
For more information about the TGH + USF Health Fetal Care Center, please call (800)-822-3627.